EXPECTATIONS
You are a tad unsure about what to expect from the music of Raazi. A spy drama with a realistic set up going with it, courtesy director Meghna Gulzar, it isn't necessarily a musical in the offering. Yes, there is Alia Bhatt in there and Karan Johar is backing the film. Still, after watching the promo itself you do get an idea that even with names like Shankar-Ehsaan-Loy and Gulzar involved, at best the music will be situational.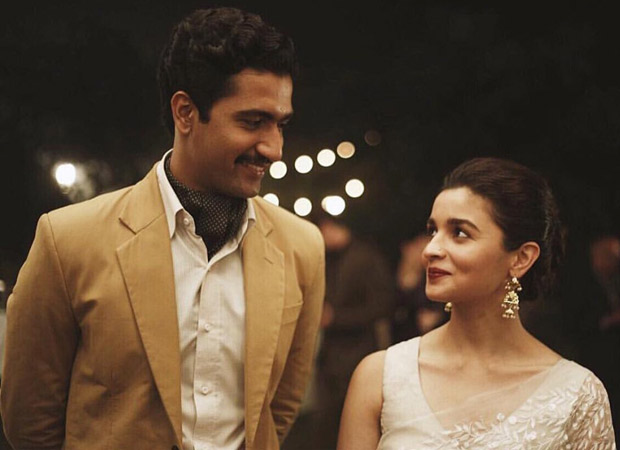 MUSIC
There are basically three tracks in the album with 'Ae Watan' finding two different versions going for it. It first arrives in the vocals of Arijit Singh and then Sunidhi Chauhan renders a version of her own. A patriotic number, it is an unlikely choice for an opening number as one would have expected something far more upbeat as well as light hearted. However, this is what the makers have to offer and you go by that choice. A situational track, 'Ae Watan' could well make some sort of an impact on the big screen if accompanied by visuals that take forward the narrative.
Harshdeep Kaur takes the lead for 'Dilbaro', yet another situational number that has a Kashmiri feel to it. A smooth sounding track, it has Vibha Saraf and Shankar Mahadevan accompanying Harshdeep behind the mike. This one too is set in the film for the purpose of taking the narrative forward as from the standalone perspective, one doesn't expect 'Dilbaro' to be finding itself in the favorites list of Bollywood music lovers.
Last to arrive is the title song 'Raazi' which has Arijit Singh returning as the singer. This one is a far more upbeat number and could well have been the opening number of the soundtrack. This too has a Kashmiri base to it and one wonders why it hasn't been unleashed so far. Though 'Raazi' has a slow beginning to it, it does seep you in as it proceeds and by the time one nears the middle portions, there is a good peak that is reached.
OVERALL
Raazi has a strictly situational soundtrack which has been put together for the purpose of storytelling instead of standalone numbers turning out to be chartbusters.
OUR PICK(S)
'Raazi'