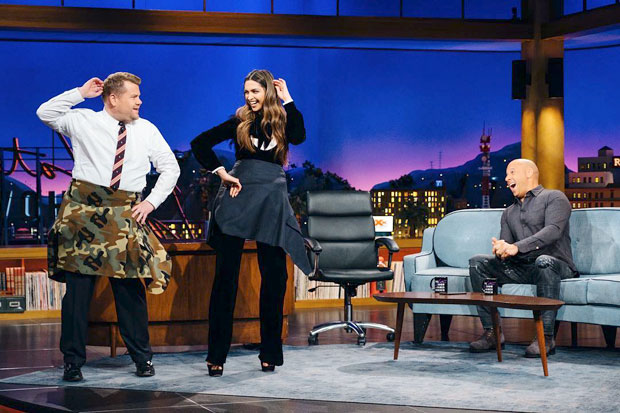 >
Deepika Padukone is leaving no stone unturned for the promotion of her big Hollywood debut xXx: Return Of Xander Cage opposite action star Vin Diesel. After making her first Hollywood TV appearance on The Ellen Show, Deepika headed for some late night fun.
On Thursday, Deepika appeared on The Late Late Show which is hosted by James Corden. She was accompanied by her co-star Vin Diesel. In a short clip, Deepika is completely amused to see Vin Diesel and James Corden singing songs from Oliver Twist and discussing that how and when Vin can do a possible Carpool Karaoke episode.
Of course, what is an interview without Deepika making an international audience groove to Bollywood music? As James Corden was very intrigued by the song 'Lungi Dance' from her film Chennai Express, Deepika made sure he learned from Bollywood moves. Using the jackets as lungi, Deepika and James did the lungi dance while Vin Diesel cheered on. He kept saying that things are going to get sexy.
Channelling her fierce personality from the movie, Deepika aced power dressing on the show. She wore a Wolk Morais velvet jumpsuit by the designer duo, Brian Wolk and Claude Morais, with a pair of black Jimmy Choos and no accessories. She was styled by Elizabeth Saltzman and her team. Sporting classic beach waves, her hair was styled by stylist Christian Wood.
xXx: Return of Xander Cage will have its Hollywood release on January 20.