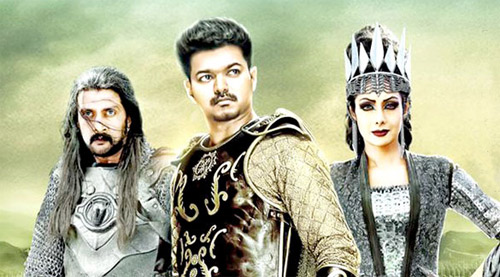 A huge Sridevi fan, I confess I rushed for my special screening of Puli to see her again only to have to wait till after interval for her entry.


Damn! Life sucks, specially because the best things of life are kept for later. Sri takes long to appear. But once she's there everyone, including Tamil superstar Vijay, back off to let the Diva take centre stage as a wicked witch-queen who makes her adversaries climb the wall, when she is not busy doing so herself.


As a possessed royalty Sridevi climbs up walls literally, stretches her hand to a mile to toast a drink (amiable, aren't we?) appears and disappears at will. It's a delectably seductive role tailor-made for the Diva. She has massive fun with her role.


The other female characters in this freewheeling fairytale are at best sketchy. Shruti Haasan who plays Vijay's love interest dances more vigorously than she does in Hindi films.


There is something about this old fashioned grandma's tale, set in the shrillest scale that brings out the primeval instincts in actors who otherwise may not be prone to drop their inhibitions and get into the thick of things.


Much of Puli is devoted to roadside bacchanalia. The hero rolls his eyes at the bad guys and dances with Lilliputians in an awkwardly-staged tribute to Gulliver's Travels.


This is Bahubali for the backbenchers with elements from the Tamil-Telugu cinema of the 1970s seeping mischievously into frames. The storytelling is ham-fisted, the songs breaks are like outbreaks, and the side actors are laughably loutish.


Yet there is a certain transparency in the film's intention, especially in the way Vijay is packaged as a goofy hero who isn't aware of his own powers. It is an interesting premise: a super-hero who doesn't know he is one until the climactic pow-wow.


For a large part of its running-time, Puli tugs along at the 'hard'-strings...the plot is densely populated with junior artistes playing villagers dressed in clothes borrowed from an Abu-Sandeep garage sale. The feeling of fancy-dress party never leaves the film. The arresting artificiality is part of its cheesy charm.


The VFX are extensively incorporated. They are pretty laughable inept. A character's hand is chopped off. When it falls to the ground it looks like a plastic limb. There is a ubiquitous parrot proving to be as nerve-grating as the parrot in Sooraj Barjatya's Main Prem Ki Deewani Hoon.


The Bahubali hangover is palatable. We have a baby floating down the river in a basket, the heroine being wooed by the heroine in a garden filled with paradisaical wonders (Rajamouli's garden looked far more divine) and a hero who doesn't think twice before picking up an impossibly heavy boulder to save humanity.


I don't know if Puli is meant to scale the heights of Bahubali, or just serve as a tongue-in-cheek homage to Rajamouli's film. The extended world of corny kitch is fun to watch. This is an agile weirdly untenable fantasy-adventure for the entire family. A lot of the original Tamil humour is lost in translation. Often times you are left listening to exchanges between characters that seem unhinged. The oafish dubbing adds to the feeling of a costume drama that forgot to get its costumes insured.


Puli walks on the wild side and doesn't seem to care about getting crushed. Don't look for Bahubali here. You will be better off.