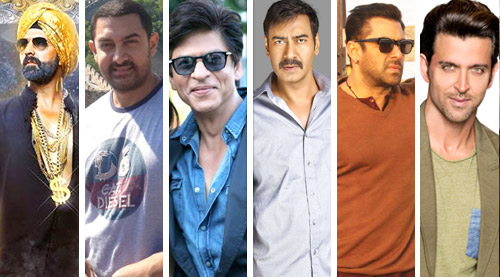 As Singh Is Bliing gets ready to release, Dangal starts shooting, Dilwale gets into post-production mode, Drishyam etches a decent collection and Bajrangi Bhaijaan tops 2015 so far with Prem Ratan Dhan Payo heading towards BO fireworks in Diwali, we look at how the five biggest stars have maintained their clout at the box-office for almost 25 years.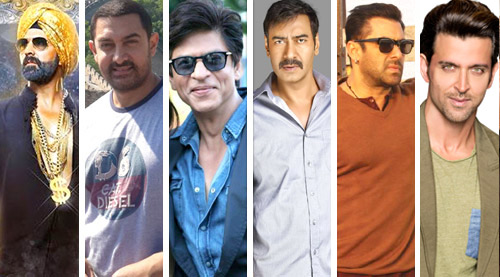 As Singh Is Bliing gets ready to release, Dangal starts shooting, Dilwale gets into post-production mode, Drishyam etches a decent collection and Bajrangi Bhaijaan tops 2015 so far with Prem Ratan Dhan Payo heading towards BO fireworks in Diwali, we look at how the five biggest stars have maintained their clout at the box-office for almost 25 years.



The same also holds true for the only young hero after them who count among the top six-Hrithik Roshan.



The Khans and Hrithik guarantee a whopping initial, irrespective of the product, and certain minimum revenue from footfalls as well as various rights that ensures a definite income for films in which they feature.



Akshay Kumar and Ajay Devgn also command a better initial than the other heroes, though it is more indicative of how audiences perceive their films. This is why a star-less Tanu Weds Manu Returns or Kis Kisko Pyaar Karoon can overshadow their films in both the opening they take and in - sometimes - the lifetime earnings.



Nevertheless, despite the fabulous performances of films like Tanu... or Ranbir Kapoor's Yeh Jawaani Hai Deewani, we do not find their leading men even considered in the top league. And the reasons are clear, beginning with the six big names' instant connect with the audience, and their ability to rise above their projects in the case of disappointments like RA.One, Jab Tak Hai Jaan, Jai Ho! or Bang Bang!.



Not that these six names have not had bleak phases - with Akshay in particular there have been three distinct lows, the last of which made Sajid Khan voice how he had 'rescued' the hero with his film Housefull. Ajay Devgn has had just about 35 films in the break-even to super-hit category among some 90-plus releases, Salman Khan resuscitated his career and slalomed to Numero Uno as late as after 2010 after remaining the 'consistent' third (in commercial standing) Khan for 20 years. Shah Rukh Khan, more an overseas favourite throughout, was never, in his own words, someone who mattered in the B and C centres and rural India. And Aamir Khan, for the first 12 years of his career, was flitting from one below-par film to another.



So how did these feisty gentlemen overcome their dull phases to sustain in the top bracket? The Khans (Aamir has already) will touch 50 this year, Akshay and Ajay are nearing 50, and Hrithik is already 15 years old as a leading man. The newer names fall into two categories: juniors who have yet to reach their levels (Varun and Ranveer leading the list) and juniors who never did (Saif Ali Khan, Abhishek Bachchan, John Abraham, Shahid Kapoor and Ranbir Kapoor down)!



Moral of the story: Handling success well for future or sustained gains is very important, but coming out unscathed through bad phases to sustain stardom is vital!



And here's how they did it.




Aamir Khan

Like any star who has made it big with a debut lead, Aamir signed a plethora of films after Qayamat Se Qayamat Tak, and the hits were not all that spectacular. Till 1995, his flops outnumbered his successes by two or one, and only Dil and Rangeela were true-blue super-hits. After this, though Aamir began to have a better fix on scripts and delivered consecutive hits like Raja Hindustani, Ishq and Ghulam, Aamir decided to pioneer the system of working in just one film at a time.



And Sarfarosh (1999) was the first result of a new work-ethic, even as it was the first high-content commercial film of the kind that Aamir went on to master. Since then, only the delayed Mela and Mangal Pandey-The Rising have been mishaps.



Ajay Devgn

A leader today in the 100-crore club after Salman Khan and alongside Shah Rukh Khan, Ajay Devgn has had only one motto to rise above failures: consistent sincerity. Here is an actor who has been literally like the proverbial tortoise-slow and steady and a winner. His reasonable pricing also elevated the box office standing of so many films.



Choosing interesting scripts and characters but keeping the mainstream ethos intact (Raincoat and U Me Aur Hum are exceptions that proved the rule), Ajay always was applauded, even when his films tanked, for his performances and intensity in serious roles and his flair for comedy, with his impeccable timing best highlighted in Bol Bachchan. So, come London Dreams or Action Jackson, other factors were blamed for debacles, because a Golmaal Returns or Singham was always there as well.




Akshay Kumar

No one has taken so much negativity among these artistes as much - or as frequently - as Akshay Kumar. The actor recalled how a co-hero then (Suniel Shetty? Saif Ali Khan?) was given a suite on location, while he got just a room during one of his (many) lean phases.



Like Ajay, Akshay kept on doing his work, as per his fundas, doggedly and with positivity. Marriage elevated his positive outlook even further, as did his craving for mental and physical fitness. He also generated immense goodwill when he opted to work, very systematically, on three or four big films together to help keep the industry's menial workforce supplied with consistent incomes-and created further goodwill.



And shrewdly, he kept shifting to a higher stratum of filmmakers and even became a master in comedy, aligning himself seamlessly with Priyadarshan and then Anees Bazmee while cultivating a Vipul Amrutlal Shah and Neeraj Pandey alongside.



Keeping himself studiedly away from bad blood and smilingly juggling mass-friendly and hatke films (Oh My God!, Special 26, Baby, Holiday), Akshay has sustained himself brilliantly. Among the older five of the top six, he is also the most fit - and looks it!



Hrithik Roshan

Hrithik Roshan had no real trough in his career after Koi...Mil Gaya (2003) rediscovered his star appeal and his histrionic potency. More than his own effort, it was his father Rakesh Roshan's genius and immense luck that bailed him out with that film, which came after several bad choices like Na Tum Jaano Na Hum, Aap Mujhe Acche Lagne Lage, Mujhse Dosti Karoge and even the misguided Main Prem Ki Deewani Hoon. Today, he barely needs the luck element - his name chalks up the numbers.




Salman Khan

To shoot from the third also-ran Khan to the unchallenged first through sheer mass-appeal when one is 45 plus is not easy. Nothing other than the love of the people and his good qualities as a person can explain the phenomenal position Salman Khan has reached after being in a long, consistently dull phase for years - and years, despite those occasional blockbusters (Tere Naam, No Entry, Partner, Wanted).



Just like his role-model, Dharmendra, before him, Salman signed several films that became debacles for emotional reasons, but somewhere, karma kept him in the saddle, taking him higher and higher.



Shah Rukh Khan

The smartest cookie among the big names, Shah Rukh Khan believed in never taking his feet off terra firma - and so he knew, despite all the hyper-adulation that came to him naturally from around the globe, exactly where he stood every time.



In short, SRK is never in a dream generated by fans and sycophants, but has a clinical approach to his star standing. After Swades, Kabhi Alvida Naa Kehna, My Name Is Khan, RA.One and even Jab Tak Hai Jaan, this Khan realized that overseas he was King anyway, but he needed to settle his domestic status first.



And so, after duly heeding the success of Aditya Chopra's earthy Rab Ne Bana Di Jodi, he made his peace with Farah Khan and came up with the masala product, Happy New Year, with Rohit Shetty's Dilwale to follow. And SRK has been shrewd enough to let the last film hit the screen first and set the tone for two more commercial yet slightly different (NRI fodder?) movies, Fan and Raees.