Midway through the stormy tale of politics, family feuds, sibling rivalry and other elements of simmering discontent, an incidental character tells the film's primary antagonist, "It's always happened in history. Brother kills brother for power." This terrible truism holds together a film plotted like a spiralling hurricane of ceaseless conflicts spinning out of control at certain points but eventually holding together its core theme of blood being thicker than water. This, in summation, is what Prassthanam is all about. It's the story of family of politician that faces a crisis of identity.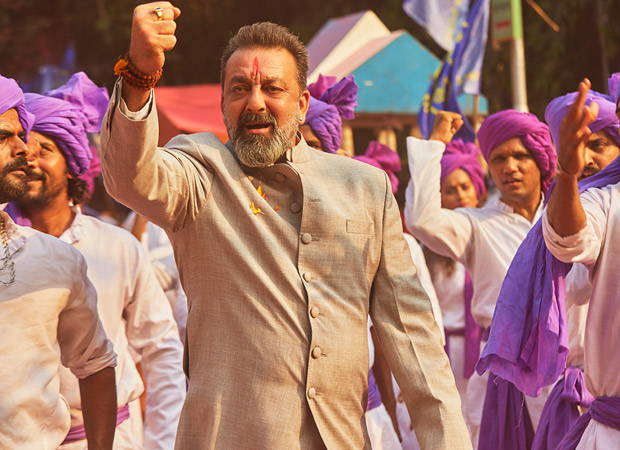 The film captures the characters in Sanjay Dutt's family as viciously compromised by the desire to usurp power by hook or by crook. The Dutt clan here could be the moghul dynasty gone manfully mofussil. While the dramatic conflict is constantly heightened and intensified by a desire to  pre-empt audiences' expectations, the film derives its strength primarily from the way the characters respond to one another during times of crisis.
Director Deva Katta, who had made the same film very successfully in Telugu ten years ago, tightens the script, edits out some of the lengthier discussions on the nature of power and politics, but retains the essence of the original in the way Sanjay Dutt's character's two sons, played by Ali Fazal and debutant Satyajit Dubey, respond to Uttar Pradesh's arching bristling politics.
Both Ali Fazal and Satyajit Dubey execute the conundrum of sibling rivalry with conviction and intensity. Dubey is quite a find. His psychotic character gives an all-new dimension to the cliché of the spoilt rich pampered privileged brat who after a point cannot tell right from wrong, and cannot differentiate between the weak and the strong.
But it's Sanjay Dutt who holds the film together. His character Baldev Pratap Singh goes through many upheavals and eventually arrives at a point where he loses the audiences' empathy. Dutt steers the characters ably and expertly through a labyrinth of power pain and retribution. Jackie Shroff as Dutt's faithful man-friday hardly speaks. His implosive rage is fearsome. And the eventual outburst is devastating.
Manisha Koirala exudes a tragic grace in her quietest moments as a mother who must watch her two sons from different fathers bring ruination on the family. But the script really has no patience with women characters, who are all dealt with hurriedly. This is a masculine beefcake-bound show filled with furious melodrama and macho conflicts .The male actors make the best of the situation inhaling the toxic air with relish.
By the time this demoniacally dysfunctional family's darkest secret tumbles out, we are so inured in the plot's torrent of drama and retribution that nothing shocks. The numbing quality of plotted shocks delivered in an uninterrupted furious flow of energized drama, could have been slowed down.
The storytelling has no breathing space, and after a point it becomes difficult to empathize in the stifling milieu of internecine politics with a family that is hell-bent on self-destruction. And yet   the mood of the narrative is stubbornly compelling. And I found it hard to turn away from the destiny of doom that the characters wear like a deathly cloak.
The action sequences, many filmed on crowded roads and over bridges and one specially heart stopping fight in a movie theatre, are impressively staged. If only the film had avoided the outdated conventions of a big budget melodrama,  like an ill-timed item song(horribly inopportune and ugly) or dialogues that are meant to be loaded with relevance but are actually so shallow they make the characters sound far less intelligent than they are meant to be.
Despite the outpouring of melodrama, Prassthanam manages to make itself into something of a twisted morality tale where the loyalty of the loyalist is constantly questioned. Jackie Shroff as the faithful man-Friday who finally realizes high the price paid for his blind allegiance to a family of feudal puppets, epitomizes what the film signifies.
Prassathanam remains faithful to the big family sagas of yore only to realize just in time that times have changed. It's like a street-side Godfather, crude yet compelling.
Also Read: Manisha Koirala opens up about her role opposite Sanjay Dutt in Prassthanam
BOLLYWOOD NEWS
Catch us for latest Bollywood News, New Bollywood Movies update, Box office collection, New Movies Release , Bollywood News Hindi, Entertainment News, Bollywood News Today & upcoming movies 2020 and stay updated with latest hindi movies only on Bollywood Hungama.