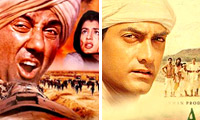 If at all I have to mention names of some high profile films that I truly believe (and from the bottom of my heart) should have actually flopped, the list would read as Gadar, Lagaan, Ghayal and Dil.
Shocked? Well, that was the intent!
Of course I enjoyed watching each of these films; I am sure most out there did. But then if at all there have been any films that have harmed Bollywood more than helping out the industry, it is success of these films. And that's because whenever I question an actor or a filmmaker about his decision to clash his film with another biggie, the trademark response is - 'Par Gadar/Lagaan aur Ghayal/Dil bhi toh same day release hui thi? Woh sab hit thi ki nahi'. And I feel like telling them that 'Arrey bhaiyaa, but how about those countless films which proved to be disasters when they braved clashing with other? Unka bhi toh naam lo!'
No seriously, if each of these four aforementioned films would have flopped, at least there wouldn't have been this oft repeated excuse being shared in an attempt to boost their ego. A clash has never helped; it isn't helping and won't help in future either, especially when it comes to two biggies taking on each other. It is a different matter when it comes to smaller films but in case of high profile films, it is a strict no-no. Of course the intrinsic content makes an eventual difference but even weaker films could have possibly stood some chance if at all they would've tried exploring a different release placement. In this week's 'Reflections', here is looking at some of the high profile clashes that could be avoided in time to come.
John Abraham's Force v/s Sachiin Joshi's Azaan (16th September)
Frankly, both these films are pretty much 'band mutthi' as of now. However, what still makes this clash notable is the fact that they are both action affairs and hence would be catering to similar audience. So while John would be getting into hardcore fist-to-fist stuff in Force, a remake of Tamil flick Kakka Kakka, which is all set to be an out and out 'desi' affair, it's an entirely different approach in terms of visuals which has been taken by director Prashant Chadha (of Aap Kaa Surroor fame) who has explored continents for this espionage thriller launch pad for Sachiin. In days to come, rest assured producers of none of the two films would be leaving any stones unturned to be ahead in the race. The question though remains the same - 'Can't this clash be averted?'
Saif Ali Khan-Kareena Kapoor's Agent Vinod v/s Anushka Sharma-Ranveer Singh's Ladies V/S Ricky Bahl (9th December)
This one is relatively simpler. Yash Raj Films have pretty much patented second Friday of December as their own when it comes to releasing films featuring their new blue eyed girl Anushka. Rab Ne Bana Di Jodi, Band Baaja Baraat and now Ladies V/S Ricky Bahl - All said and done, they won't really budge from the spot that they have set their eyes upon. Will Saif Ali Khan be the one who would blink first? I doubt since his most ambitious project till date, Agent Vinod, has anyways taken some time to reach the finishing line and it has required quite some deliberation on the team's part to finalise on their arrival. Makers of both the films may be taking solace from the fact that they are totally different from each other. Well, makers of those films which have already clashed earlier this year felt the same as well. Results are there to be seen.
Shah Rukh Khan's Don 2 v/s Abhishek Bachchan's Players (23rd December)
'Suicide' was the first word that everyone shouted quite openly when it was declared that Abbas-Mustan would be bringing their Players on the same day as Shah Rukh Khan's Don 2. 'Come on, now that can't be happening' was a common thought all over. All said and done, this is one clash about which I am personally 200% sure that it won't quite happen. After all, Don 2 had been announced ages ago while Players has just entered the game. Pun intended. Also, both films boast of a similar genre and hence are looking at a similar target audience. Also, Shah Rukh won't quite be sitting idle and concentrating only on promotion of his own film. Remember what he did when he came on his own with Saawariya deciding to take on Om Shanti Om and Jaan-E-Mann feeling that it could make a place for itself opposite Don?
Akshay Kumar's Housefull 2 v/s Salman Khan's Ek Tha Tiger (1st June)
This one has come as a sudden surprise because the makers of Housefull 2 (Sajid Nadiadwala and Sajid Khan) had announced ages ago that they had set their eyes on the first Friday after the conclusion of IPL 2012. In fact their planning which is running backwards has resulted in a substantial portion of the multistarrer already been shot. However, Yash Raj Films have thrown a bouncer by expressing their desire of bringing their Salman Khan starrer Ek Tha Tiger face to face with Housefull 2. The common belief
though is that neither Sajid nor Chopras would want a clash of two of the biggest films of 2012. Agreed that the summer season, especially after IPL, is conducive for blockbusters in the making but wish there is some thought given to audience as well who would rather want to enjoy both films in isolation rather than worry about picking and choosing.
Footnote
Chances are that majority of makers would flash their Gadar v/s Lagaan and Ghayal v/s Dil card all over again and say with a wide grin that 'no one can stop two good films from doing well despite the clash'. Well sir, that was (respectively) 10 and 20 years ago while this is 2012. Here no one gets a second chance. Rascals realised that and decided to allow Ra.One a home run. And now Mausam as well as Rockstar are busy hunting for different dates instead of making it a three way clash between kiddos Ranbir, Imran and Shahid by arriving alongside Mere Brother Ki Dulhan.
Bachche samajh gaye hain, aap bhi unse kuch samjho!
BOLLYWOOD NEWS
Catch us for latest Bollywood News, New Bollywood Movies update, Box office collection, New Movies Release , Bollywood News Hindi, Entertainment News, Bollywood News Today & upcoming movies 2020 and stay updated with latest hindi movies only on Bollywood Hungama.