While there was never a debate about Priyanka Chopra's mettle as an actor, she quite rightly proves that style comes easily to someone who doesn't get on the bandwagon of trends. Priyanka astounds fashion lovers and critics alike with her exemplary style play ever since she forayed into the West. Throw in a million-dollar smile, affable demeanour, wit, intellect and charm, Priyanka has us all firmly wrapped around her finger! Priyanka Chopra has been living the glorious American dream to the hilt. An unstoppable fashion force, Priyanka Chopra triggered a series of trolls with her lady detective avatar in a customized Ralph Lauren trench gown. She adhered to the theme of the Met Gala 2017 based on Rei Kawakubo/Comme des Garçons's outrageous fashion sensibility. Post Met Gala 2017, Priyanka has been on a rampage collaborating with the Hadid sisters' fashion stylist, Mimi Cutrell. Priyanka Chopra has mastered the rare knack to wade through the trickiest of hues, fabrics, silhouettes, and colours pulling them off with an enviable élan. There she goes again, nailing the theme and making us swoon! Priyanka Chopra stunned in a customised Ralph Lauren ensemble at the Met Gala 2018 adhering to the theme of the gala, Heavenly Bodies: Fashion and Catholic Imagination.
The Costume Institute Gala or Met Gala at New York's Metropolitan Museum of Art marks one of the most sought-after soirées of the year on the fashion fundraising calendar. Also known as the "Oscars of the East Coast", it is with the fashion industry's upper crust intent on making a sartorial and poignant point.  This year's theme is Heavenly Bodies: Fashion and Catholic Imagination with derivatives from the Vatican and presence of designs influenced by religion. Here is a closer look at Priyanka Chopra's red carpet offering.
Priyanka Chopra - All that vintage charm!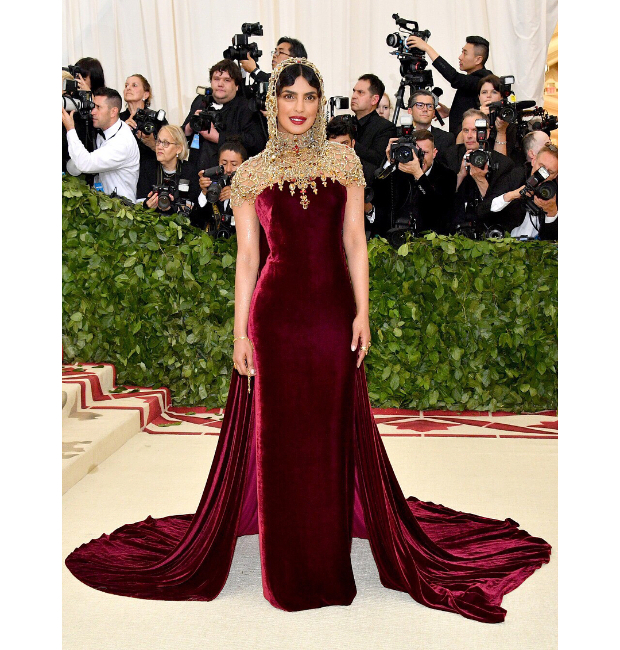 Styled by Ralph Lauren, Priyanka picked out a red velvet form-fitting gown by Ralph Lauren replete with a trail and a gold embroidered high neck that goes on to become a hood. Priyanka sported tight wavy vintage hair in an elegant updo that was hidden from sight. Her makeup was on point with bright lips.
Bollywood Hungama Style Take – Priyanka Chopra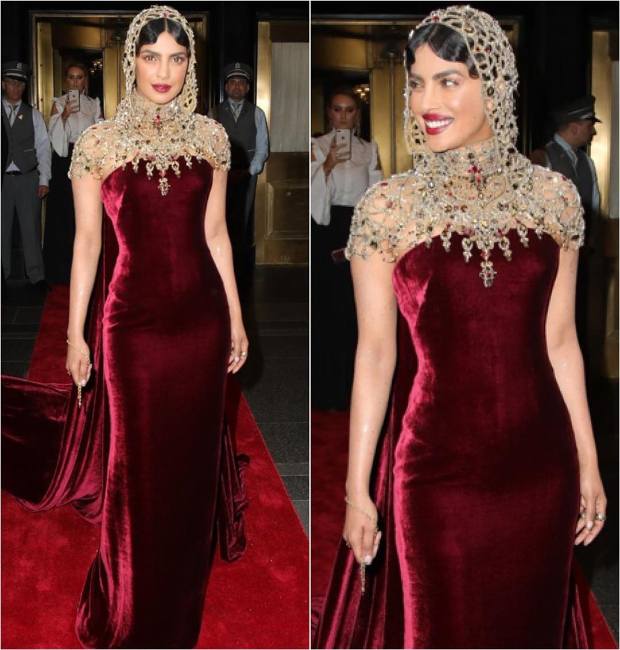 Choosing a wine red ensemble and adorning her look with accessories for the Met Gala 2018, Priyanka adhered to the theme to the T, garnering yet another glorious round of accolades!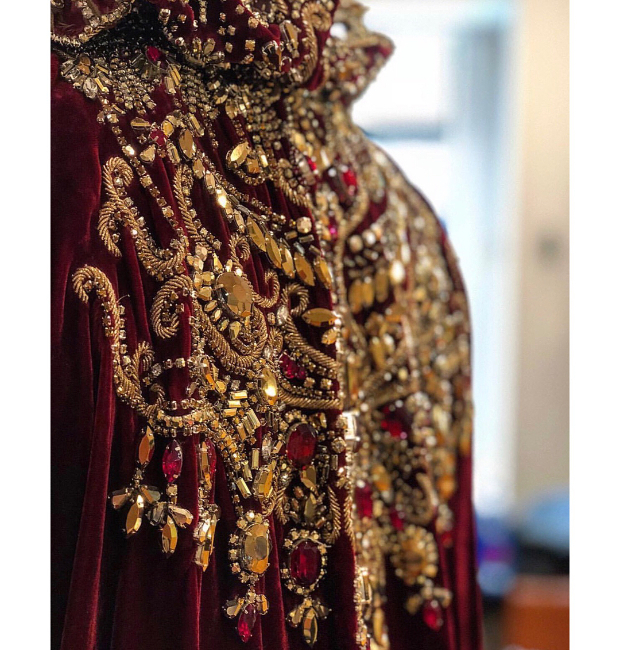 The embroidered hood took 260 hours of craftsmanship. Keeping her makeup on point and allowing the ensemble to take centre-stage, Priyanka had us swooning over her interpretation of the theme.
The Met Gala 2018 witnessed the presence of superstar Rihanna, human rights lawyer Amal Clooney and designer Donatella Versace, chosen by Vogue editor-in-chief Anna Wintour to co-chair the event. This year's sartorial choices are touted to spark off a controversy owing to the sensitive nature of the theme. Excited, much? Well, we certainly are! Stay tuned to Bollywood Hungama Fashion for more such snazzy updates.
BOLLYWOOD NEWS