Dear Aamir Khan, Salman Khan and Shah Rukh Khan,
At 53, no leading man was really a top star ever, with the lone exception of  Dharmendra, at the end of his peak lead career in 1988, proving this rule. At best (as with Ashok Kumar, Amitabh Bachchan and a few others), some others had become heavyweight character artistes-cum-protagonists.
An open letter to Aamir Khan, Salman Khan and Shah Rukh Khan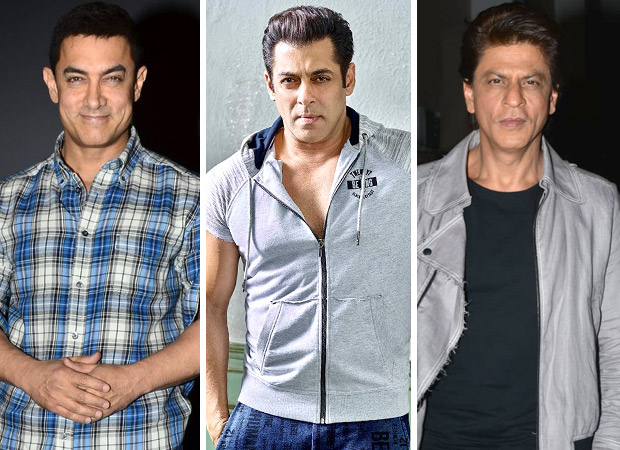 In that sense, you three—and in the near future, even Akshay Kumar and Ajay Devgn— are extremely, extremely lucky, and so it is vital that this luck and the resulting sustained success cannot be taken for granted.
2018 has been quite ominous for all of you. It was Eid, and Race 3 tumbled on the very date that has been long associated with Salman. It was Diwali, another prestigious date, and Aamir (with past mega-star Amitabh Bachchan and the Yash Raj banner) got robbed of success by Thugs Of Hindostan. And in Christmas week, Shah Rukh's Zero was the last hope that has been conclusively belied now.
On the other hand, in January itself, Padmaavat, top-lined by Numero Uno heroine Deepika Padukone and most promising GenY hero Ranveer Singh swept past the Rs. 300 mark. And mid-year saw the jinxed-for-long Ranbir Kapoor play Sanjay Dutt and zoom past the 300 mark too—with Sanju. Today, therefore, the Rs. 300 crore is not exclusive two-Khan property anymore. It is about any whopper-connect-with-the-masses-pan-India film and its script and director, and after that, its stars.
And that is proved by the latest blockbuster, Simmba. What makes Simmba a winner is Rohit Shetty and Team's complete focus and determination to deliver. And in the process they have moulded the finest successor to super-stardom from this generation—Ranveer Singh again. We would not be surprised at all to see 2018 become the first year to have this one actor chalk up two Rs. 300 crore films, or at least near that mark! He has completely moulded himself according to the vision of the director.
This has also reaffirmed a lesson so completely vital: the star or stars had never mattered: but content (as in story and script, direction and, yes, editing) always has. And that it was the films (in your case Qayamat Se Qayamat Tak, Maine Pyar Kiya and Deewana and their follow-ups) that made all of you rule for 29, 28 and 26 years respectively.
Like Amitabh Bachchan has always admitted on record, the reign of an actor is always because of a huge assortment of talented filmmakers of conviction (and the subjects, writers, composers and actors they choose), who ensured that all of you were projected for maximum impact, capitalizing not just on your talent but also talent to deliver hits and super hits!
Yes, the role of a star is to lessen the rejection quotient in a flop, and boost it manifold for a film that resonates with the audience. And you three always did it better than anyone else after you all came in. But…!
…But as economics spiralled, it was only possible to mount humongous-budgeted films with only the three of you, and no one else. This was because even your worst films were assured of a good "opening-day" and "opening-week", and your good films guaranteed great to spectacular business. And obviously, if the budgets were out of proportion, their flop quotient could hit the skies with a mess on ROI (Return on Investments)!
 And yet, you three are still the undeniable toppers, even if, of late, Akshay Kumar and Ajay Devgn have had a better track-record in hits and flops. And that's the very point. GenY still is crazy about all of you, as are at least three generations before them!
 But your films are falling short. A small but very vital point: All three of you had the support of great music until a few years ago. Why oh why are you guys now following the terrible trend of decimating the importance of great songs and going in for trendy and transient items? 'Papa Kehte Hain' or 'Jaane Kyoon Log Pyar Karte Hain', 'Dil Deewana' or 'Jag Ghoomeya' and 'Baazigar O Baazigar' or 'Main Koi Aisa Geet Gaooon' stand glorious testimony to the role of great music in your popularity.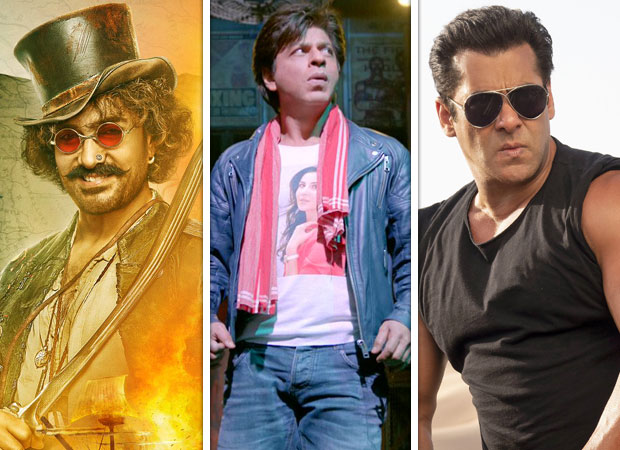 In your position, therefore, certain filmmakers are bound to project their niche or even below-par cinema and—not to beat around the bush—hoodwink you guys into doing projects you should steer clear of like the proverbial bargepole. Tubelight, Thugs…, Race 3, Thugs…, Jab Harry Met Sejal, Raees, Fan and Zero were not just box-office tragedies but also movies in which every one of you was as good or charismatic as ever, but the scripts and execution fell woefully short.
Maybe your roles, as narrated, lured you into not seeing the larger picture (pun intended)  and clouded your instincts and judgements so that you could not gauge their mediocrity and wonkiness—creative as well as commercial. Except with Aamir, most were your own co-productions, so you actually invested in them as well! And somewhere, you were therefore mesmerized into thinking that with these films, you would grow both as artistes and stars.
Today, it is my heartfelt, earnest request to you three, who the nation will agree are as lovable as when you started out, that you have unbiased, un-awed-by- you, solidly dependable and frank voices who will guide all of you in your future choice of cinema and prevent a so meticulously-earned superstardom from fading or falling apart prematurely, or even becoming fragile. Names like Dev Anand and Rajesh Khanna come to mind from the film history books.
After all, as you, Shah Rukh, recently put it, "Each good film is a milestone for me, and there is no dearth of my wanting to do new things within the formats of commercial cinema. I do not even know if I have the time or stardom left to do them!"
And that, we are sure, applies to the other two as well. Especially after how 2018 has shaped up. Here's wishing all of you many more years of supremacy.
Best regards.
BOLLYWOOD NEWS - LIVE UPDATES
Catch us for latest Bollywood News, New Bollywood Movies update, Box office collection, New Movies Release , Bollywood News Hindi, Entertainment News, Bollywood Live News Today & upcoming movies 2022 and stay updated with latest hindi movies only on Bollywood Hungama.