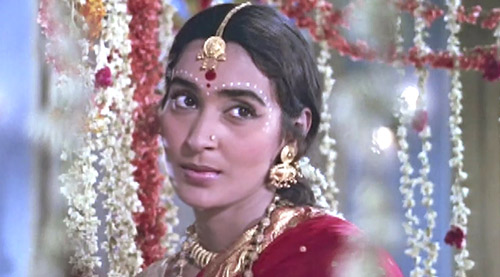 Much admired, applauded and awarded, Nutan was one of the foremost actresses of Hindi cinema from the 1950s to the 1980s. On February 21, 2016, it will be 25 years since she
achieved immortality.


There is always a subtle difference between one's views on celebrities we meet, and those we never did or could. When we do not get to meet an artiste (across any discipline), his or her work
alone makes the only impression on us, diluted or modified maybe, by what we read or hear about them.


To me, initially, Nutan was therefore one of those artistes who seemed to thrive on, and in, weepy melodramas. As a kid accompanying parents to movies, she was that ever-lachrymose wife and
bahu of movies like Meherbaan and Bhai Bahen.


Later, when I transformed into a serious student of cinema, reading up magazines as a routine, and catching up with a lot of older movies, some by choice on videocassettes and others on television
and re-runs, I was forced to modify my views.


The Chameleon

Much has been written about the unique persona of Nutan Kumarsen Samarth, the biggest Maharashtrian superstar in Hindi cinema before Madhuri Dixit Nene. But nothing registers so much about Nutan
than the fact that like all the greatest artistes in the world across all artistic disciplines, she was a true chameleon.


From docile (all those long-suffering dramas, like the ones mentioned above) to aggressive (the part where she turns murderer in Bandini), from idealistically intense to comic, and from
lover to mother, Nutan transcended all genders with effortless ease.


Yes, I still strongly subscribe to the dictum that hysterics and melodramatic rona-dhona do not constitute great acting, as is often believed in Indian cinema, but this is where I was
mistaken about Nutan. For me, hysteria was not acting. Instead, she used her voice and tenor in a power-packed blend with her fantastic body language and two of the most expressive eyes our
industry ever had to convey, serenely but supremely, what lesser actresses did through screams and rants!


True, Nutan was forced to somewhat approach this stereotype kind of portrayal in many of her post-peak films as lead, especially in saccharine melodramas like Chhota Bhai, Lagan and others.
But what remained with me was the quiet dignity of Saraswatichandra and Saudagar, the placidity of Milan and the way she maintained an equilibrium even in her few worthy later
films like Main Tulsi Tere Aangan Ki, Naam, Karma and Meri Jung.


But thanks possibily to economic compulsions from the '80s, when son Mohnish Bahl could not succeed as a hero and was languishing in his career, and Nutan had lost her husband as well, the onus of
working might have fallen on Nutan's shoulders, making her sign inconsequential films with roles that ridiculed her calibre, such as Hifazat, Sone Pe Suhaaga, Mujrim, Aulaad Ki Khatir and
others.


However, for me, Nutan, above all, meant the girl who was utter joy as the spirited lass of Tere Ghar Ke Saamne opposite Dev Anand. The actor would affectionately speak about her as one of
his favourite, very articulate and worldly-wise heroines.


The Superstar

In every generation, a star's worth is also judged by the quantum of films he or she does with the top league. Nutan, perhaps, was an exception in a way, and not so in another! Take for example an
early offer in her career when a big-name producer wanted to cast her opposite Dilip Kumar and Raj Kapoor together. The film fell through and Nutan finally acted with Raj Kapoor only in Anari,
Chhalia and Dil Hi To Hai in the 1960s.


With Dilip Kumar, things fell into place only when Nutan and he were both 'star' character artistes-in Karma (1986) and Kanoon Apna Apna (1989). The latter was her last success in her
lifetime, though Aulaad Ki Khaatir (1990) was her last and insignificant release in her lifetime. After her death, she had a couple of releases, the last one being the delayed multi-star
Insaniyat (1994).


Another superstar with whom Nutan ended up working late was Jubilee Star Rajendra Kumar in two Saawan Kumar successes, Saajan Bina Suhaagan and Saajan Ki Saheli. In the latter, she
actually had a gray role as someone who keeps her daughter away from her husband.


From Ashok Kumar to Amitabh Bachchan, Nutan did thus work with superstars and big heroes, but her superstardom, as with so many of her colleagues, lay in being the strong protagonist of her
movies, even in potboilers like Devi, Maa Aur Mamta and others.


Bimal Roy, Hrishikesh Mukherjee, Asit Sen, Vijay Anand, Amiya Chakravorty, P.L. Santoshi, Shakti Samanta, Shanker Mukerji, A. Subba Rao and a debut-making Manmohan Desai were among her directors.
Raj Khosla worked with her only when she was a character artiste, but one of their two films together, Main Tulsi Tere Aangan Ki, remains among her career-finest work. And Mahesh Bhatt and
Subhash Ghai were among her preeminent later directors.


In short, when you had Nutan on board, you did not need anyone else to carry your film. Unless it was 1951, and Nutan was a 15-year-old leading lady who was not allowed to watch her second film
Nagina by a vigilant theatre watchman as she was underage for an adults-certified film!


Not for nothing did the charismatic Sadhana say that her idol was this actress in the way she acted in films like Seema, Sujata and Bandini. And Sadhana's chance to live up to her
idol came when Bimal Roy, after Sujata, cast Sadhana in a very Nutan-like strong blend of effervescence and emotion in Parakh.


Smita Patil and Madhuri Dixit-Nene were also devotees of the actress, with Madhuri having the good fortune to do many films with her as a co-star, when Nutan was a character artiste. Dixit also
talked about how Nutan brought every song she did to life.


The Musical Evaluation

And uncannily, Lata Mangeshkar, as Nutan's by leagues most frequent playback voice, echoed Madhuri's feelings. Lata raved about Nutan enhancing her singing with her histrionic strength like no one
else did. Geeta Dutt (starting with her lead debut Hamari Beti), Asha Bhosle, Suman Kalyanpur and youngster Kavita Krishnamurthi in her last hit 'Ae Watan Tere Liye' (Karma)
were also among her voices. Of course, Nutan also sang in Chhabili under Snehal Bhatkar) and in Yaadgar under Kalyanji-Anandji).


It is the track-record of every superstar in Hindi cinema that they have a mutually-beneficial relationship with great music. And Nutan was one more proof of this truism. The actress inspired
composers as varied as Shankar-Jaikishan (Anari, Seema, S.D. Burman (Paying Guest, Manzil, Tere Ghar Ke Saamne), Madan Mohan (Dulhan Ek Raat Ki), Ravi (Khandaan, Dilli Ka
Thug), Kalyanji-Anandji (Chhalia, Saraswatichandra) and Laxmikant-Pyarelal (Milan, Meri Jung)-all of whom did a good number of films with her. Roshan (Dil Hi To Hai), O.P.
Nayyar (Sone Ki Chidiya), Naushad (Shabab) and C.Ramachandra (Baarish) were among her rarer composers.


Naturally, she also inspired the great lyricists from Shailendra and Majrooh Sultanpuri to Hasrat Jaipuri, Sahir, Raja Mehndi Ali Khan, Rajendra Krishan and Anand Bakshi to write their best.
BOLLYWOOD NEWS
Catch us for latest Bollywood News, New Bollywood Movies update, Box office collection, New Movies Release , Bollywood News Hindi, Entertainment News, Bollywood News Today & upcoming movies 2020 and stay updated with latest hindi movies only on Bollywood Hungama.