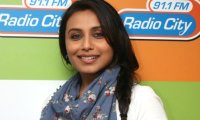 Rani Mukherjee wants to get one thing straight. "Women are more powerful than men". I guess we have to give it to Rani for a quote like that. I can recall the day when Jessica Lal got murdered. I was in my second year college. What started as a cold blooded murder in the night club, went on to become one of the most unforgettable moment in my journalistic career. Yes, my first story got published in 1999 which was called 'Killing for whose sake?' that highlighted the many such issues including that of Jessica Lal. As for Rani, she agreed to do the film instantly when her director Raj Kumar Gupta told her that the film was based on the Jessica Lal murder case. Such was this brutal incident that no one is able to get it out of their heads, including Rani. Guess what? This was the first time I was meeting her in flesh. Yes, as false it may sound, it is the truth. But it never felt like it when you talk to Rani Mukherjee because as an actress, she has a remarkable gift for playing real people rather than 'characters'. Her hair is wrapped, dense and high, in a bird's nest, her dress low cut, full-length and plain, her fingers clamped in vintage rings. But this is not Rani in character, this is Rani as herself. She has a knack of bringing a disarming, everyday quality to extreme characters. Her portrayal of a television reporter in No One Killed Jessica is a testimony to my earlier sentence. Good actors are often said to unpeel layers of skin in front of us. At her best, Mukerjee doesn't seem to have skin in the first place. Sometimes, I say, acting almost appears to be an out-of-body experience for her. She knows how lucky she's been - in every way. But she's not one for complacency. There's always something nudging her, whispering in her ear, asking if she's making the best use of her career and life. And just when I was about to leave her hotel room, she whispers in my ears, "I am not making a return to the big screen. I have just come back harder, stronger and more confident". I pause and smile, get up and I am about to leave the room. I bite my fingers and turn and she is nowhere to be seen. She does the disappearing act so well. Rani returns on Bollywood Hungama.


"Media is our voice and it has to be the most responsible"


I had a blast talking to all my friends from the media. It is always nice for an actor when you see that excitement and love especially from the media. Media in today's time isn't irresponsible but they try too hard sometimes to be. In a world where commercialism is everything, the media is the only one who is the voice of our nation and I respect the media of our country.


"First trailer decides everything"


Audiences now-a-days have become so impatient that they don't want to go and watch a film or waste their time if they are really not excited about it. I think the first trailer of the film actually does it for them. From the first trailer, they decide if they want to watch the film or not. I genuinely believe that if people get excited about the first look, then probably the filmmakers are half way home. Then they can follow it up with better trailers. With Dabangg, each promo was better than the previous one. I hope that our first trailer which garnered a lot of attention transcends into box office success like Dabangg.


"Social message in an entertaining way"


As actors and human beings, you feel really happy that a film like Rang De Basanti was the trigger moment for the Jessica Lal muder case but to play it safe, I would say that the film medium is all about entertainment and if through entertainment you can give out an important message or spark something which you feel is socially relevant it is like a bonus. The kind of films Raj Kumar Hirani makes is a prime example of what I just said.


"We have become too cynical but we also stayed united during Jessica's case"


When I was offered the film, I just wanted to be a part of it because it was a film which was based on the Jessica Lal case. Somewhere down the years in our lives when we keep on saying that the world has become cynical, you actually get shocked when you come to know that the whole of India stood for Jessica Lal. We started to feel for a fellow country's woman. When this entire public outcry happened, we all were connected to it in some way or the other, whether in spirit or text messages or we were physically present at the India Gate. No One Killed Jessica is a special film for me.


"I'm not here to change anyone by playing a journalist"


I am here to do my job as an actor and I better do that job well because I have a huge responsibility towards my fans. I am constantly worried about whether I will be able to deliver my best. I do deliver it but the way people look at it differently. It's their own individual consciousness how they perceive me in my role of a journalist. I have seen many journalists say that they have to report an event or an incident in a much unbiased way though they feel strongly about that particular thing and they do it what they are told to do in the end. A journalist should say what he or she wants to as that's the power of the medium. Particularly, in the case of Jessica Lal, the media played a positive role and created awareness. No one is a baby out here and every journalist knows what they are writing or reporting.


"My role is part fictional and part real"


There were a lot of journalists at the time of Jessica Lal murder case who were actively involved in pursuing the case and in following up each and every detail. There were some who even did the sting operation. In a cinematic medium, you don't have the liberty to show so many journalists but I was representing them in a way through my role as a journalist. My director did a lovely amalgamation of all these journalists put into one which is my character.


"I met some journos who were involved in the case"


I never researched on my role because it would've been unfair to be biased to only one side of the story as there were many who were involved. I met a few journalists who were involved during that case and wanted to know their head space then. The media became so powerful at that time that anybody who tried to fiddle with it was blown away into the oblivion. There was no escape.


"Vidya Balan and I share a great working camaraderie"


I think Vidya, right from her first film, has been really lucky to have got a brilliant role in her debut. After that, she has only grown with her films. She has chosen her films in a way that have done justice to her work. It's been a very pleasurable experience. As actors you want to work with good actors because it makes your job that much easier as you are reacting to a good performance. So yes, Vidya Balan and I share a great working camaraderie.


"Raj Kumar Gupta is a jumping jack"


Raj Kumar Gupta is a funny man because he is so passionate about his films that you wonder that he is a powerhouse of talent. How can a director be so enthusiastic about his film every day of the shoot? He used to get excited and used to physically jump on the sets. I've had a pleasure of working with really passionate film makers but I think every director has their strengths.


"Women are more powerful than men"


Strength lies in mothers who up bring their children. Strength in a woman is inborn. Strength isn't about people who are famous or people who we know are powerful. Our mothers are very powerful. They have fought through nine months and that is the biggest battle a woman ever faces in her life. Some women have the courage to show it, some people have inner strength the way they conduct their lives, some show it through their pen as journalists, some show with their political lives they live like Indira Gandhi and Sonia Gandhi but even the simple middle class house wife and the woman who do a nine to six job are as powerful as the others I mentioned.
BOLLYWOOD NEWS
Catch us for latest Bollywood News, New Bollywood Movies update, Box office collection, New Movies Release , Bollywood News Hindi, Entertainment News, Bollywood News Today & upcoming movies 2020 and stay updated with latest hindi movies only on Bollywood Hungama.