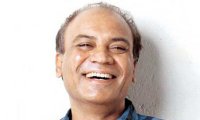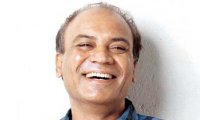 From the strict father [Taare Zameen Par] to a kidnapper [Yeh Saali Zindagi] to an emerging contractor [Saheb Biwi Aur Gangster]
to an Army Major [Paan Singh Tomar] and now a butcher [Gangs Of Wasseypur - I], Vipin Sharma has played a variety of roles and as always, come up trumps.
While it seems like a cakewalk for the actor to perform film after film, the man says that it isn't as easy as it sounds, especially when it comes to the very experience of getting
into the skin of the character. Even as his latest film continues to gain accolades for itself, Vipin talks about the hardships he had to go through to turn into a butcher. Here is
presenting the story in his own words
Agreeing to be a 'kasai'
What do you do when you have been a vegetarian all your life and you are cast as a Kasai (Butcher), that too by a director whom you have been craving to work with and has just
given you that opportunity? And it doesn't even occur to you that as a Kasai you might have to sit inside a butcher's shop behind body organs of different animals dangling in
front of you!!! Yes, this is what exactly took place and became my toughest scene so far. And the director happens to be none other than Anurag Kashyap. The film is Gangs
Of Wasseypur.
When I met his casting director, he had already cast most of the roles. He very hesitantly asked me if I would do a small role in the film. I told him that I wanted to work with
Anurag so the duration of the role was of no consequence. Anurag and I then also conducted a workshop with the actors. At the end of which he told everyone not to carry the
scripts of the two-part film along because lots was going to happen and improvised once we reach the locations in Banaras. And that is where my imagination failed me
completely. I had no idea what was in store for me.
Flesh, bones, buffaloes and blood
The night I reached Banaras I was told that we would be travelling to Allahabad to shoot. We left very early in the morning and Manoj Bajpayee, who also happens to be an old
friend from Delhi, and I had a fabulous roadside 'chai nashta' on our way. Thank God it was not a heavy greasy stuff I ate because that would have been a disaster for sure.
At the location we were led into a small alley. As I started to walk I noticed a small drainage coming towards us from the building. The water was red. When I looked at it a bit
closely it turned out to be blood. I was a bit taken aback but moved on. As we got closer to the location I started to hear strange voices and as we turned a corner there it was - an
abattoir. Flesh, broken bones, carcasses being loaded on to the trucks, there were nearly 20 buffalos inside a shed ready to be slaughtered. The people including some boys who
were working there were all very excited to show us the intricacies of their profession. One young worker suggested we should make our costumes a little dirty since we are the
main workforces in the abattoir. Another very enthusiastic boy immediately bent down and filled his palms with blood and dung and smeared it on my co-actor Pankaj Tripathi.
The boy then looked at me and I closed my eyes. He picked another fistful and splashed it on to me. I could smell the blood and slush on my t-shirt. I started to get pukey. Well
this was just the start.
The slaughter
It was quite a big place. All I could hear was the moans of a few buffalos that were being slaughtered. The crowd was going crazy around us. In their excitement the people
working in the abattoir wanted to show Ravi the cameraman and Anurag how efficient they were at their job but they refused saying that we just needed to shoot a conversation
and not what and how the slaughterhouse works. There was blood and gore all over. I was barely able to stand there. I kept feeling nauseated. I didn't puke but every once in a
while I came very close to it.
At one point I had to walk inside the shed where everything was taking place. We had to walk bare foot as it was impossible to walk wearing shoes or slippers. I thought I would
definitely puke once I am inside where the butchers were at it. Once inside I froze. There were about four animals that had already been butchered. The workers were at different
stages with them. Some were skinning the bones, some were taking different organs out, and some were still slashing the bodies. Everything was covered in blood. I stood there
shocked. Nothing happened to me. I had forgotten that I was a vegetarian. I was too shocked to even puke. The walk from the back of that building was something I will never
forget. I could see a tailpiece here, a bone there, and an ear sunken in the red slush mixed with blood, sweat and dung.
Those sad eyes
During all this time Anubhuti Kashyap was very supportive. She tried to engage me in a conversation and divert my attention. At one point I saw this buffalo looking at me from
inside the shed. I still remember those eyes. I went up and put my hand on her head. I wish I had saved her. But this was business for some people. They were all doing their job.
It was a business, which was selling meat to many other businesses in Allahabad and abroad.
We were there for a few hours. The chaos was unbelievable. The knives slashing and then digging through the throats, blood gushing out, the body organs still pulsating with life,
all that was enough for anyone to hate eating meat. I was worried that Anurag will be upset or might remove me from the film but I saw that he was away from all of it too. He too
had no heart to go near it.
Few days later we had to shoot at the meat shops owned by us in the film. I thought I was now experienced so I went and sat behind the hanging carcasses of muttons and
chickens. Within seconds I started feeling sick. I tried to hold the butcher's big knife and pretended to look real but I started to vomit. Anurag saw this and immediately pulled
me out and made me stand outside the shop. Well, thanks Anurag for letting a vegetarian actor have such an 'experience'!
BOLLYWOOD NEWS
Catch us for latest Bollywood News, Bollywood Movies update, Box office collection, New Movies Release & upcoming movies info only on Bollywood Hungama.