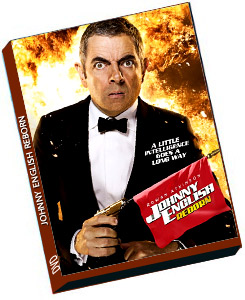 MOVIE DETAILS


Cast: Rowan Atkinson, Gillian Anderson, Rosamund Pike and Dominic West

Director: Oliver Parker

Producer: Tim Bevan, Chris Clark and Eric Fellner


THE FILM


5 years after his disastrous outing in Mozambique, bumbling secret service agent Johnny English (Rowan Atkinson) returns in the sequel. The film opens in the
mountains of Tibet where English is soul-searching and strengthening his inner self along with Buddhist monks. He is summoned back by the MI-7 for a new
mission to prevent the assassination of the Chinese premier during his scheduled talks with the Prime Minister of U.K. Johnny English is introduced to the
new boss of MI-7 Pegasus (Gillian Anderson) and Kate Sumber (Rosamund Pike) a behavioral psychologist. English also meets his former fellow agent Ambrose
(Dominic West) and is also assigned a junior agent Tucker (Daniel Kaluuya) to aid him in his mission. The rest of the film follows English's mis-adventures
as he tries to find out the 3 key members of the Vortex, a secret group out to assassinate the Chinese premier. Needless to say the ride is full of hilarious
gags courtesy English and his bumbling ways. A chase sequence in Hong Kong leaves you in splits as do English's interactions with Tucker. Equally funny is
the scene in which English pounces upon Pegasus's mother mistaking her to be a serial killer on the prowl.


Director Oliver Parker does a good job in keeping the humour quotient of the film alive right throughout. As Johnny English, Rowan Atkinson is top-notch and
provides several LOL moments. Gillian Anderson does a decent job but doesn't get much scope. Rosamund Pike looks gorgeous but has very little to do in terms
of screen length. Dominic West excels in a negative role while Daniel Kaluuya too provides a few laughs as English's partner in crime- Agent Tucker.


DURATION


The film's duration is 101 minutes


SPECIAL FEATURES


Deleted Scenes


The DVD has as many as 18 Deleted Scenes with director Oliver Parker giving his commentary before each scene explaining why the scene had to be chopped out.
Some scenes like the one in which Johnny English walks into the MI-7 new office building and the one involving a detonating chewing gum are absolutely
hilarious. There is also an alternate opening sequence which draws its inspiration from the opening reels of Batman Begins.


Gag Reel


This is a hilarious look at the bloopers that happened during the making of the film.


The Wheel-chair Chase


One of the funniest scenes in the film is a chase sequence where a group of police cars are chasing Johnny English who is riding a wheel-chair. This section
explains how the scene was shot, what went in to creating the right wheel-chair with its various automatic controls and how the stunt co-ordinator took all
the necessary precautions before the shoot. This one surely makes for an interesting watch.


Feature Commentary with director Oliver Parker and screenplay writer Hamish McColl


The DVD also gives you an option to watch the film with a running commentary by director Oliver Parker and screenplay writer Hamish McColl.


TECHNICAL DETAILS


- 2.40-1 Anamorphic Widescreen Presentation

- Languages- English, Hindi

- Subtitles- English, Arabic, Icelandic


PRICE


Rs. 599/=


CONCLUSION


As a film, Johnny English Reborn provides several LOL moments courtesy the ever dependable Rowan Atkinson. If you've liked the first part, chances are
you will like this one too. The DVD also has an interesting collection of special features which only add to the H.Q. (Humour Quotient)


Rating: ***1/2