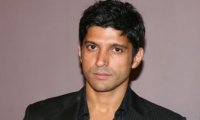 Lately away from media focus, actor-director-singer-producer Farhan Akhtar speaks to Subhash K Jha


How has life been lately?

Hectic. Everything is going great. 2010 just swished by. It was an exhausting year. I am hoping that all the hard work pays off this year. Fortunately, my wife and daughters could join me during my long schedules in Spain (for Zindagi Na Milegi Dobara) and Berlin (Don 2).


Do you get to spend enough time with your daughters?

How do you define 'enough'? They're happy children. The older one is a lot aware of what I do. She has begun to understand what I do. As of now she's more reactive to the music in my cinema. Even the younger one loves the Rock On music. Now both my daughters are into the music of Zoya's Zindagi Na Milegi Dobara (ZNMD).


How was the long first schedule of Don 2-The Chase Continues in Berlin?

I haven't really figured out the full title. As of now it's just Don 2. It follows Shah Rukh's character into a different adventure. Yes, the character has grown.


Will there be a Don 3?

Yes, why not? Let's see. I do enjoy making Don. Right now I'm just happy creating a whole new story for this character. It's a big challenge for me. We are 60 percent done with Don.


Is it more action-oriented than the first Don?

I don't know how to answer that. There was action in that one, there's action in this one. I hate saying things like, 'You've never seen anything like this before.' Yeah there are action sequences where Don being Don is up to no good.


What was you equation like with Shah Rukh this time?

I feel in terms of his real-life personality Don, suits Shah Rukh to the hilt. In real life too there's a certain flamboyance and magnetism about Shah Rukh. He brings these qualities effortlessly to the part. Also, like me, he has great respect and love for the original Don (featuring Amitabh Bachchan). At the same time he gives the character his own spin. In the second Don we've taken some of the essence of what Shah Rukh did in the first Don. But we've also given him some new things to do.


You wear so many hats. Are comfortable with all your roles?

I guess. I've no regrets about any of my roles. It's been more than two years since my acting debut in Rock On. Its impact lingers. However, I genuinely feel my dad (Javed Akhtar) did not get enough credit for the lyrics he wrote in Rock On. After such a long time these were songs that were so non-situational. Without any reference point he wrote lyrics that were so contagious and identifiable…Of course everyone loved the music of Rock On. But my dad's calibre of writing in the songs didn't get its due.


In 2010 you were directed by your sister Zoya in Zindagi Na Milegi Dobara (ZNMD). How was the experience?

Yeah, all of us-Zoya, Hrithik, Abhay, Katrina, Kalki and me…became this little commune travelling across Spain. We travelled a lot. Spain has everything from beaches to mountains. So far only Bollywood songs have been shot in Spain. There's a serious change in topography as you drive through. The important thing was for us to look like we belong to one group


All of you do look very Hispanic?

(Thinks) Come to think of it we do have a similar skin-tone and hair. And the Spanish crew was wonderful. What's most important is that we were working with like-minded people. We made sure every scene was fun. Abhay, Hrithik and I spent a lot of time together. We really had some serious fun. Hrithik I knew for a long time. Abhay I got to know during this film. He's a very cool guy.


ZNMD looks like the last part of your trilogy on male bonding after Dil Chahta Hai and Rock On?

Funny, you say that. And why the last? No, I don't have any major fascination with cinema on male bonding. Dil Chahta Hai is the only script I wrote on the theme. Gattu (Abhishek Kapoor) wrote Rock On a fab script about a rock band. Zoya's script for ZNMD is about three guys on the verge of making commitments in life.


Don't you think Abhishek Kapoor and Zoya were influenced by Dil Chahta Hai?
They never told me. I never asked them. I know both liked Dil Chahta Hai very much.


How was it being directing by your sister a second time?

In Zoya's Luck By Chance I was a sneaky social climber. In ZNMD it's a sea-change. I play this guy who for the longest time takes nothing seriously. I am not even rich and I don't pretend to be. I'm just happy being the way I am. I got to just let my hair down. Many moments in this film gave me a chance to have lots of fun. After Rock On, Luck By Chance and Kartik Calling Kartik which were all serious angst-laden characters in ZNMD I play a fun character.


So you had fun doing the film?

Not just me. All of us. It was the nature of the script. There was so much improvisation. There was only so much that could be put on paper. So yeah we did improvise. We participated in the Tomatino festival in Spain.


And a bull fight?

Let me clarify that once and for all. There's no bullfight in ZNMD. We had animal-rights organizations questioning us about it. We sent them a letter saying there was no such thing. We did participate in a Running With The Bulls festival. No bulls got injured in that. We shot it in a completely controlled environment. We plan to release it at the end of May.


Reema Kagti's film starring Aamir Khan which you are producing must be very expensive considering Mr Khan doesn't come cheap?

No it's not that expensive. It's a very straightforward thriller. It doesn't demand an expensive treatment. The final cast is Aamir, Kareena and Rani. And we have a host of other good actors in other roles


What about your singing?

All three of us Hrithik, Abhay and I, have sung in ZNMD. It's a party situation. It seemed interesting to lend our own voices to our characters. It's turned out really really well. I am very excited. That's the only song I've sung in a movie this year. Otherwise I am constantly singing in real life. I was singing before this interview. I'll be singing after we're done.


If that's a hint I am not taking it.

(Laughs) Seriously I enjoy singing, though I haven't sung for anyone else on screen apart from myself.


Why not? You get so many offers including one from A R Rahman.

It's not because I am possessive about my voice. I don't know if my voice will work on anyone else. I feel my singing adds to my performances. I don't know if it would add to other actors' performances. In Kartik Calling Kartik I didn't see my singing adding to my character, so I didn't. If I feel really kicked about singing for someone else, I will. Singing is not a profession for me. As of now I'll sing only for myself.


Do you also look into the individual productions that emerge from your banner, or do you leave that to your partner Ritesh Sidhwani?

Ritesh deals with the day-to-day decisions. But the larger decisions, we sit and discuss. Our formula for success? To focus relentlessly on telling a good story. To me that's really important. People remember a good story. Filmmaking begins for me with finding a good story.
BOLLYWOOD NEWS
Catch us for latest Bollywood News, New Bollywood Movies update, Box office collection, New Movies Release , Bollywood News Hindi, Entertainment News, Bollywood News Today & upcoming movies 2020 and stay updated with latest hindi movies only on Bollywood Hungama.