Aishwarya Rai Bachchan's iconic status never comes in the way of her duties as a mother, a wife, daughter and daughter-in-law—in that order. Just how she manages to fulfil all the above roles and still finds time to be one of India's most recognized entertainers, is a mystery to me.
Not to the lady herself, though.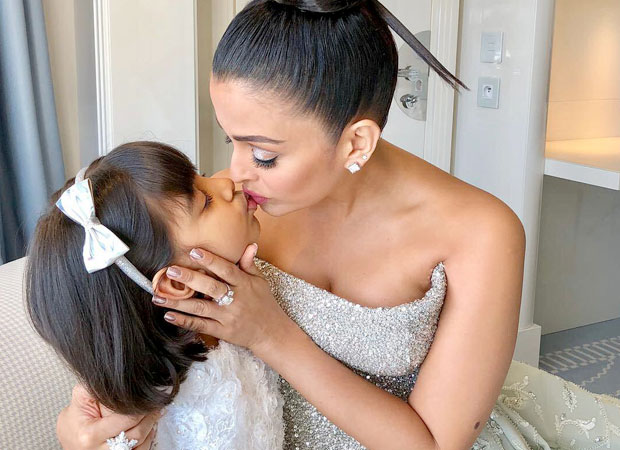 "It's something I've grown up with. From the time I was 18, I've been juggling with many responsibilities. My day begins at 5.30 am. It has been that way from the time I remember. Of course after Aaradhya my priorities have changed completely. She comes first, everything else is secondary," says the protective mother, her voice lighting up with pride as soon as the 'A' word appears in our conversation.
"Do you know Aaradhya saw my film for the first time? I mean, she had of course seen me on television and doing songs, etc. But Fanney Khan is my first film where she actually sat through the whole film," says Aishwarya shyly.
And what did Aaradhya think of Mama Dearest?
"I think her smiling eyes said it all. She had actually seen me shoot a part of my song in Fanney Khan. So when she heard there was a screening she expressed a wish to see the film with all her friends and their parents. So all her friends came with their parents and had a good time. I was happy to let Fanney Khan be the first film Aaradhya watches. It has a positive message for viewers of all ages and there's nothing in it that children cannot watch. In any case Aaradhya is constantly singing and dancing at home , sometimes to my songs, sometimes to her father's and her grandfather's songs. It's a normal household. We're trying to keep the atmosphere around Aaradhya as normal as possible."
Aishwarya is not one of those star-mom's whose child is seen more with the nanny than the mom.
She laughs at that observation but corrects me, "Aaradhya does have a nanny. In fact I am told I should have two nannys because the one that I've tends to take off on longish holidays. But it doesn't really matter. I like doing everything for Aaradhya myself, though with my kind of schedules it is not always possible to do so. Today, for example, I've to catch a flight for a family event. I dropped Aaradhya to school. Now she will be picked up from school by my mother in my absence. So it's me or my mother."
Aishwarya says she grew up in an atmosphere where her mother was always hands-on. "So it never even occurred to me that it could be otherwise."
Managing her sprawling career and her domestic responsibilities is not easy. "Every home maker who is a working woman is a hero. It requires a lot of juggling with time. And a supportive husband, which I luckily have."
Aishwarya is looking at doing handpicked roles, like the one in Karan Johar's Ae Dil Hai Mushkil and now Fanney Khan. "I always knew my role in Fanney Khan was small. When I was promoting the film I never gave the impression that I was there throughout the film. Rakeysh Mehra and his wife Bharati (who has co-produced Fanney Khan) narrated the idea to me and I loved it."
It's almost as though the role of the pop diva was written for Aishwarya.
She laughs, "That's how audience have perceived my presence. Once I was on board I became totally involved with the development of the character, her relationship with the character played by Rajkummar Rao, her clothes, the song, etc. I loved the concept. And Anil Kapoor as the father of the daughter brought his personal emotions into the part. He was so sincere."
Rakeysh Mehra says Aishwarya contributed a lot to her character. She laughs, "It was a small but pivotal role. I don't look at my roles in terms of the footage. To me the role should define my personality and the character I am playing. But now Rakeysh needs to do a full-fledged film with me."
BOLLYWOOD NEWS
Catch us for latest Bollywood News, Bollywood Movies update, Box office collection, New Movies Release & upcoming movies info only on Bollywood Hungama.