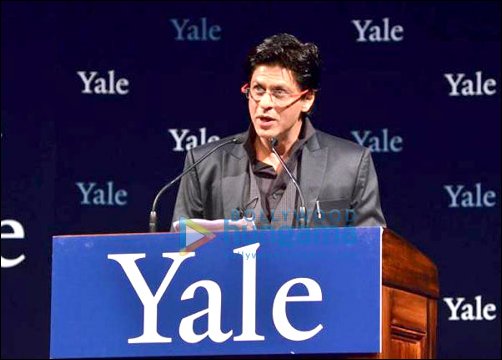 Just like he does in his movies, Shah Rukh Khan charmed the students of Yale University as he went to the Ivy League institution as a Chubb Fellow, which is among the University's highest honours.

A huge crowd gathered outside the Shubert Theatre early in the afternoon to see their favourite star receive the top honour. SRK delivered a speech to an audience of 1,700. He spoke about success and failure and how to live life to the fullest.
The megastar even danced to 'Chammak Challo' with the students. As part of the Yale Chubb Fellowship, SRK also attended a reception and dinner at Timothy Dwight College with over 120 Yale students.
Each year three or four distinguished men and women have been appointed as visiting Chubb Fellows. The Bollywood superstar has now joint the likes of former Presidents George W. Bush, Ronald Reagan and Jimmy Carter.