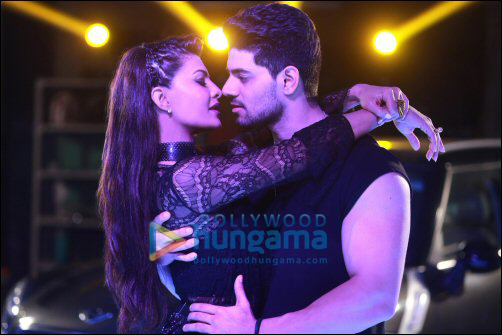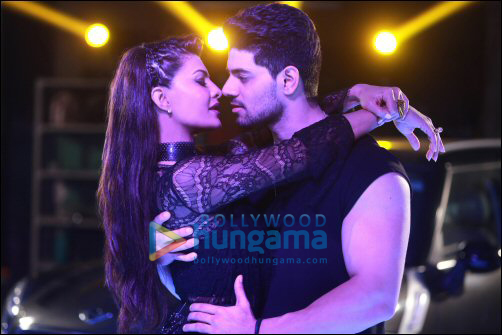 Earlier we had reported that for the first time, Jacqueline Fernandez and Sooraj Pancholi will be coming together as they will be
featuring in the music video titled 'GF'. Choreographed by Remo D'Souza, here is presenting a glimpse of the glamorous avatars the two will be
sporting for the same.


Ever since they have started shooting for the video in Mumbai, Jacqueline Fernandez has been posting about the rehearsals on social media. And now, we see a
new sizzling chemistry between the two in this picture. Talking about the song and the experience of working with Jacqueline, Sooraj Pancholi said, "It's a
peppy romantic track about a guy who tries to woo a girl he's fallen in love with at first sight. It was fun working with Jacqueline, she made me
comfortable". Sooraj rehearsed with the actress and the popular 13.13 dance crew before facing the camera and admitted that the practise sessions were an
"ice-breaker" for them. On the other hand, Jacqueline too was all praises for her co-star Sooraj. She said, "Sooraj worked hard on the steps. He's chilled
out and fun to work with."


Jacqueline also lent her voice for the song. However, she revealed that at the creative meeting when Remo suggested that she can sing too, her first
reaction was a 'NO'. "In fact, they didn't even have female vocals in the song, and included them before they heard me in the studio," said the actress, who
enjoyed jamming with composer Gurinder Seagal.


Very few may be aware that Jacqueline's connect with music traces back to her home as her dad is a DJ. That's what made her decide to take it up. While she
enjoyed singing for the video, she further said, "I would love to sing for a film if the song is right. It's a nice feather to have in ones' cap. "


Jacqueline Fernandez also appreciated the crew as she stated that the choreography wasn't easy. So how will Jacqueline react if a guy tried to impress her?
"I will sing back to him," she laughed, adding, "But the feeling has to be mutual."