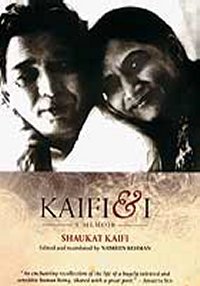 Really, this book should not have been titled 'Kaifi & I'. It should have instead been titled 'I, I & I'. Reason? It is hardly about the man in picture, Kaifi Azmi and so much more about his wife Shaukat Kaifi who is actually the woman behind the memoir. One doesn't know whether it was intentional or by chance? One sincerely wants to believe that it was the latter because going by the position that Shaukat Kaifi holds in the world of art and cinema, she didn't require any publicity around her life. She could have perhaps spoken about her life in all the right earnest and honesty but perhaps her thoughts were lost in translation by Naseer Rehman, who is also the woman behind editing the book. But if this was not really the case, then the author of the book is equally to be blamed because it was her responsibility to raise alarm bells the moment focus started shifting on the narrator rather than the subject itself.


Book Review: Kaifi & I (This book should have been titled – I, I & I)
Really, for how long can one actually read about the sufferings of a woman who got married more than half a century back and lived in hardships all through her life? It is fine to hear a sad tale to some extent but once the detailing starts getting repetitive page after page, it only exasperates the reader. Worse, when the story being told is entirely from the point of view of the narrator and the subject (Kaifi Azmi) starts missing from the scene mid-way through the book, you know that the plot has been completely lost. Well, literally!


This book was being hailed as the story of a couple which fought against all hardships to survive on its own. It was being hailed as a tale of timeless love. It was touted to be a true love story of the modern times. Well, it all may have been true but none of that really comes across in the printed word. The story of this couple is not just ordinary; it is also narrated in an even ordinary manner that hardly justifies the promise of a dramatic/romantic outing it promised.


There have been couples, there are couples and there would be couples which go through hardships. However, they survive and because they are ordinary mortals, their tales don't make headlines. In case of 'Kaifi & I', there is an obvious aspiration to bring it to that pedestal but the end result only succeeds in putting you off more than bringing it closer to the real life tale. In fact the book only succeeds in establishing one fact that Shaukat really struggle hard to make ends meet despite coming from a richie-rich background. Her whirlwind affair with Kaifi is filmy to say the least and does bring on a smile. However, what follows after marriage only makes one wonder whether it was all one sided since Kaifi was out of action for most part of their liaison.


Again, one feels that this could be attributed to something going truly amiss in the book since it is hard to believe that the man of the house was being inactive for so long. While a progress in his professional career is reasonably well noted (though not quite documented to the fullest), there is a certain hollowness that one evidences in his personal interaction with his wife Shaukat. Moreover, the much fabled love story element is hardly there on paper except for a few light hearted bickering that are shared between the couple. No, one is not expecting 'sher-o-shayari' to fill in the pages here nor was one expecting a Romeo-Juliet tale. But the point here is that if this couple was living a life as ordinary as most people around us, then what really was the special need to have a book written around their lives?


The latter half of the book only slips further as the focus shifts to Shaukat's rise from theatre to films. Her daughter Shaban Azmi's professional rise finds a good mention as well. So is the case with her other friends and relative as well but as stated earlier, the subject in picture - Kaifi Azmi - is nowhere to be seen.


The only place where he does make an appearance is towards the later years of his life when his failing health took a toll on him. Though there are pages dedicated to his illness here, the chapters hardly make for an enticing read. In addition, it was just not a good idea to translate a dozen odd poems and songs written by him into English. One just can't expect similar appreciation when Urdu literature finds a literal translation in any different language.


Well, this is not the least impressive part of the book because what really gets on your nerve is to see practically every fourth page find a mention of money and the value attached to it. Incident after incident is narrated when Kaifis had to survive on miserly conditions with no money at their disposal. Later, even when the family became relatively more well-to-do, there are price tags attached to every item being bought into the house or money spent elsewhere. Really, one didn't quite see much need of that in a book that was supposed to be presented as a memoir around true love.


Now where did the subject disappear?


Price: Rs. 295/=


Rating:
BOLLYWOOD NEWS - LIVE UPDATES
Catch us for latest Bollywood News, New Bollywood Movies update, Box office collection, New Movies Release , Bollywood News Hindi, Entertainment News, Bollywood Live News Today & Upcoming Movies 2023 and stay updated with latest hindi movies only on Bollywood Hungama.