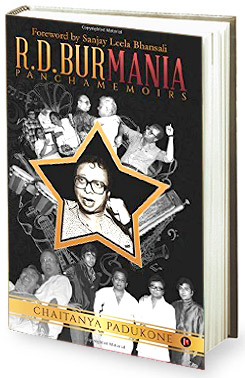 I wasn't too sure what 'new' to expect from Chaitanya Padukone's book which has been tongue-twistingly titled R.D. Burmania - Panchamemoirs. After all, so much of literature has already been out on the musician that for one wonders what added information any 'outsider' would have that has not been spoken about already. Hence, unless it is a close friend or family member who decides to write about R.D. Burman, all one can expect is yet another round of interviews with those belonging to the era gone by and put it all together in a book.
Well, this is what happens for close to two-thirds of this 190 odd page book and guess what, it is not even in an interview or 'in-text' manner. What one gets to see is a series of tributes from those belonging to the music and film industry and that by itself is a major disappointment. If the idea was to bring on a series of tributes right from the horse's mouth, even a website could have been a good enough medium for that. Perhaps a documentary film would have done as well, or may be a series of online columns. However when it comes to a book, one expects a freewheeling write up and that happens for a mere 50 pages!
Let's talk about these 50 pages first. As a senior journalist, Chaitanya Padukone happens to have been in close touch with R.D. Burman, especially during a good part of the 80s. In these numerous meetings, he has apparently seen the happy and sad side of the composer, and this is what he intends to bring to life in these 50 pages. Fair enough! However, as you turn around the pages, you realize that a good part of the write-up is actually devoted to the author's own relationship with the composer, and how they were casual in their professional liaison.
Well, even that would have been okay, had there been interesting nuggets shared around what really went in the life of R.D. Burman during these years. Thankfully, a few anecdotes do catch your attention. You do get to know that while R.D. Burman did wonder why best of the film projects didn't come his way despite the roaring success that his music had found in the 70s, he wasn't even once jealous or irate about the continuing success of either his peers [Laxmikant Pyaarelal] or the new kids on the block [Anand Milind].
You also realize that at the core of his self, he was a private person though there were quite a few times when he longed for the company of his select friends. Some of these episodes do make you understand the man even more than what you have been fed about him so far. Also, the book does well to take the reader into the life and times of R.D. Burman as the person instead of his work as a musician. This is good because enough has been written, said and heard about his work and above all, his music is speaking for itself till date.
However, what you don't get to know is anything that Chaitanya by himself hadn't been exposed to during his personal interaction with the composer. This means that at the end of the day, the book works more as how R.D. Burman opened himself up in front of the author and not as much as what he was and how he felt in isolation. This turns out to be a gap for the reader because you don't really get to experience a wholesome picture about what the man truly stands for.
As for the rest of the content beyond these 50 pages, what works are dozens of pictures but what turns you off are those tributes that turn out to be text book material that are sans any entertainment or enlightenment. Of course everyone from Asha Bhosle, Lata Mangeshkar and Kavita Krishnamurthy to Rajesh Khanna, Rishi Kapoor and Zeenat Aman remember him fondly. Well, so do 50 odd other film fraternity members who do so. Frankly though, you flip around the pages as most of it starts sounding repetitive and eventually end up bringing the book to a point where it becomes 190 odd pages heavy.
Well, you expect better, especially when a book is just in addition to numerous other R.D. Burman books/documentaries that are already on stands.
Price: Rs. 355/=
Rating: **1/2
BOLLYWOOD NEWS
Catch us for latest Bollywood News, New Bollywood Movies update, Box office collection, New Movies Release , Bollywood News Hindi, Entertainment News, Bollywood News Today & upcoming movies 2020 and stay updated with latest hindi movies only on Bollywood Hungama.