Every year, we come across films that cringe us from start to finish or have particular sequences or dialogues that make us want to bury our heads in shame. Bollywood Hungama, in this special feature, collates a list of 18 such scenes and one-liners in Hindi films in 2018 that we felt were highly embarrassing.
1. Hate Story IV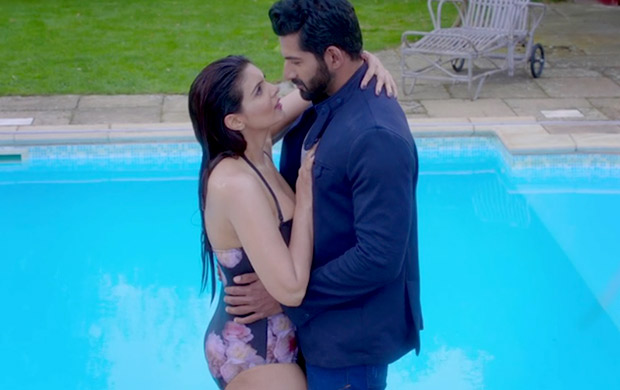 #2018Recap: 18 most embarrassing scenes and dialogues in Bollywood films this year
 Milap Zaveri writes some sharp and massy dialogues but with Hate Story IV, he went completely overboard. The atrocious one-liners made a lot of viewers squirm in their seats. There are many such dialogues but the one in the beginning took the cake for us. In this scene, Aryan (Vivan Bhatena) and his girlfriend cum business partner Rishma (Ihana Dhillon) are having a romantic moment by the pool. Rishma remarks that Aryan loves water. Aryan is surprised and asks her to explain her stand. She replies that since her body consists of 65% water and that he loves her body, so this means that he loves water as well! We expected Aryan to break off with Rishma right there but instead he got impressed with this analogy and added that he loves her 100% and not just 65%! See it to believe it!
2. Nanu Ki Jaanu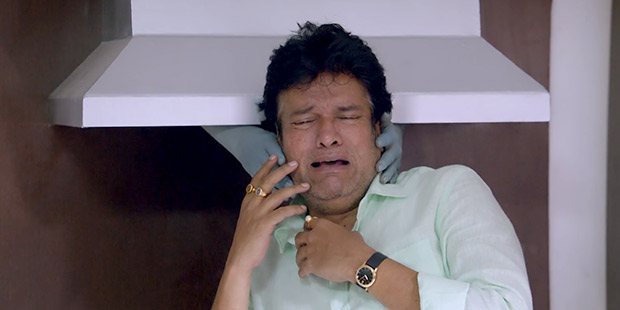 This horror comedy started off well and the presence of Abhay Deol made us feel that it'll be a good piece of cinema. Sadly, all our hopes went downhill rapidly in the second half. And this particular scene was a big reason for that. The sight of the deceased, Siddhi (Patralekhaa), consoling her father (Rajesh Sharma) from the kitchen chimney while in her ghost avatar sent ripples of laughter throughout the cinema hall. And this was supposed to be an emotional moment!
3. Bhavesh Joshi Superhero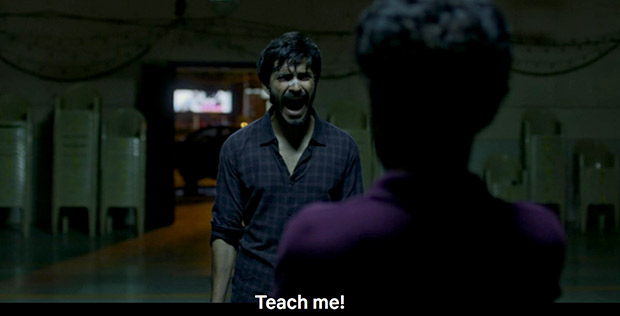 The film that is hailed by a section of netizens and critics is severely flawed and silly. Harshvardhan Kapoor's (lack of) acting further hampered the impact. In one scene, Harshvardhan meets a karate instructor and tells him to teach him the moves so that he can take revenge from the baddies. When the karate master refuses, Harshvardhan shouts at him and says 'Sikhao'! It's shocking that someone like Vikramaditya Motwane penned such a scene and even retained it in the final cut.
4. Race 3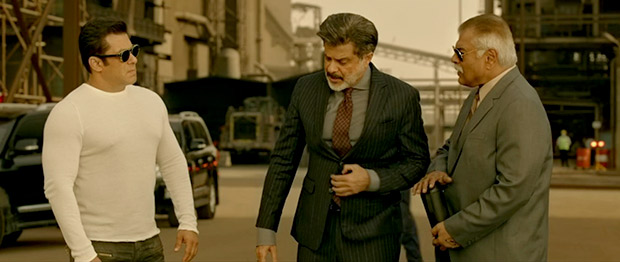 Few years ago, I was watching a Hollywood film with a dual-audio print. At one point, I mistakenly changed the audio from English to Hindi and I didn't even realize that I have done so. And I was shocked to see the change in language, cursing my friend, for giving such a flawed file. I was reminded of this foolish and amusing incident while watching Race 3. Suddenly, the characters in the film began to speak in Bhojpuri for almost 10-12 minutes for no reason at all. For the first 2-3 minutes, it was fun but later, it began to hurt the ears.
5. Race 3

We can't help but feature this film again. Prior to the release, Daisy Shah's 'None of my business' dialogue went viral. Also, it achieved the status of so-bad-that-it-is-so-good status. So we let that pass. After all, Daisy has mouthed too many absolute gems. All can't be featured here but we'll point out at the most cringe-worthy one. Daisy Shah simply wanted to imply that Saqib Saleem should show Bobby Deol the video in his laptop, as part of their plan to poison the latter against Salman Khan. Instead of saying it the way it should be, our girl says 'Isse dil nahi, Dell (laptop brand) khol ke dikhao'! This bit surely helped in product placement but word of mouth got heavily affected in the bargain.
6. Fanney Khan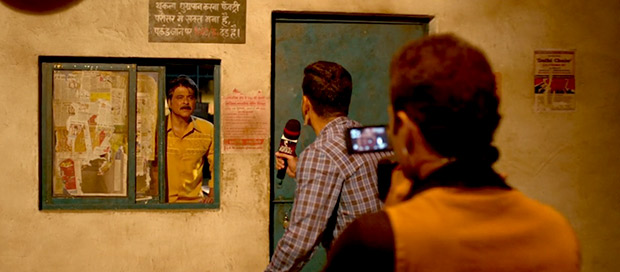 The last 20-25 minutes of the film was entirely embarrassing. This was a remake of a Danish film, Everybody's Famous, and it was a black comedy. Fanney Khan makers made the film quite serious and melodramatic and lost the plot. Hence, all the scenes of Fanney Khan (Anil Kapoor) being surrounded by cops and media and threatening to kill Baby Singh (Aishwarya Rai Bachchan) if her daughter (Pihu Sand) is not allowed to sing were unbearable.
7. Genius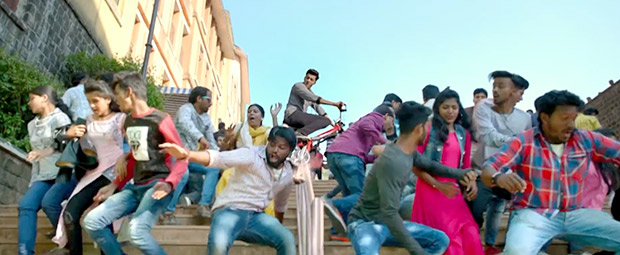 The launch of the star kid Utkarsh Sharma by papa Anil, Genius was riddled with some horrendous dialogues and scenes. This one stood out in terms of cringe-worthy VFX and forced patriotism. Vasudev Shastri (Utkarsh) has been injured in his leg but that doesn't stop from stealing a bicycle and running behind a minister's convoy. When he realizes he's out of reach, he takes a shortcut by sliding sideways on his bike on a railing, all shown horribly! Finally, he approaches the minister's car and that's when his agenda is revealed – he didn't want to talk to the neta or do anything to him. He simply wanted to restore the flag on the windshield that was placed upside down! The onlookers out there had ran for their lives with his sliding stunt and we were hoping that keeping in mind the 'trend' nowadays, the genius boy would be lynched. Instead, they applauded him for his 'noble deed'!
8. Yamla Pagla Deewana Phir Se

This so-called comic caper was anything but funny. Bobby Deol hammed but more than it was Dharmendra who put up an embarrassing act. He struggles to do a good job and is let down by age and the poor script. On top of that, he's shown to be a Casanova and whose charm is such that apsaras from heaven like to roam and serenade around him.
9. Laila Majnu

The beginning portion of this love story is an embarrassment of sorts. Laila (Tripti Dimri) is shown to be a flirt, which is fine. But the kind of behaviour she indulges in is questionable. Her intro song 'Gayee Kaam Se' shows Laila teasing guys by throwing her lipstick-stained tissue towards them and encouraging them to follow her car. Later, a guy unashamedly clicks her pictures without her consent and she appears all coy and shy. If this is how the makers wanted to show Laila as 'cool', it backfired miserably.
10. Manmarziyaan

It was a fine effort no doubt and performances were exemplary. However, the film went off track in the second half while showing the dynamics between Rumi (Taapsee Pannu), her hubby Robbie (Abhishek Bachchan) and her former flame Vicky (Vicky Kaushal). Robbie knew all along that he has had an arranged marriage with Rumi and that she still loves Vicky. Rumi, meanwhile, continues to love Vicky and even sleeps with him post marriage and when Robbie finds out, he gets all shocked, as if he was in the dark about all this! A sequence that left us as stumped as Robbie, in short!
11. Batti Gul Meter Chalu

The film had some sharp and acidic dialogues. But the impact was ruined by the excessive use of terms like 'thehra' and 'bal'. Notwithstanding the fact that people in Tehri, where the film is based, rarely use such terms in their day-to-day conversations, it frustrated viewers in the first 10-15 minutes. After a point, we used to dread as soon as any character were to open their mouth, lest they'll utter 'thehra' or 'bal' and further add to the agony of the viewers!
12. Jalebi

This was a 104-minute of pure snoozefest. It let viewers down in the first ten minutes itself with some terrible dialogues and scenes. Sample this: Anu (Digangana Suryavanshi) breaks the ice with Ayesha (Rhea Chakraborty) by remarking, "Wow. Aapka naam bhi 'A' se chalu ho raha hai and mera bhi…what a coincidence'! It's shocked to see such lazy writings from the Bhatts!
13. Helicopter Eela

We expected this to be a sweet mother-son tale but it turned out to be a flick with no head or tail when it comes to logic. The film lost its viewers in the first 30-40 minutes itself. We all knew Eela (Kajol) is a single mother and when the film goes on a flashback mode and shows her dating Arun (Tota Roy Choudhury), you kind of expect the film to go on a predictable zone. That is, one pre-empts that Arun would die early or dump her for another woman. However, what happened was something that nobody in the world could guess. Arun does leave Eela but because he suddenly realizes that men in his family die before the age of 40 and he too can die. Instead of dying with his loved ones, he decides to desert them! Viewers in my show couldn't believe their eyes and ears during this said sequence.
14. Namaste England

The predecessor, Namastey London, was a feel-good entertainer. But this one was a torture from the word 'Go' and became more and more unbearable as it reached the finale. The film's plot is also bizarre – Jasmeet (Parineeti Chopra), already married to Param (Arjun Kapoor), marries Sam (Aditya Seal) in London. It's a part of a plan to get citizenship for UK. Jasmeet hides about her marital status to Sam and later in a very serious scene, when she tells him the truth; Sam tells that he already had a doubt. We thought he must have seen her marriage certificate or eavesdropped when she was talking to Param. Instead, he blurts out that he knew she's married since she didn't fall for his charms! We almost killed ourselves at this point
15. Thugs Of Hindostan

This big-budget action film failed as it was outright silly and badly directed. The intermission point, in our books, took the cake in terms of logic and absurdity. The rebel warrior Khudabaksh (Amitabh Bachchan), who instantly bumps off treacherous people, has found out that Firangi Malla (Aamir Khan) has betrayed him. Firangi is unapologetic and even says 'dhokha swabhaav hai mera'. Yet, Khudabakash entrusts him the responsibility of saving princess Zafira (Fatima Sana Shaikh) and then gives up his own life (he didn't but that's what it seemed like at that point)! Vijay Krishna Acharya's haphazard execution further messed up the sequence.
16. Mohalla Assi

The long-delayed and controversial film of Sunny Deol finally saw the light of the day this year. A crucial track of the film is a group of men and intellectuals gathering at a tea shop and talking about various issues plaguing Banaras and the country. It makes no contribution to the principle plot and yet, almost 30% of the film is devoted to them. The way they debate and fight and get angry on each other tests the patience of the viewers after a point.
17. Bhaiaji Superhit

A week after Mohalla Assi came Bhaiaji Superhit, also starring Sunny Deol. The actor is known for his action but here, it was mind-blowing…literally! In the finale, Sapna (Preity Zinta) is unconscious after almost drowning in a pond. Bhaiaji (Sunny) is trying to revive her but is unsuccessful. This is when a part of the car comes flying, hits Sapna at the back of her head and thus she throws up water in her lungs and is miraculously revived!
18. Zero

This film became more and crazier as it progressed. The climax, featuring Bauua Singh (Shah Rukh Khan) going to Mars and returning after 15 years (no details given as to how he survived) was unbelievable to say the least!
BOLLYWOOD NEWS - LIVE UPDATES
Catch us for latest Bollywood News, New Bollywood Movies update, Box office collection, New Movies Release , Bollywood News Hindi, Entertainment News, Bollywood Live News Today & upcoming movies 2022 and stay updated with latest hindi movies only on Bollywood Hungama.