One of the most iconic Bollywood films of this century, Swades, completes 15 years today. The film is memorable for many reasons like Shah Rukh Khan's performance, unique concept, Ashutosh Gowariker's able direction, soulful soundtrack and some exceptional scenes. And also, the performance by Gayatri Joshi stood out. She was a newcomer and yet impressed one and all with her confident and stupendous act. Incidentally, Swades turned out to be her first and last film and less than a year after its release, she married realtor Vikas Oberoi in 2005. From thereon, she changed her name to Gayatri Oberoi and chose to keep a very low profile. Google for her interview and you won't find anything post 2005, which was also presumably conducted as part of Swades promotions. She continued to be seen at a few events and made a rare appearance on Neha Dhupia's show but she was also joined with Sonali Bendre and Sussanne Khan.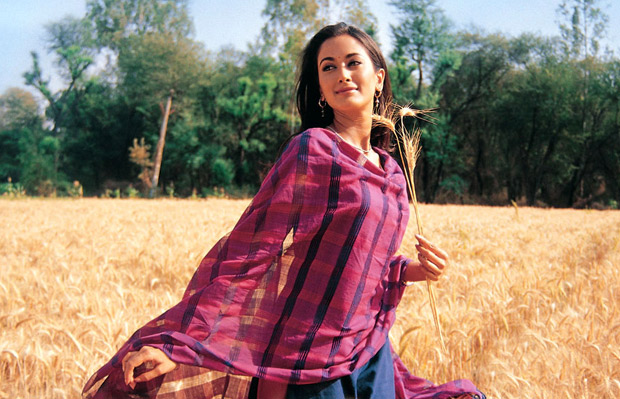 For all those who have been waiting to hear from her all these years, here's some good news. On this special occasion of 15th anniversary of Swades, the 41-year-old actress, in a rare instance, speaks exclusively to Bollywood Hungama about memories attached to the film and a lot more!
Did you remember that Swades is completing 15 years on December 17?
Of course! How can I forget? I have the date very much engraved in my memory! And even if I am not celebrating the anniversary, I do have a little smile on my face on this day and memories of the film's shoot do come up. Also, I have to say that even after 15 years, I do get reactions from the people about the movie, as if it happened last year! I am amazed that even today, I am still remembered. So I feel very, very grateful and thankful. I feel really lucky to have got this opportunity and to be a part of such an iconic film.
I have to ask you this question in the beginning itself. Are you as good in Maths in real life as your character Gita?
(Laughs) I am good with numbers but I am no genius. I would say I have a better memory with numbers than calculating numbers. Like I still remember a lot of phone numbers.
A website mentions that your mother, Nootan Joshi, was also an actress. Is that true?
No. Nobody from my family was in the field of entertainment. My mother was from Mumbai and she worked as a UNICEF volunteer. My dad was from Nagpur and he was a government official.
We are aware that you were a part of the 1999 Femina Miss India content and that you had modelled extensively. How exactly did you bag Swades and thereby become a film actress?
Ashutosh Gowariker had seen me at some event. This was a couple of years before Swades. When they were finding a female lead, I got a call from his office, asking me to come for an audition. He was definitely one of the directors whom I wanted to work with. However, when I got this call, it was hard for me to believe and I assumed that they are just looking out and that they already have an established actress in place! So I was not really optimistic about the whole thing. I was auditioned twice. Then my third audition was with Shah Rukh. That's when I realized that it is indeed happening! A few more auditions later, I got the part.
How was it working with Shah Rukh Khan? At the Zee Cine Awards 2005, you thanked him for being patient with you. Also, I believe you did an ad with him before working in Swades…
Yes, he was quite patient. And indeed, we shot for an ad together of Hyundai and that's where I first met him. And he's a wonderful, wonderful person! Even today when we meet, we still have that special relationship in that sense. When we were shooting, he was always looking out for me. He's very helpful and I was very lucky to have got an opportunity to work with him. Also, there was so much to learn from him. Then, he was at his peak. Yet, he was not having any starry attitude, despite being a superstar. Neither was he intimidating nor did he make anyone's life difficult. I had heard from others that he's great to work with. But when I worked with him, I realized that he's even better than what people said.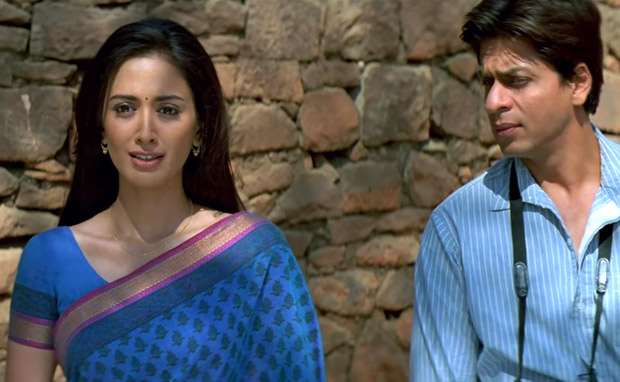 Also, Mohan Bhargava was such a different role for him. And he has said it more than once in interviews that he considers Swades as one of his very, very special performances.
Your character Gita was quite progressive. In 2004, when Swades released, it was quite fascinating to see such a part being written for a female lead. Any actress would have loved to grab this role…
Yes, I did realize that it was a very good and important role. I knew that Ashutosh Gowariker was not giving me this character because she is pretty or something like that. I realized that Gita has so much to do in the film and that's what made it even more exciting. Also, I was getting an opportunity to portray somebody with whom I could relate to so well. That's why, it was easy in that sense as I didn't feel that I was doing something that was out of my comfort zone. The fact that I had so much screen time was like a dream come true.
The Charanpur village was a character in itself. How was it to shoot? I believe it was filed in four villages near Wai, namely Menavalli, Varkhadwadi, Pasarni and Dhom…
Yes, most of my scenes were set there. I was there for three months. Those villages were beautiful and it took me back in time. You almost feel like the entire village is like a set because so many movies were shot there then. Interestingly, the villagers are so used to see shootings taking place that they became extremely cooperative. Film units usually face problems due to onlookers crowding and making the shooting process difficult. We had no such problems. I'd love to go back there sometime.
How was it working with Kishori Ballal, who played Kaveri Amma, and other actors of the film?
Most of my scenes were with Shah Rukh Khan. Kishori Ballal was also quite sweet. She was like a mother to us. As for the rest of the cast, they were quite older. But Farrukh Jaffar, who played Fatima ji, she was very cute and lovely. I still remember she said 'Mujhe tumhare liye ek sharara banana hai'! Then I remember Vishwa Mohan Badola, who played Panch Munishwar. He had a beautiful voice and he would sing often. When you are together for so long, then I guess you come to know of all these talents of people.
Oscar winning costume designer Bhanu Athaiya worked on your look and designed your clothes. How was that experience?
Since Gita had so many streaks, we had decided that she can't have a very typical gaon-ki-ladki look. It had to be a look that's Indian and yet contemporary. That is the reason why certain colours and prints were used instead of going for very typical, tailor-stitched looking kind of clothing. We kept it simple and actually got clothes off the rack so that it suits a teacher who has a bit of time to shop would buy. I guess people could identify with that because if she could buy books in Delhi, she could very well buy clothes as well instead of getting her clothes done in the village itself. That was the thought behind her styling.
You also got a chance to be choreographed by Saroj Khan for the song 'Pal Pal Hai Bhaari'…
I used to sing 'Ek Do Teen' when I was in school and since then, I had heard her name. She was amazing and so sweet to work with. I had to do so many rehearsals three months prior and even Kathak training for that one song. I gave it all and the process was thoroughly enjoyable as I learnt so much. Not just her, I worked with so many legends in that one film. We had A R Rahman composing the music and background score – can anything be better than that? No! We also had Javed Akhtar writing the lyrics. Can anything be better than that? Again, no! Whoever you dreamed to work with were all in this film!
You have two sons – Vihaan and Yuvaan. Have they seen Swades?
Yes yes, they have seen it many times. They are sitting next to me right now and are saying 'many times, many times' to me! They love it and are very proud of the movie. They feel very happy even now when people come up to me and want to take a picture. They even tell me, 'Mom, you should do one more film' (laughs)! Also, now they are old enough to understand the film. They saw it for the first time a few years back and continue to watch it once in a while.
What was the feedback that you got from viewers and from the industry for your performance in Swades?
It was universally appreciated, especially in the industry. Even today, if I meet any director, producer or actor, they come to say 'Hello', regardless of whether or not I know them personally. And this acknowledgement is because of my role in Swades. I met Ronnie (Swades producer Ronnie Screwvala) recently and we were discussing that maybe the film was a bit ahead of its time. Today, if it had released, then it would have been well-received by an audience that is more ready for such kind of cinema. But touchwood, it was a film that was really appreciated even then and people haven't forgotten that. I remember I was called to the USA for some event after the film's release. The reaction out there and mainly abroad was something. And I still meet people who tell me that they saw the film and that's when we decided that we have to move back to India! They say that they were always contemplating but then Swades happened that made them cry and eventually they took the big step. It's a film that has influenced so many people. I was shocked!
If a remake of Swades is made, which current actress do you think should essay the character of Gita?
At that time, I was a fresh face and that probably worked. So I'd say that maybe there's somebody out there who needs to be fished out for this role!
And what if there's a sequel to Swades, showing Mohan and Gita's life after 15-16 years? Would you take up the part?
Wow, that'll be very interesting. I have never thought of it! But at the same time, I feel that if something is so good, it's nice to leave it just like that!
Also Read: THROWBACK THURSDAY – This photo of Shah Rukh Khan turning director for Ashutosh Gowariker on the sets of Swades will make you nostalgic!
BOLLYWOOD NEWS
Catch us for latest Bollywood News, New Bollywood Movies update, Box office collection, New Movies Release , Bollywood News Hindi, Entertainment News, Bollywood News Today & upcoming movies 2020 and stay updated with latest hindi movies only on Bollywood Hungama.