Bollywood Hungama has been tracking the domestic collections of Radhe – Your Most Wanted Bhai since the time it was released on Eid 2021, that is, on May 13. In the first week, it was released in just three cinemas in Tripura. Later, as cinemas opened in different states, it got a release in Maharashtra followed by Gujarat. The collections were poor but yet, it was heartening to see a small number of people going for a film that is easily available on the internet and has been panned on social media.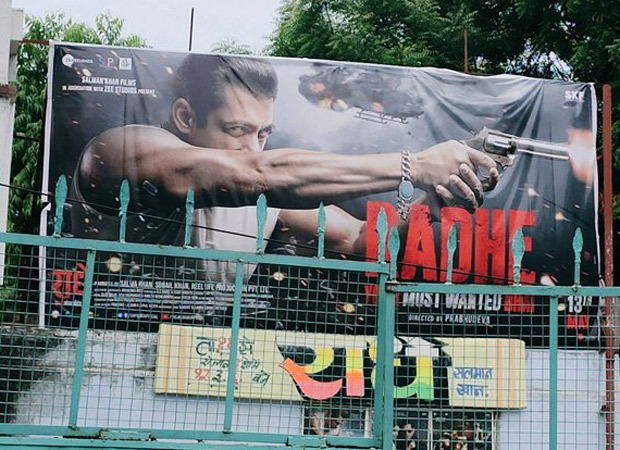 Last week, we reported that Radhe – Your Most Wanted Bhai collected just Rs. 3,561 in the sixth weekend. But then, it got a new lease of life as it was released in the iconic Raj Mandir cinema in Jaipur, Rajasthan. The film attracted nearly 150-200 people daily after its screening began on Tuesday, July 13. And the good performance continued over the weekend as well.
Moreover, Radhe – Your Most Wanted Bhai also got a release in Uttar Pradesh towns like Kanpur, Varanasi and Aligarh from Friday where it did well. Sadly, due to the weekend curfew in Uttar Pradesh, the film wasn't screened in these three cities on Saturday and Sunday. Also, the rains in Jaipur on Saturday affected the collections a bit. But it has made it clear that viewers would come to catch the film on weekdays, especially on Wednesday, July 21, the day of Bakri Eid. There are also reports that more cities in the northern state will play Radhe – Your Most Wanted Bhai from Monday, July 19.
A trade expert told Bollywood Hungama, "Radhe – Your Most Wanted Bhai collected around Rs. 96,508 on Friday, Rs. 30,000 on Saturday and Rs. 45,186 on Sunday. These are approximate figures." The collections of Radhe – Your Most Wanted Bhai now stand at Rs. 4,40,385.
The seventh weekend collections have been record-breaking for Radhe – Your Most Wanted Bhai. The amount it has earned in the last 3 days (Rs. 1,71,694) is the highest it has accumulated in a week. In fact, its Friday collections of Rs. 96,508 is higher than what the film collected in its best weeks, in Week 1 (Rs. 63,248) and Week 6 (Rs. 87,302). Had there been no curfew in the weekends in Uttar Pradesh, the collections would have surely zoomed past the Rs. 1 lakh mark on both Saturday and Sunday.
#Radhe has released in a single screen theatre near me. Talking to the Ticket seller, he told me in each show film is selling around 125 tickets despite being a 2months old film with Disaster WOM. @BeingSalmanKhan Mass????

6YRS OF GEM BAJRANGI BHAIJAAN

— Kนshสgℝส★ (@TIGERWILLHUNT) July 18, 2021
Even on social media, Radhe – Your Most Wanted Bhai was making some sort of noise as viewers posted pictures of the tickets, posters outside the theatre and even reactions to certain scenes in the theatre. All eyes are now on weekdays, especially on Bakri Eid, when the collections are expected to be much better.
Meanwhile, the collections of Radhe – Your Most Wanted Bhai at The Friday Cinema multiplex in Surat, Gujarat continue to be poor and the film's run there would end on Thursday, July 22.
Waiting for this moment bhai on big screen.....big screen ka maja #Radhe pic.twitter.com/kBtgZOwOKh

— being_devil (@abhishekmithar3) July 18, 2021
Radhe India box office summary at a glance
Week 1 (released in Agartala and Dharmanagar in Tripura)
Day 1 [13 May] – Rs. 10,432
Day 2 [14 May] – Rs. 22,518
Day 3 [15 May] - Rs. 13,485
Day 4 [16 May] - Rs. 13,485
Day 5 [17 May] - Rs. 1,155
Day 6 [18 May] – Rs. 1,155
Day 7 [19 May] - Rs. 509
Day 8 [20 May] - Rs. 509
Total – Rs. 63,248
Week 2 (released in Malegaon and Aurangabad in Maharashtra)
Day 9 [11 June] – Rs. 6,018
Day 10 [12 June] - Rs. 5,445
Day 11 [13 June] - Rs. 6,229
Day 12 [14 June] – Rs. 4,460
Day 13 [15 June] - Rs. 2,986
Day 14 [16 June] - Rs. 2,602
Day 15 [17 June] - Rs. 2,403
Total – Rs. 30,143
Week 3 (retained in Aurangabad in Maharashtra)
Day 16 [18 June] - Rs. 2,203
Day 17 [19 June] - Rs. 2,754
Day 18 [20 June] - Rs. 6,059
Day 19 [21 June] - Rs. 1,653
Day 20 [22 June] - Rs. 3,856
Day 21 [23 June] - Rs. 2,424
Day 22 [24 June] - Rs. 2,864
Total – Rs. 21,813
Week 4 (ran in Aurangabad in Maharashtra till the weekend; released in Gujarat from Sunday onwards)
Day 23 [25 June] - Rs. 2,864
Day 24 [26 June] - Rs. 881
Day 25 [27 June] - Rs. 10,471
Day 26 [28 June] - Rs. 7,626
Day 27 [29 June] - Rs. 5,018
Day 28 [30 June] - Rs. 4,706
Day 29 [1 July] - Rs. 5,950
Total – Rs. 37,516
Week 5 (retained in Gujarat)
Day 30 [2 July] - Rs. 3,732
Day 31 [3 July] - Rs. 2,219
Day 32 [4 July] - Rs. 12,219
Day 33 [5 July] - Rs. 4,263
Day 34 [6 July] - Rs. 1,598
Day 35 [7 July] - Rs. 2,022
Day 36 [8 July] - Rs. 2,616
Total – Rs. 28,669
Week 6 (retained in Gujarat; released in Rajasthan from Tuesday)
Day 37 [9 July] - Rs. 1,258
Day 38 [10 July] - Rs. 1,374
Day 39 [11 July] - Rs. 929
Day 40 [12 July] - Rs. 1,232
Day 41 [13 July] - Rs. 25,216
Day 42 [14 July] - Rs. 25,321
Day 43 [15 July] - Rs. 31,972
Total – Rs. 87,302
Week 7 (retained in Gujarat and Rajasthan; released in Uttar Pradesh)
Day 44 [16 July] - Rs. 96,508
Day 45 [17 July] - Rs. 30,000
Day 46 [18 July] - Rs. 45,186
Total – Rs. 1,71,694
GRAND TOTAL (till date) – Rs. 4,40,385