As expected, Thor: Love and Thunder fell on Monday with collections failing to strike a double digit. This was on the cards as well when after a huge opening day; the collections had dropped on Friday. Yes, things did turn out to be much better on Saturday and Sunday with collections going up all over again, hence resulting in a seesaw of sorts, which is not the way conventional trending works. However, with the extended weekend ensuring that the job was done, what with Rs. 64.80 crores already in, Monday collections of Rs. 6 crores* don't harm much. The total so far stands at Rs. 70.80 crores*.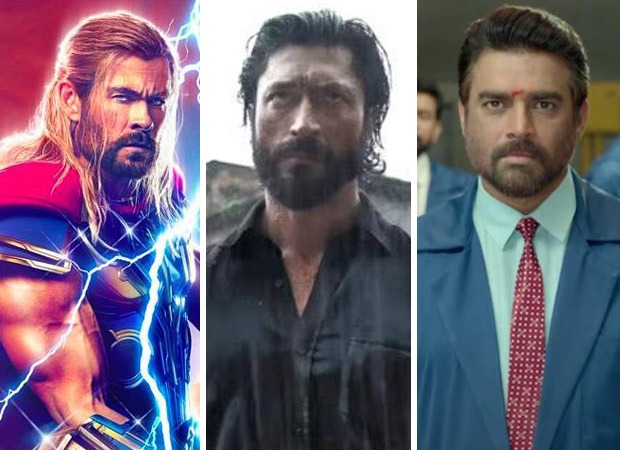 The film which needs to keep a close eye on weekday collections is Khuda Haafiz: Chapter 2. The film didn't quite have an expected start on Friday and Saturday didn't grow to the kind of extent that the makers would have hoped for. However, Sunday was good, especially since Eid fell on that day and the film's content was the kind that attracted the target crowd. There was good spill over on Monday as well with Rs. 1.30 crore* more coming in, hence resulting in Rs. 7.45 crores* total. However, what's needed from here is collections to stay stable throughout.
In that aspect, Madhavan's Rocketry has been doing well as it's bringing in the kind of footfalls that content films used to do during pre-pandemic. Of course, the scale used to be at least 50% higher than this back in 2019 but then those were different times and there was no temptation of an OTT release happening in 4 weeks flat. Today, content films are struggling due to minimal time between theatrical and digital release, though thankfully this won't be the case for newer release.
Meanwhile, Rocketry is trying its best as its second Monday [Rs. 1.1 crores*] was greater than its first Friday [Rs. 0.94 crores], which clearly shows that the film has been liked well by the audience and it will go on to accumulate a lot more than its Rs. 13.76 crores* total.
*Estimates. Final numbers awaited
Note: All collections as per production and distribution sources