(Sporting stylized animation that is very VFX driven, Ajay Devgn and Kajol Starrer Toonpur ka Superrhero is all set to hit silver screen December 24th. With the promos being played all around, the movie is effectively establishing the position of Director's vision, creativity and great performances of Ajay and Kajol.


Directed by Animation expert Kireet Khurana, the film is much awaited among the kids this holiday season. In this Bollywood Hungama's exclusive, Kireet shares some of his insights, experience and challenges which he noted in his diary while working on the film.


Here are the excerpts...Read on!! )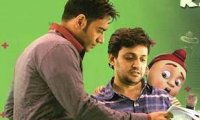 Director's note:

We started our journey in Jan 2007, with an idea that seemed different and quite impossible for its time to achieve in India. But I am glad we found the right partners to execute this 1st of its kind, extremely complex film.


I would like to express gratitude to the 100s of people and artists who toiled day-night for this film. However, this film would not have been possible without the unstinted support of Ajay Devgn & Kajol, their belief in the film and me. They have given remarkable performances considering that they were reacting to green stands and props against the green screen instead of live-actors. I would also like to acknowledge my Producers - Krishika Lulla & Kumar Mangat Pathak for having ventured into something as audacious as Toonpur... and I would like to believe it will pay rich dividends.


Toonpur.. has been more of a project than a film for me personally. It has validated our technical prowess and stretched the boundaries of our imagination. I would like to believe, in its own small way, Toonpur.. will expand the cinematic vision & expression in India.


1. Toonpur Promos.... (8th oct 2010)


So here were are finally TOONPUR KA SUPERRHERO teaser promo is out with ANJANA ANJANI. The response has been great from across all cross-sections of the audience. There is a lot of intrigue and excitement around the film's live-action & animation mix. I am banking on this unique mix as the USP of the film to attract audiences from all age groups.


Also happy to reveal the first look standee, this image clicked @ Suburbia Cinema, Bandra earlier this week. Hope to upload the teaser promo soon along with the new website which is almost done. A lot more activities lined up for Toonpur for the run up to the release. Keep watching this space.. thnx for ur love & support.


Cheers.


2. Directing Animation (5th July 2010)


200+ animators, artists and compositors spread across 4 studios (2nz Animation, Art-ery, Pixion & MEL) and 6 locations. Notwithstanding the geographical spread, the direction team was committed to creatively micro-manage every single shot, staging, blocking, composition, animation, providing colour keys and even acting and facial performance sketches for each of Toonpur's characters across all locations. Feedback was to be centralised and efficiently managed from my office at Climb Media so that commuting to other studios was minimized. Yet the feedback system had to be fail-proof.


Setting up the processes and pipelines was not easy. Shots and materials were uploaded to centralized servers, downloaded by the line-production team at Climb Media, reviewed for feedback by the Direction team and uploaded again with a 24hr. turnaround time. Each week, 100s of rapid sketches (drawn in 15-30secs.) were provided to animators and artists for clear direction. Feedback was as pointed as stronger line of action, clearer silhouettes, more head tilt, curve reversals etc. For this, we did several workshops with the animators to align them and an "Toonpur Animation Bible" was created for them to use as a ready reckoner.


Here's a sample of a couple of rapid sketches I have drawn for the animators to give them direction. It's been a steep learning curve for one and all. The journey has been long, with enormous rounds of feedback for each aspect spanning more than a year. I am happy with the outcome and with what we have achieved. Now it's over to the audience. Cheers.


3. Marketing the Viral Land of Toonpur (31st May 2010)


Making a product is one thing, marketing it is all together a different ball game. More so for a live-action and animation combined feature like TOONPUR. So here's a quick update on the marketing front preparations: Just finished working on the creative look of the posters with the EPIGRAM team which is now converting it into hi-resolution. Also creatively aiding the online team to develop the official website. Cross-promotion deals are being explored with various brands and media cos. A few promo edit options are ready and opinions are being collated to finalise the right version.


Since there are a lot of animated characters, the marketing opportunities unique. Plans are to foray into licensing & merchandising, for which a "style guide" (brand manual with poses of characters to go with merchandisable products & suggested product placements) is currently being developed. To ensure that the animated characters do not appear differently in any media or communication, we have to ensure that their look and appeal is not compromised creatively and the style guide is the template for it.


Working with the technical teams, Producers, Epigram, Online team at Eros Entertainment and production coordinators is getting to be a circuitous but necessary approval process. Prospecting & short listing the merchandising team is on to take the M&L front forward. Looks like we will have a 360 degree marketing mix. More later. Ciao.


4. Sound Track of Toonpur (1st May 2010)


In any film soundtrack constitutes at least 50% of its total impact and audio-visual experience. This percentage may be significantly higher with a film that involves animation. Sound design and soundtrack overall acquires a totally new dimension with creative sound effects and foley to extend the visual language and interpretation.


I consider myself rather lucky to have on board some of the best technicians on the sound dept. as well. The sound effects and BG score goes in tandem and as its been a good run so far. The BG score is based on western classical genre, somewhat Disney-esque feel for an international flavor, juxtaposed with some rustic, Indian sound effects to accentuate the Indianness of the characters.


We have amazing opportunities to create 2 distinctly contrasting forms for the music - the first form a more recognizable and identifiable music for the live-action sequences. This is in sharp contrast to the 2nd form - distinctly different sounding western classical genre and cartoony touch along with whacky effects for the animated sequences where effects take precedence over melody, punctuating the difference between the real world and the toon world.


I revel in music and am enjoying the process thoroughly. TOONPUR is finally getting its soul. Cheers


5. Animation Team (16th April)


At end of the long animated road, last week we finished all animation & final compositing for TOONPUR. At the end of this milestone, I would like to take this opportunity to personally say a big "THANK YOU" to the wonderful animation teams at PIXION, Maya Entertainment, the pre-production team at 2nz Animation and the VFX supervision team of Art-ery.We completed our 2.5yr. journey together.


The journey has been long and arduous, lot of discussions and arguments. Sometimes amicable, sometimes heated. But all moving forward towards a common objective of making a world class live-action animation combined film with an all Indian crew, never seen before on Indian cinema. We were riddled with issues that threatened to derail us, and some did set us back as well. But never for a moment these individuals lose the qualitative focus on TOONPUR... and the focus of how important it was to get this film right, because of what this film's success will do to the flagging Indian animation Industry. Our careers and our trajectory is hinged to this project.


There were many individuals who have worked their hearts out, producing outstanding results. No screen credit is worthy or sufficient of their priceless contribution. They shall always be the unsung heroes of TOONPUR. The line production teams passing baton between the pre-production teams and post-production teams spread across multiple locations all over Mumbai with robust pipelines made it look ridiculously easy. It is clear for me that TOONPUR attempts to set new qualitative benchmark. Hope it meets with BO success too. We need all the luck and best wishes...


THANK YOU once again to the animation team for an incredible, memorable journey!


6. Edit (23rd Feb 2010)


Have been meaning to achieve this milestone much earlier in the month, but couldn't get to it due to various reasons. Finally the film's edit is locked (barring some minor scenes for which the renders have yet to come in from the post-production animation studio). The film's length is around 1hr. 50mins., perhaps a tad long, but it does sustain interest. Editor- Dharmendra Bablu Sharma and I have worked arduously on this one. I think both of us have been ruthless with the scenes that sag, chopping it with impunity to ensure sustained audience interest. This may not have been an easy film for him, as he has had to fill in a lot of his imagination while editing the green screen scenes, with just a reference of a storyboard or a rough animatic. And though I am a tad weary now, Bablu's excitement seems to be on the rise as the final visuals with animation and renders are piecing up together.


With the locking of the edit, the background music will commence in a day or so. The Sound design team too will have a greater impetus as they get the final locked edit. Hopefully March will be a lot more action packed with myriad activities now simultaneously unfolding.


7. Music Recording (4th Jan 2010)


Concluded the singing dub of an entertaining song sung by Sonu Nigam, Mahalaxmi and Sudesh Bhonsale. This song was an extremely difficult composition as the structure and tempo of the song varied on every single para, some sections of it were sung ad lib.


Kudos to Anu ji for the marvelous composition - composing for live-action & animation film with crazy visualisation antics is not a cake walk. Am glad Anu ji took up the challenge and composed something out of his skin. Sorry can't reveal the details at this point but this is definitely one of the moments in the movie to watch out for. Cheers.
BOLLYWOOD NEWS
Catch us for latest Bollywood News, New Bollywood Movies update, Box office collection, New Movies Release , Bollywood News Hindi, Entertainment News, Bollywood News Today & upcoming movies 2020 and stay updated with latest hindi movies only on Bollywood Hungama.