Munna Michael Review {2.5/5} & Review Rating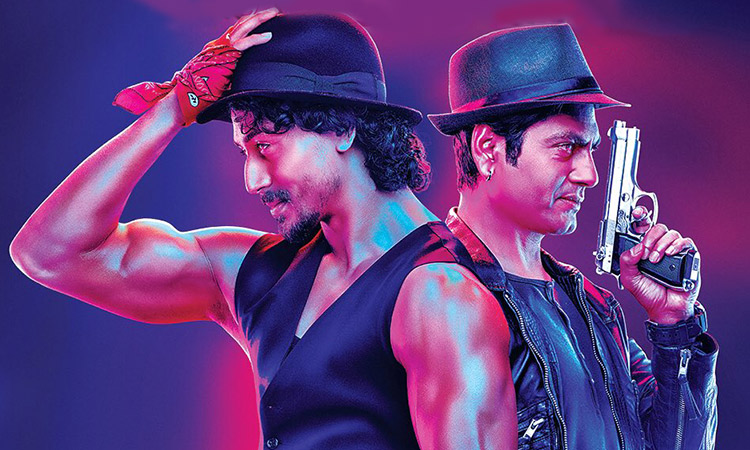 Michael Jackson has been a great inspiration for the present-day artistes. Tiger Shroff is one of them who have never shied away from speaking about his love for the deceased star. Hence, casting him in a film that pays a tribute to Jackson seems definitely ideal. At the same time, paying homage to Jackie Shroff by basing Tiger's character in Mumbai's Teen Batti, where the former resided at one point, also seems to work well, at least as evident from the promos. But do all these elements apart from Tiger's usual action stunts manage to entertain in MUNNA MICHAEL, let's analyse
MUNNA MICHAEL tells the story of a Michael Jackson fan from the streets of Mumbai whose life changes when he meets a beautiful, charming girl and a Delhi goon. Munna (Tiger Shroff) has always been a fan of MJ. He also doesn't take it lying down when people try to be oversmart and has no qualms in breaking their bones. During one such action adventure, he comes in contact with a ruthless gangster from Delhi, Mahinder (Nawazuddin Siddiqui). When Mahinder realizes that Munna is a born dancer, he asks him train him and help him become a pro dancer. Munna agrees, reluctantly. Soon Munna learns that Mahinder is learning dance to woo an aspiring star Dolly (Nidhhi Agerwal). Trouble arises when Munna falls for Dolly and she also develops feelings for him. How Munna balances his love for Dolly and his friendship with Mahinder forms the rest of the story.
The film begins well showing how Munna Michael was so named. The childhood portion, though unreal and giving a deja vu of LA LA LAND, brings a smile. Tiger's entry as expected is whistle worthy and same goes for his intro song (Main Hoon). The entry of Mahinder in the narrative and his subsequent dance lesson sequences with Munna takes the film to a higher level. Trouble arises after Dolly is introduced. There's no trouble with the character but for some reason, the film goes into an unreal zone from hereon. The film gets overlaid with clichés and too many disjointed plots. The heights in cinematic liberty are attained in the finale. See it to believe it!
The writing of the film is a major letdown. It seems that the scriptwriter (Vimmi Datta) didn't have much to offer after a point and took the predictable, clichéd route. While the first half has action, dance and a little bit of romance, the film switches track in the second half as the drama shifts to the sets of a reality show. This switch however is not seamless. Vimmi's dialogues however are decent.
It is praiseworthy that director Sabbir Khan is making masala films at a time when more and more filmmakers are jumping into the realistic cinema bandwagon. Also, getting Tiger and Nawazuddin together is a masterstroke. But at times the proceedings on screen are unconvincing. In the midst, there are scenes that are genuinely funny, action scenes that will excite the viewers and songs that are foot tapping. However, a better script could've gone a long way in gelling all these elements together for a great masala entertainer.
Coming to performances, Tiger Shroff looks smart and doesn't overdo the jumps and kicks that he is famous for. He dances like a superstar and pays and good tribute to Michael Jackson. There's also a hint of tapori style in his character and he catches it quite well. Nawazuddin Siddiqui is splendid to say the least. The actor has always worked his magic in any kind of a performance and this film is no exception. His dialogue delivery and comic timing hits the bulls' eye and brings the much needed masala in the film. And yes, he dances very well! However, one was looking forward to see Nawaz shake a leg with Tiger, which doesn't quite happen. Nidhhi Agerwal is charming and looks confident on screen. Her performance is fine, more or less, but her dancing could have been much better, especially when she's shown as the most popular dancer in a reality dance show. Also, there are scenes when she seems lost and out of place. Pankaj Tripathi (Balli), known for his performances in arthouse films, does a good job in this masala film setup. Ronit Roy (Munna's father) has a superb entry sequence. He gives an adorable performance, although later on, he does go overboard. But it's good to see him essay a positive character for a change. Chitrangda Singh, Farah Khan, Ameesha Patel and Shenaz Treasury fail to make a mark in their cameos.
Songs are entertaining and well placed. 'Main Hoon' played immediately after Munna's entry, is foot tapping. 'Swag' both versions, are well shot. Sandeep Shirodkar's background score is decent and has a 'filmy' touch.
Hari K. Vedantam's cinematography plays a big role in ensuring the film looks stylish. Manan Sagar's editing is crisp. Rajat Poddar's production design and Ganesh Acharya's choreography are appealing. ANL Arasu and K Ravi Verma's action is exhilarating.
On the whole, MUNNA MICHAEL has its moments but struggles due to weak writing. However, Tiger Shroff's fans would be a happy lot as the actor rocks the show with his dance and action. At the box office, the film's growth will depend on word of mouth.