Motherhood, considered to be one the most beautiful aspects of life, comes with its set of challenges. Safeguarding the child becomes utmost important for mother, and also for the father. While some mothers are easy going and allow the child to develop and mature with minimal supervision, some are controlling and get too involved in a child's life. It's called 'helicopter parenting' because, like helicopters, these parents 'hover overhead', overseeing every aspect of their child's life constantly. Pradeep Sarkar's latest offing HELICOPTER EELA deals with this aspect and promises to be a funny as well as a touching entertainer. So does HELICOPTER EELA manage to entertain? Or does it fail? Let's analyse.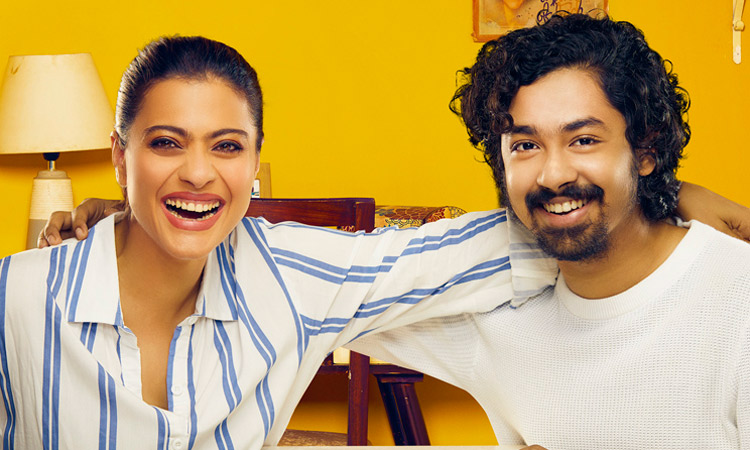 HELICOPTER EELA is the story of a mother and a son. Eela Raitodkar (Kajol) is an aspiring singer and is in love with lyricist Arun (Tota Roy Choudhury). She gets a major break as a singer and actor in a pop song. However, in the middle of the song shoot, the project gets shelved after the underworld gives threats to the director, Mahesh Bhatt. Eela meanwhile gets married to Arun. Their son Vivaan is born soon. All is going well until one day when Arun gets the news that his relative, in his 30s, has passed away. This is when Eela casually remarks how all the men in his family have died before they reached the age of 40. This scares Arun who realises that his end might be near. He decides to abandon Eela, Vivaan and his mother (Kamini Khanna). Eela has to give up her singing aspirations as she gets busy in raising Vivaan. Some twenty years later, Vivaan (Riddhi Sen) is now a college student. Eela is still as paranoid about Vivaan as she was before. Vivaan feels suffocated and he advises Eela to pursue her music or complete her education so that she gets busy and doesn't bug him. Eela decides to do the latter and she joins Vivaan's college. If that isn't enough, she manages to get admission in Vivaan's class. What happens next forms the rest of the film.
Mitesh Shah and Anand Gandhi's story is adapted from the Gujarati play BETA KAAGDO, written by the latter. It is very unconvincing. Still it could have been a bit decent if the script had covered some loose ends nicely. But Mitesh Shah and Anand Gandhi's screenplay is terribly flawed and all over the place. Also certain developments would leave the viewers stunned as it's so senseless. Mitesh Shah's dialogues are okay.
Pradeep Sarkar's direction is very weak. He has given some decent films in the past but HELICOPTER EELA is his worst film yet for sure. Also the film is titled so since Eela hovers around her son like a helicopter. But this is not explained properly in the film. Hence the viewers would be confused with regards to the title.
HELICOPTER EELA begins on a haphazard note. The film then suddenly goes into a flashback mode and the beginning of this portion is quite convenient, especially how Eela is praised by one and all in the music industry. But the worst part of the film is how Arun decides to leave Eela and his family for a silly reason. It is unbelievable how this bit of the script even got approved. Moreover, Eela's education is never stressed upon initially and there was no inclination that she is not a graduate. As a result, Eela suddenly deciding to join college seems random. Post interval, the silliness continues and things continue to happen at random. In a crucial scene, Arun arrives again and one expects things to heat up. But he leaves as suddenly as he comes back. Immediately after this scene, Eela is seen singing the song 'Oh Krishna you're the greatest musician'. Wonder what made the makers chose this song out of all songs. It is sure to induce unintentional laughter. The film gets a bit moving when Vivaan decides to stay away from Eela. The climax as expected is also far fetched and stretched. The end credit scenes makes one laugh wondering what exactly were the makers thinking.
Kajol delivers a fine performance and in some scenes, she does bring a smile and even leaves audiences teary eyed. In the flashback sequence however, she gets over the top. Riddhi Sen delivers a terrific performance. This National Award winning actor remains in his character and does very well. Neha Dhupia (Padma) is fine in a supporting role. Tota Roy Choudhury is laughable. Kamini Khanna is decent. Zakir Hussain (Principal Vivek Joshi) is good but in the end, it's funny to see him getting scolded by a student. Rashi Mal (Nikita) has a good screen presence. Chirag Malhotra (Yash) has an important part and is decent. The cameos by Amitabh Bachchan, Mahesh Bhatt, Ila Arun, Baba Sehgal, Shaan, Anu Malik, Ganesh Acharya etc add to the star value.
Amit Trivedi's music is nothing special. 'Ruk Ruk Ruk' is the best song of the lot and is thankfully not a remix created for the heck of it. It has a significance in the film. 'Mumma Ki Parchai' comes next and has quirky lyrics. 'Yaadow Ki Almari' is a bit underwhelming while 'Janam' doesn't work. Daniel B George's background score is in sync with the film's mood.
Sirsha Ray's cinematography is neat. Madhu Sarkar and Bhavani Patel's production design is rich. Radhika Mehra, Shubha Mitra and Punam Mullick's costumes is appealing. NY VFXwalla's VFX is terrible while Dharmendra Sharma's editing is haphazard.
On the whole, HELICOPTER EELA is a poorly made film and has too many loose ends and silly moments. At the box office, this helicopter is bound to crash!