And so, the latest in the female protagonist films has crash-landed: despite Kajol's sterling performance, the audiences rejected Helicopter Eela because of its garbled script and tedium.
A candid admission from Kajol in her pre-release interviews on the pay disparity over here: she did accept that heroines cannot generate the kind of business a Salman Khan or Aamir Khan can. But can an actress at least guarantee openings, and maybe profits on investment?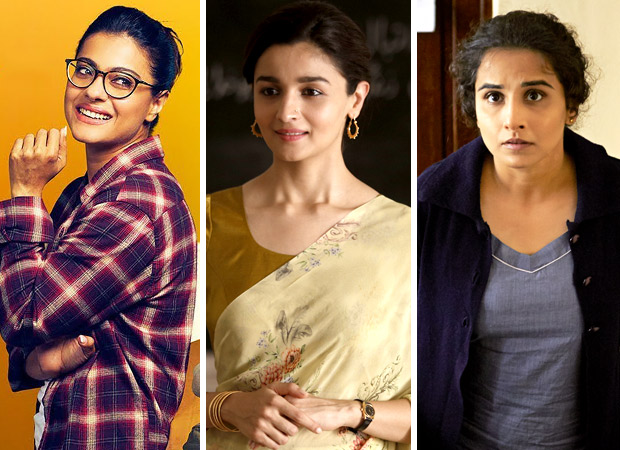 The female protagonist
Surprisingly for what is known as a male-dominated industry, we have had a fair share of movies in the recent past in which the heroine was everything, and the hero was either absent or played by an actor not exactly known or of any commercial value, and certainly not with a role to match in importance, length or potential. And gratifyingly, when such movies have been well-made, we have had successes, hits or super-hits.
The baseline for a successful film has always been the script. But that's not such a simple description: the script must talk about an issue, not necessarily dark or dreadful, but in a way that generates empathy and resonance, especially for the female protagonist. The more there is of this factor, the better the impact, all other things being equal that the female star can make.
Then the film's timing has to be correct: first, in its emotional connect and freshness, and next, in its release that must be fortuitous, in sync with the prevalent mood in society and the nation. A classic example here is of Alia Bhatt's Raazi, a biopic of a lesser-known brave woman who married into a Pakistani army family to spy for India, facing untold internal conflicts between her conscience and national interests. The patriotic mood of today, alongside repeated treachery across the border, ensured a Super-Hit tag to this film that was a perfect mix of thrills and substance. Alia, young and delicate, was perfect as the young bride with an intense agenda.
And so, the actress must be convincing in character and therefore in her performance. Her status, especially if not "current coin" (like the late Sridevi) should be inspiring enough for the film buff to dish out ticket money. The support system (the direction and editing that really "create" and consolidate a good script, cast, performances and music if relevant) and last, but not the least, the budgets must be just right, including for the marketing and generation of awareness. Known filmmakers and corporate backers are a massive plus, given the current trends of premium screens and shows preferentially allotted to those that supply films regularly and frequently to the multiplexes that dominate the cash inflows.
Prep matters
These preconditions may appear very daunting, but careful thought shows that they can be easily achieved at the creative as well as economic planning stages, and they also apply to any successful or good cinema, even to films without female leads, like Chak De! India, Taare Zameen Par or Dhamaal.
There are two classic cases that show what we mean, and the first is the comparison between Kahaani and Kahaani 2. Sujoy Ghosh thought that a powerful social problem like childhood sexual abuse and some twists could make a heady sequel, and that Kahaani fans would welcome Kahaani 2 as openly, additionally because Vidya Balan had been cast again.
He could not have been more wrong. At every level, the people that took to Kahaani for its explosive vendetta story crafted as an edge-of-the-seat suspense thriller, had their expectations smashed to smithereens by the "sequel". So while the brand ensured a decent opening of Rs. 4.25 crore, it was soon clear that loyal fans of all—Vidya, Sujoy, the Kahaani brand and the thriller genre—sent out a lethally negative word-of-mouth by day 2.
The second example was even more distinct: two 2017 releases, Maatr (which meant mother) and Mom (which meant the same) had an almost identical storyline: of a mother avenging the sexual crime perpetrated on her daughter. While the first, featuring Raveena Tandon Thadani, was an unqualified calamity, the second, with Sridevi, managed to earn a slim profit.
As against Maatr, Mom's script was intense instead of being farcical and tritely formulaic. An add-on emotional angle was created by the daughter being a step-child, and thus despising the woman who wants to be close to her husband's offspring. The way the vendetta was carried out by the mother did have its simplistic sides, but the results seemed dramatic. The turnaround by the investigating cop also had its own effect on the film's script.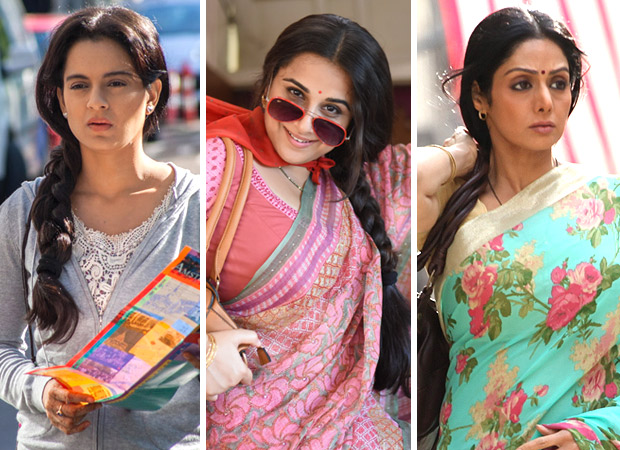 Right side forward
We all know the complete surprise that was Sridevi's earlier powerhouse comeback in Gauri Shinde's English Vinglish (2012).  That was also the year of Kahaani and Karisma Kapoor's disastrous attempt at a "supernatural" comeback with the puerile and misconceived Dangerous Isshq.
Sridevi slipped as effortlessly as in Mom into the role of another, far different, housewife and mother, who does not know English and is subjected to humiliation by her pompous husband and snooty daughter. A chance to stay abroad for a while, learn English and shock her husband into chagrin was something that struck an instant and deep bond with women in similar real-life positions, and resonated even with similar offspring and chauvinistic hubbies. Gender equality and woman's empowerment were subtly reinforced, along with the message that knowing English and being well-educated were not synonymous at all!
Another actress who succeeded twice in diverse films and roles was Rani Mukerji, with her husband Aditya Chopra's Mardaani and, more recently, Hichki. Mardaani did follow a variant of the Maatr-Mom storyline with a credible difference: the avenging woman was a cop, the victim someone known, and the villain a human trafficker. But unlike in Helicopter Eela, director Pradeep Sarkar showed focus in that script, and Rani and the film delivered.
The second film, Hichki, comes in by default. Rani was outstanding as the teacher with Tourette syndrome; the film had a familiar, audience-friendly but very well-knit graph, and was a biopic with a gender flip. And that is why we mention "default"—because the film was originally written for a male and offered to Abhishek Bachchan, who in his wisdom, rejected it!
Kangana Ranaut's Queen was another masterly script on female power that struck a rapport even in small-town India. Boorish suitors like Rajkummar Rao (then a barely known actor) are a dime a dozen probably even today, with dated and regressive ideas on how women should be (have)! Using the weapon of humor (as in English Vinglish), the film hollered, loud and clear, that women were not mere toys or objects. But when the same Kangana tried to overdo things with Rajjo, Revolver Rani and Simran, those films were sent packing.
Priyanka Chopra was cast as the Manipuri boxer, who went on to win laurels internationally, in the latter's biopic Mary Kom. There was not even a modicum of physical resemblance, but the film resonated due to the emotional connect and message that the human spirit can conquer all odds.
Lara Dutta scored high as the grumpy, hoity-toity and over-fastidious successful tycoon in Chalo Dilli, in which 'hero' Vinay Pathak made her unwind and look at life differently and beyond the constrained visions of her microscopic ivory tower. And Vidya Balan earned empathy also for her undoubtedly far-fetched story of a hausfrau with seemingly absurd ambitions as she cracks it bigtime in Tumhari Sulu.
And so, it is the same story, come male or female: the film is all, the gender of the protagonist incidental.
BOLLYWOOD NEWS - LIVE UPDATES
Catch us for latest Bollywood News, New Bollywood Movies update, Box office collection, New Movies Release , Bollywood News Hindi, Entertainment News, Bollywood Live News Today & upcoming movies 2021 and stay updated with latest hindi movies only on Bollywood Hungama.