Befikre Review {3.5/5} & Review Rating
EXPECTATIONS
There are very good expectations from the music of Befikre. After all, the man who is in charge is Aditya Chopra and now that he has roped in Vishal-Shekhar and lyricist JaideepSahni to do the job for him, nothing less than spectacular would do. Music of his films DilwaleDulhaniya Le Jayenge and Mohabbatein are played till date while Rab Ne Bana Di Jodi had a couple of songs doing well too in the long run. Now it has to be seen whether Befikre works instantly or takes time to grow on you.
MUSIC
It is a fantastic start for the soundtrack as Arijit Singh kick-starts the proceedings with 'Nashe Si ChadhGayi'. The song has a smooth free flowing feel to it and you indeed get a sense of intoxication with the way it unravels. The song has a good fusion of 'desi' and 'videshi' music coming together, hence making it truly interesting. JaideepSahni's lyrics are truly different too and one can sense that the words have been designed especially for an Aditya Chopra film. All in all, a well packaged affair where Arijit Singh excels once again, this time with Vishal-Shekhar as the composer duo.
The fun continues the song that follows, 'UdeDilBefikre', is just the kind that you instantly associate with a Yash Raj film. It is apparent that Aditya Chopra was quite clear about what he wanted to hear for his title song and it is remarkable how Vishal-Shekhar, JaideepSahni and singer Benny Dayal give him exactly that with this song. With an Arabian feel to it, this one actually has the kind of style that was prevalent in the films from the 60s where Shammi Kapoor, Biswajeet or Joy Mukherjee would have been happy to lay their hands on it.
'Je T'aime' is the song that follows and it basis its situation in the film where both protagonists decide that they would 'Never Say I Love You'! The title of the song here is in French and the overall feel, theme and unravelling has its base set in European musical setting too. Vishal Dadlani brings himself behind the mike for this one and Sunidhi Chauhan, the most experienced female singer in the current musical scenes, is roped in as well to give him company. A situational number, this one is the kind that takes time to grow on you and should be able to cover a distance if the film turns out to be successful commercially.
Nikhil D'Souza has Rachel Varghese for company as the duo gets behind the mike for a fun celebration number 'You And Me'. This one has a youthful feel to it and yet again, it is unconventional lyrics on play here. A happy song which is about two young ones coming together and just having some good times on the streets of Europe, 'You and Me' is situational as well and turns out to be an easy hear.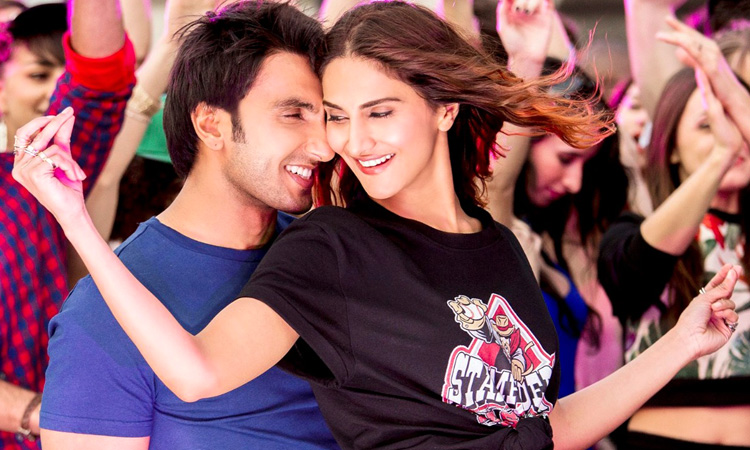 There isn't any musical preamble at play here as Papon comes to the point right from the very first second as his voice is heard in 'LabonKaKarobaar'. This one too has a 60s feel to it and one does get an impression that the Bollywood composers of the era gone by were truly influenced from their Western counterparts back then. Surprisingly though, the song has a lazy feel to it and the manner in which Papon sings it doesn't bring in much energy into play as well. One waits to see how this song appears in the narrative of the film.
Thankfully, there is some good energy on play once Gippy Grewal takes centre-stage for 'KhulkeDulke'. This one has the kind of sound that reminds one of the music that Vishal-Shekhar had put together for Tashan, which was also an Aditya Chopra production. A fun celebration track that has a good pace to it, 'KhulkeDulke' is a 'bhangra' track that has beauties from Paris no less shaking a leg or two. As for the female voice, it is Harshdeep Kaur who does the honours and along with Gippy Grewal there is a winner in the offering. In fact the song also makes one wonder why it wasn't one of the first to be unveiled.
The soundtrack concludes with the instrumental track 'Love Is A Dare' which basically amalgamates the theme of all the songs that have been heard so far in the album. It is after a while when a track like this has been heard in the music of a Hindi film and you don't mind that at all as 'Love Is A Dare' has been woven well.
OVERALL
The music of Befikre goes well with the spirit and theme of the film and one can be sure that even with half a dozen tracks out there, the snappy duration (the soundtrack lasts just 26 minutes) would help it all fit in well into the narrative.
OUR PICK(S)
'UdeDilBefikre', 'Nashe Si ChadhGayi', 'KhulkeDulke'