HOSTAGES is one of the many shows that the Disney+ Hotstar and Applause Entertainment collab had announced. Along with OFFICE, CRIMINAL JUSTICE and others, HOSTAGES is also part of the Hindi remake line-ups of hit foreign shows. It is the adaptation of an Israeli show by the same name. The first season had arrived in 2019, which didn't really get glorious reviews. The convenient handling of the plot and subplots made many wary of it. Despite that, the streamer released season 2 of the show, perhaps because the Israeli show has one too. So does the second season of the Indian version manage to correct its past mistakes or decides to stay true to the original material irrespective of the criticism? Let's find out.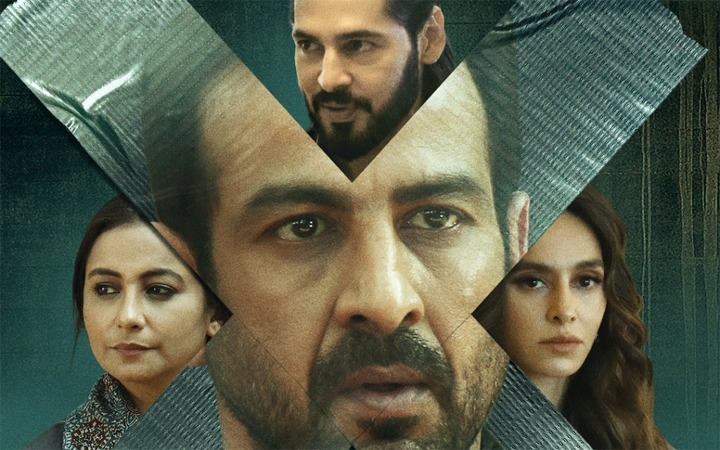 Tables are turned in the second season of HOSTAGES as the kidnappers are now captive in a derelict house with cops closing in. The show begins from where it ended last with Prithvi (Ronit Bose Roy) and Aman (Ashim Gulati) getting ready to leave the country along with Saba (Shriswara) and Chief Minister Handa (Dalip Tahhil) for her transplant surgery. Sara (Fazeh Jalali) is taking care of Saba while Peter (Amit Sial) returns to the hospital to get oxygen cylinders. Meanwhile, the CM's wife identifies his body and confirms he is dead. She is clearly hand-in-glove with Prithvi and his gang. Subramanium (Mohan Kapur) doesn't quite believe the CM's wife and checks the dead body for himself. He realises it's not Handa. Soon enough he spots Peter whom he had seen taking CM's body out from the OT after the surgery. He follows Peter and realises that Handa is well when he watches Prithvi and others take the CM to a van. Prithvi's plan goes bust when due to a traffic commotion, Handa manages to escape and Saba has an episode. While Prithvi runs to capture Handa again, Aman takes shelter in a rickety old house to put Saba on oxygen. This brings everyone to the house with Subramanium close on their heels. He too wants Handa dead and even gets a hitman to do the job who gets shot by Aman. Subramnium becomes a hostage. But things turn for the worse when cops hear gunshots and reach to investigate, one of them becomes a hostage and gets back up. Now it becomes an elaborate game for Prithvi to get out of this mess unharmed and with their objective in place.
Originally penned by Omri Givon, Yezira Ivrit and Rotem Shamir for the Israeli version, Indian adaptation has Nisarg Mehta and Cine Raas Writing team in the credits. The first season was mired by a pacy start that deflates in the subsequent episodes. The second season takes a while to pique your interest. If you have watched the first season, you wouldn't mind the momentum but if there's anyone, who's watching the new installment first, it could be quite boring. To give credit where it is due, the way Prithvi manages to turn the situation to his advantage is quite fetching. The writers gave it just the right amount of push so that it doesn't seem convenient. But it doesn't really give you the kick that you are looking for. Characters are introduced at regular intervals without paying much heed to their backstory. Dino Morea plays Ranbir and all through the season, you can't place him in the narrative. If you are scratching your heads as to where does he fit, do watch the last episode of the first season. The writers here are too busy to make that connection for you. Divya Dutta is introduced as negotiator Asha Khan and a lame date with a man is arranged for the same to establish why she is fabulous at her job.
Inane sub-plots threaten to burden this season as well because the writers seems to be too lazy to pen better. Handa escapes so easily that it will stump you. For someone who desperately needs Handa to save his wife, Prithvi and his crony Aman are pretty lax at keeping an eye on the prize. When the lady inspector is released, nobody questions her to know what she saw inside to get an idea of the number of hostages. Shweta Basu Prasad plays a journalist named Shikha who initially does a great job of digging out dirt on a lot of high-profile people but then decides to go head-on with a sharpshooter alone.
Sudhir Mishra moves to the series director chair this time while Sachin Mamta Krishn directs the episodes. Honestly, there's nothing much to write about the direction, as the biggest asset of this show is the cast. The execution could have been pacier as at one point you have to fight sleep to stay focused on the show. The jerky camera movements, perhaps done to add to the drama, annoy you instead, as they aren't really necessary. The random make-out or lovemaking scenes are almost nil which is such a relief. The first season had far too many and rarely added any merit to the story.
HOSTAGES SEASON 2 begins quite slow and continues with that momentum for the better part of the show. At times, you have to wrestle with sleep to stay invested in the proceedings. The big reveal or the sudden twist doesn't shock you as much as it does to Ronit. That's because by then you have already realised there's always a possibility for it to happen. So many questions are left unanswered. Why is the CM's wife working in tandem with the kidnappers? What did she get out of it? Also, Shibani Dandekar who plays Isha Andrews, representative of a rich corporate firm, chats with someone with the initials of SA. It is later revealed that it's her father Steve Andrews but he stays a mystery till the last episode. If you think they have kept it that way for the third season, I would like to inform you that the Israel counterpart doesn't have a third installment.12 episodes is also far too long for this season as you become impatient to see it end.
Like I mentioned earlier, the biggest win of this show is the cast. Ronit Bose Roy is obviously one of the bests in the lot as he does the job of a calm and calculating ex-cop turned mastermind quite well. Divya Dutta shines with her smart lines and impressive body language. You will actually start believing she would make a great negotiator in real situations too. Minus the pointless swearing, Shweta Basu Prasad does a decent job. Even Dino Morea gets your attention with his suave moves and cocky yet chilly demeanour. Shibani Dandekar as Isha Andrews does her job well.
All in all, HOSTAGES SEASON 2 doesn't redeem the first season in any way. Instead gets duller and more inane.
BOLLYWOOD NEWS
Catch us for latest Bollywood News, New Bollywood Movies update, Box office collection, New Movies Release , Bollywood News Hindi, Entertainment News, Bollywood News Today & upcoming movies 2020 and stay updated with latest hindi movies only on Bollywood Hungama.