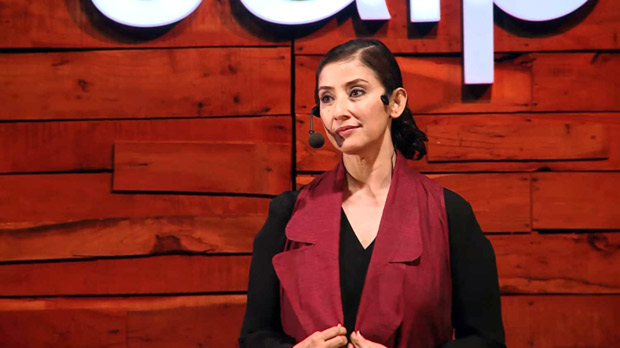 Every 90s kid would know how popular was Manisha Koirala. The actress was known for her fine acting skills and some of her finest performances include Dil Se and Bombay. But, soon, her career took a toll when her films started to bomb and her health condition worsened. Manisha was diagnosed with cancer and but came out strong and has been cancer free for four years now.
Now, Manisha Koirala has made her comeback with film Dear Maya. She will also be starring in Rajkumar Hirani's Sanjay Dutt's biopic starring Ranbir Kapoor. She is playing the role of Nargis Dutt.
Recently, at TED Talks in Jaipur, Manisha Koirala shared her personal experience about life as an actress, giving bad films one after another and life after surviving cancer. Here are the top five quotes which made her speech a moving one.
Uncertain Life:
"It's this uncertainty that makes life so fragile and beautiful. Some 20-25 years ago, I lived a life that many would only dream of. I always wanted to be an acclaimed artist and be at the top of my game. I came from Nepal and actually managed to be a successful, popular actor in Indian film industry. I did about 80 odd films in five different languages, multiple awards. To be honest, some quality and lot of quantity. Everything I had dreamt of or infact more than I dreamt of was happening to me."
Failed relationships; flop movies and getting diagnosed with cancer:
"While I was in the most enjoyable ride ever, life had planned something else for me. I would be thrown into a whirlwind of things where slowly I would start to lose it all. Initially, it started subtly like I signed a bad film like and I got a bad review. And then, there was another and another and another. But, I didn't care because even then I had some good directors wanting him in their films. So, I thought I can always bounce back. But, that didn't really happen. I had developed an unhealthy lifestyle which was attracting a wrong company. Restlessly, I was moving from one bad relationship to another one. I was a mess and I was in denial. I felt flat on my face when my marriage broke. And soon after, I was diagnosed with aggressive form of cancer."
Fear of death:
"My cancer was the extreme kind. I signed wavers for permanent heart damage, permanent ear damage, a permanent neuropathy problem. Or when I got to know that my hands would be shaking for the rest of my life. It's then I got scared, really scared. I started the worry that maybe these were my last days. Maybe I was facing the 'D' word- the unimaginable and the unfathomable death. I started the think, "If this was the end of my life, what did I do with my life so far? Did I live well and was I proud of it?"
Getting support from family and friends:
"I take care of my health. I nurture it. My relationship with my family sits filled with much more respect. I used to have an entourage of friends, the huge circle of friends. But today I have a handful with whom I share a deeper bond, more meaningful friendship."
What she learned after surviving cancer:
"I found few such basic principles and because they are simple, we tend to take them for granted and don't apply them. I found that this life is a gift and everything that comes with this life is a gift. We need to nurture it, be grateful and we need to embrace it. People who cross our paths are gifts. The importance for introspection-we need to dive and live our truth. We need to discover ourselves. So, everyday we can live with clarity and passion. And no matter how much you prepare for everything, life will always find a way to surprise you. But, we have choice. We can either be consumed by it, become victims and make that larger than us and get defined by it. Or we can turn it around into a platform for our growth because there is a lesson and message underneath all those problems. We can make a worse a situation into a narrative of triumph. The wisdom and courage is all within us."
BOLLYWOOD NEWS
Catch us for latest Bollywood News, New Bollywood Movies update, Box office collection, New Movies Release , Bollywood News Hindi, Entertainment News, Bollywood News Today & upcoming movies 2020 and stay updated with latest hindi movies only on Bollywood Hungama.