The conversations surrounding #MeToo have been reignited yet again. It should have been a great thing as the much needed movement that started off in a huge way last year had lost its sheen. However, in case of the De De Pyaar De row, it has taken a wrong path and it's unfortunate that most sections of the media have not been putting up the true and complete picture.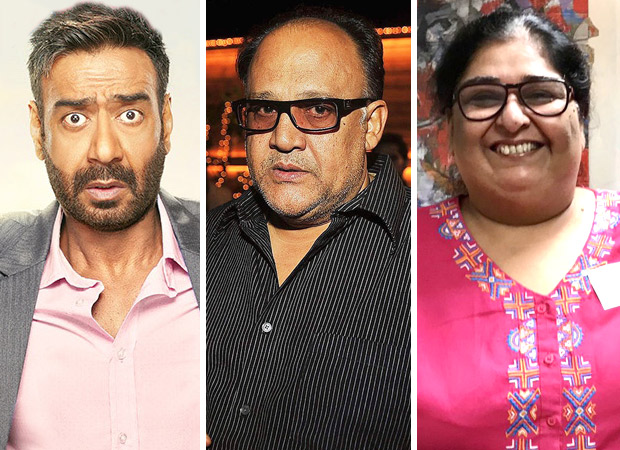 It all started two weeks back when the fun-filled trailer of the upcoming film De De Pyaar De was launched. A section of people loved the promo but many were startled to see the presence of Alok Nath in this film. After all, this veteran actor had come heavily under the #MeToo scanner. Actress Vinta Nanda alleged that Alok Nath had raped her two decades ago and it sent shockwaves. Soon, other actresses like Deepika Deshpande Amin and Sandhya Mridul also came out and claimed that Alok has misbehaved with them as well. He was heavily trolled and a police case was filed against him. Not just that, Federation of Western India Cine Employees (FWICE), the mother body representing all the crafts and technicians in the industry, banned him for six months. As a result, all hell broke loose when Alok Nath was seen in De De Pyaar De. Everyone believed that the team of the film worked with him after the allegations against him surfaced, in October 2018.
Recently, Vinta Nanda was asked to comment on Alok Nath's presence in this comic caper and she made a very strong statement, "I don't expect anything from (De De Pyaar De lead actor) Ajay Devgn. I don't think he is in any position to take a stand. The money riding on the project is the only dharma for them". She further said, "When it comes to the box office, nobody [in the industry] follows any other religion. There is no right and wrong. Their politics and ideologies go for a toss. Their reluctance to take action is the giveaway [of their intentions]."
We salute Vinta Nanda for being so brave and fighting this case despite so many odds against her. However, in the case of De De Pyaar De, she has got it wrong. It seems she has fallen to the false perception built that Alok Nath was signed on the film despite the #MeToo allegations. This is incorrect as the film that went on floors in the first half of last year was wrapped up in mid-September 2018, around 10 days after the movement began with Tanushree Dutta's interview. A unit member of the film confirmed this fact with this writer. Hence, the makers had no choice but to retain his scenes. Going for a complete reshoot is impossible since to get combination dates of actors and that too in bulk is not feasible.
@ajaydevgn #tabu #iftda @ashokepandit @KajolAtUN @Rakulpreet @meghnagulzar @alankrita601 @ektaravikapoor @konkonas @luv_ranjan @Luv_Films @RajeevMasand @anupamachopra #MeTooIndia #MeToo @PedestrianPoet pic.twitter.com/Cy3PHXFwmz

— Tanya Paul Singh (@tansunip) October 19, 2018
Secondly and most importantly, Ajay Devgn has proved that he takes sexual harassment allegations seriously. During one of the initial schedules of De De Pyaar De, Ajay's make up man Harish Wadhone sexually harassed assistant director Tanya Paul Singh by touching her inappropriately. After she raised her voice, Ajay and producer Luv Ranjan promptly fired the predator. Tanya opened up about her ordeal to Bollywood Hungama in October wherein she said, "They (Ajay and Luv) supported me in this ordeal. It was not my decision to fire him from the film. But Luv Ranjan said that nobody would behave like this with my AD. He told Ajay Devgn that your makeup man can't step foot on my set and that if you really want him, then you can have him in your vanity van. But Ajay sir took a stand and discontinued his services. Mind you, that person was with Ajay Devgn since the time he began his career in 1991! Although he came on board with Tanhaji, I am sure that he has learnt his lesson. As for Luv sir, I am thankful to him for eternity. He gave me the faith that industry mein sab gande log nahin hai."
One more point must be made here that this incident happened last year in May, four months before the #MeToo controversy broke out. So it'll be wrong to assume that Ajay had to take this decision in order to avoid coming under the fire from #MeToo activists. He not only took the correct decision, he also did it quietly and unlike many other actors, he didn't even tell media to cover about it just to show his good side. This incident came to light only after Tanya Paul Singh opened up about it. Then, all sections of media had reported about this incident. Shockingly, most people in the media simply ignored this important episode while writing about the Alok Nath row that surfaced at present. At the trailer of the film itself, Ajay Devgn was asked as to why Alok Nath was casted in the film. The actor stated, "This is not the right place to talk about it and secondly, the film was complete way before the controversy broke out." It was astonishing to see that many people in the media picked up only the first part of the quote. As a result, a narrative was built that De De Pyaar De makers hired Alok Nath despite knowing that he's a rape accused and when asked about it, Ajay Devgn refused to answer it on flimsy grounds! And poor Vinta Nanda seems to have fallen for this fake assumption.
It never is, @ajaydevgn, till you make it the right place and time. What a lot of difference your support would have made for women, but you chose the easy way out. https://t.co/McNqhtDTao

— #MeTooIndia (@IndiaMeToo) April 3, 2019
De De Pyaar De team is also at fault though. They shouldn't have shown Alok Nath in the trailer, in the first place. By doing so, it seems like they are promoting and trying to sell this film on the basis of his character. Secondly, for Ajay to say "This is not the right place to talk about it" was very unfair. The trailer launch is an absolutely right place to talk about such stuffs. By giving that particular quote, he just made the controversy stronger.
Coming back to what Vinta Nanda said, it is indeed true that the industry cares mostly for box office numbers and that's what matters. But let's not forget that after the allegations surfaced, a lot of unprecedented actions were taken. Housefull 4 makers reshot the scenes featuring Nana Patekar as he was replaced with Rana Daggubati. This is a huge, VFX-heavy film and to replace an actor in a multi-starrer is a daunting task. But Sajid Nadiadwala and Fox Star Studios took this decision as they felt it was just. They even replaced director Sajid Khan for he too was called out for his highly objectionable behaviour. In the case of Super 30, director Vikas Bahl won't be credited and as per reports, he didn't sit in the final round of edit. Then Yash Raj Films terminated the services of Ashish Patil, vice president and creative head of Y Films, after a woman accused him of sexual harassment. Hence, to paint the entire industry with the same brush is completely unacceptable.
Finally, it's mysterious why De De Pyaar De makers and Ajay Devgn aren't talking anything at all in their defence, especially when they are not wrong. Here's hoping they do so soon as these allegations are doing more harm than good, or rather only harm, to the very significant #MeToo movement!
Disclaimer: The above article is a representation of the author's views. It has not been developed to defame, hurt or tarnish the image or reputation of the person(s)/subject(s). The above article does not in any way represent the view(s) of Bollywood Hungama.
BOLLYWOOD NEWS
Catch us for latest Bollywood News, New Bollywood Movies update, Box office collection, New Movies Release , Bollywood News Hindi, Entertainment News, Bollywood News Today & upcoming movies 2020 and stay updated with latest hindi movies only on Bollywood Hungama.