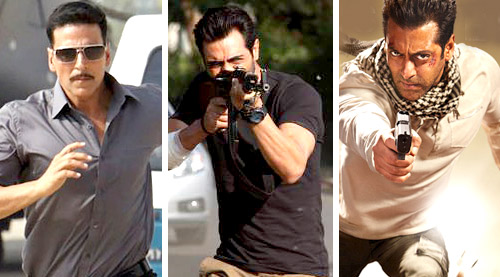 So Baby, as expected, has been liked by not just audiences but also the critics. Any limitations in its performance can safely be attributed primarily to the lack of true emotional quotient in this coldly clinical espionage drama of a secret crack group with this 'infantile' name. But the crackerjack pace, very Hollywood-like finesse and the no-nonsense approach of a gang of intelligence officers that does not care a damn - for protocol, for their own safety and for their families - as long as they protect the nation - won the film brownie points.



A point to be noted: espionage thrillers, even when well-made, are not exactly mass favourites. Brilliant films like Mani Shankar's 16 December and Anubhav Sinha's Dus did only modest business, while D-Day flopped for reasons no one has yet been able to fathom.



The Exceptions

The only exceptions in the "era of terrorism", so to speak, were Sarfarosh, Ek Tha Tiger, Holiday and Kahaani, and each had specific reasons for being so. With the first movie, not only was its script exceptional yet emotion-heavy, but there was Aamir Khan, and some fine music to lace it up.



And while Ek Tha Tiger rode on the Salman Khan wave despite diluting a superbly business-like first half with a mushy and romantic Veer-Zaara-esque Indo-Pak 'typically YRF' love story (between agents of enemy countries!), Holiday saw director A.R. Murugadoss explore sleeper cells in a fictional, emotionally- and dramatically-gratifying manner with Baby hero Akshay Kumar as a soldier on leave sacrificing all for the country.



Kahaani powerfully used the tale of a hausfrau, portrayed wonderfully by Vidya Balan, whose highly personal agenda makes her work for the country to eliminate a mastermind who has killed her countrymen.



The Et Cetera Thrillers

On the other hand, other myriad looks at terrorism - the current prima causa for espionage movies rather than "enemy" countries - like Sriram Raghavan's Agent Vinod, Anil Sharma's The Hero - Love Story Of A Spy (which did well only in limited circuits), the ultra-realistic to the point of dryness Madras Cafe (directed by Shoojit Sircar) all faced rejection for clear-cut reasons.



Past Diversity

As always, however, there are lessons to learn from the past. And future thriller filmmakers (Kabir Khan is making Phantom on the same theme as Baby) need to heed them.





Hindi cinema's first true-blue spy thriller was the 1950 Samadhi directed by Ramesh Saigal, and that year's biggest hit. Set in Myanmar (then Burma) against the backdrop of the freedom struggle of Netaji Subhash Chandra Bose, the film was made with acceptable formulae like a love triangle and a hit soundtrack by C. Ramachandra led by the cult 'Gore Gore O Baanke Chhore'.



Subsequently, spy thrillers took a backseat till the wars with China and Pakistan once again brought patriotism of the aggressive kind out in the open. Farz (1967), one of the biggest money-spinners of that year, brought in Jeetendra, attired in white from head to foot, with a muscleman's physique, looking equally comfortable with both a gun as well as when cavorting with Babita to zingy Laxmikant-Pyarelal chartbusters. In those days, in sync with the times, Jeetendra was modelled like a desi version of James Bond, except that Bond did not dance or sing!



A few months later came the only other top hit of the year that falls in this category - Ramanand Sagar's Ankhen (1968), also the first Indian spy thriller to be shot abroad, and starring the cool, macho Dharmendra. The music was melodious rather than peppy, but the soundtrack helped to boost the film's b-o.



Interestingly, Ankhen and Farz both had family elements integrated within the main plot, showing that emotional voltage was mandatory for a spy thriller to succeed in India: in Farz, the heroine's father is a key suspect, while in Ankhen, we got our first look at how ordinary citizens rose to fight terrorism (then not coined as a term!), an idea that peaked in the 2008 A Wednesday! .



At a basic level, every such thriller has a simple 'plot' (pun intended) - of thwarting a malicious conspiracy by enemy countries. With action, thrills and entertainment, such movies had another edge too - of touching emotional chords including the patriotic one.



The Bharatiya Bond, so to speak, believed in family values, usually had a family with elders and maybe a sister too (all the way to Sarfarosh and beyond) and was largely a one-woman man, at least after he met the heroine! He, as we said, danced expertly and lip-synched songs, and this was preferred to sleeping with a dozen femme fatales. He could get emotionally blackmailed in the climax or swear personal revenge when the baddies attacked his family or beloved. He believed in hardcore physical action rather than gadgets. Jingoism was also an innate trait in most cases. He would never first shoot and speak afterwards, but talk first, shoot and again speak the final punch-lines!



In Deepak Bahry's 1977 Agent Vinod, for the first time, however, we got a secret agent without a known family background, armed with hi-tech gadgetry (cars that flew, guns that fired backwards et al) that were open tributes to Bond. This modest game-changer for the Rajshri Productions banner was truly innovative as the special effects technology then was quite primitive. And yet, Vinod did indulge in extempore shaayari and songs!





Formula Fare with a Spy

However, the other films in this genre - probably made to cash in on trends and audiences' love for the country) got only lukewarm receptions. The small-budget Spy In Rome, produced by Jaymala and directed by B.K. Adarsh (parents of Bollywood Hungama critic Taran Adarsh), S.S. Vasan's entertaining potboiler Shatranj, and the somewhat similarly-plotted Yakeen directed by Brij and Humsaya directed by its hero Joy Mukerji were among these films. Both these last films used the double role device to show lookalikes between Indian and enemy agents.



Masala entertainment being the buzzword, we saw Ravee Farz Nagaich spinning out the modestly successful Dharmendra film Keemat, the hit spy drama, Suraksha (1978), with which Mithun Chakraborty got his first flush of fame, and which actually pioneered the 'disco' song, and its sequel Wardat (1979), which bombed. But Nagaich made a fifth secret agent (as they were called) story called Bond 303 with Jeetendra again in 1986, and that was a huge disaster!



The Foreign Hand!

Rajesh Khanna, in 1979, produced Chakravyuha, a gripping drama inspired by the classic John Buchan novel "The Thirty-Nine Steps" written during the First World War, and though Basu Chaterjee adapted it well and gave it a crisp narration, it flopped badly.



Kabir Khan also looked at international terrorism through the prism of Indian characters caught in them with the flop yet gritty Kabul Express (2008), and the reasonably successful New York (2009).



But the message was clear: mere action cannot compensate for a lack of emotional connect, even in an espionage drama, just as it does not in a 'normal' actioner. Spies must have a heart as well.
BOLLYWOOD NEWS
Catch us for latest Bollywood News, New Bollywood Movies update, Box office collection, New Movies Release , Bollywood News Hindi, Entertainment News, Bollywood News Today & upcoming movies 2020 and stay updated with latest hindi movies only on Bollywood Hungama.