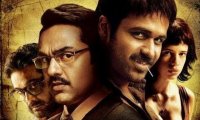 In a dark dingy dreadfully corrupt town run by politicians and their goons, there lives no hope. In my favourite sequence in this masterly study of political damnation, a young raw policeman stands in front of a soft-spoken IAS officer trying to cover up for his seniors who have tampered with evidence regarding the assassination attempt on a charismic anti-industrialization leader.


The young cop doesn't know where to look, what to say…That dreadful dithering uncertainty of a people smothered by corruption encircles the densely populated richly layered world that Dibakar Banerjee has built in this powerful political parable ironically named Shanghai.


Hence, the mofussil godforsaken politically-infested town is turned into a garish setting for modernization. An Enron-styled multi-national company wants to change the town's destiny. Turn Shirdi into Shanghai, so to speak. Dr. Ahmadi (Prosenjeet Chatterjee) sees through the modernization ruse. Flirty and magnetic, Ahmedi arrives in the unnamed town to implore people not to sell off their homes and land to the big daddys from pardes.


He pays for his warning speech with his life. Who needs heroes when there are so many zeroes on the cheque?


As Ahmedi lies dying in an ill-equipped hospital a plot that grips the seedy town unfolds onion style. Layer after layer of deceit and conspiracy is laid open, until we look at that undressed naked gaping wound which is Bharat Mata's political system. Often we are left looking at the emptiness at the heart of the globalization dream.


Burgers are fine. But what happened to good old daal-roti? Ironically, Shanghai treats the theme of rampant globalization burger style. Apart from one utterly irrelevant item song (which serves its purpose in the plot but cannot get away from charges of being gratuitous) there are no superfluous concessions to audiences' lazy perceptive powers.


A week after something as blissfully brainless as Rowdy Rathore we can't expect the junta to actually THINK in a movie, can we? Grow up, you say? Why should we, counter the opium-numbed masses. Take it how you want. But there are no self-indulgent interludes of indolence in Dibakar's storytelling. The storm leading up to the explosive culmination builds up as though on its volition. There's no tampering with the truth of cinematic devices as the lies, damned lies, unfold in a grotesque parade of subverted democracy.


The violence associated with present-day Indian politics is seldom given a chance to rum amok in the narrative. The idea of irreversible corruption is more implied than depicted. Shanghai is a film of supple and whispering suggestions. The conspiracy to thwart the truth about the central political murder is brought forward with a deepening sense of shame. Bravura is not a virtue in the script. The mortified remains of a nation stripped of conscientious political governance are seen blowing blissfully in the wind as the characters attempt to catch the last shred of evidence that there once lived the Gandhis and the Nehrus on the nation of damnation.


Shanghai is work of unmitigated honesty (we're overlooking the item song). There are no compromised episodes. The brutality, inwards or physical, is never dressed up in filmy finery. From the parched location to the unwashed characters the detailing in the screenplay by Urmi Juverker and Dibakar Bannerjee leaves no room for quibble.


The unnerving ambiguity of the characters' destiny sometimes leads to sequences where our horrified response to the volume of political atrocity exceeds the actual visual description of the atrocity. When Emraan Hashmi's colleague is bumped off in a road accident and Emraan accompanies the numbed wife to the accident spot, or when Kalki gets uncontrollably violent pounding at her mentor's killer with anything she can lay her hands on, we know our administrative system has reached breaking point.


By and large, Dibakar steers clear of excesses in the drama. He is full command of the chaos mayhem and anarchy. In many ways Shanghai is more in control of the chaos depicted than most other political dramas in Hindi .


The scenes of rioting and arson are shot not for their visual impact but to lay open the trap that we've created for our own destinies by choosing closet criminals as our political leaders.


The actors seem to get the point completely. They surrender to the narrative unconditionally and don't perform for applause, not even the heart-throb Emraan Hashmi who's transformed into an oafish sleazy videographer, warts moles belches burps and all. As you seek out the nuanced details in the plot, you also get a chance to realize how much the actors contribute to the powerful impact of the drama.
Among the supporting actors Pitobash Tripathy, Anant Jog and Farouq Shaikh are brilliant. The film's four principal characters as played by Emraan, Abhay, Kalki and Prosenjeet stay with us as people who could make a difference to our compromised lives, if given a chance.


Textured tense and tactile Shanghai is that rare kind of cinema where the characters never seem imposed on the narrative. Dibakar Banerjee has constructed an intriguing jigsaw where the cancerous rot in the body politic is shown to seep to the very core of our socio-political system.



Rather alarmingly Banerjee's people seem to suggest that we can't help being corrupt. Shanghai offers no hope of redemption. The end-game where the conscientious IAS officer outwits the politicians didn't convince me. If another civil servant tried to outwit his political bosses the way Abhay Deol does, he would be the next in line to be mowed down by a speeding vehicle.


Shanghai reminds us of the true function of art. It is that rarity which nudges our collective conscience awake. Suffused with moments of high drama done at a low decibel, the cinematography by Nikos Andritsakis seems to constantly capture the characters' inner state of mind through textures and colours that you won't find in house-painting colour-identification booklet. Namrata Rao's editing is variable. She cuts some scenes with merciless abruptness. Elsewhere, for example, the lengthy concluding conversation between Deol and Shaikh is allowed to develop at a leisurely pace. Every scene is judged by its own pace.


The performances, in khaki, khadi or otherwise, are uniformly credible. But Abhay Deol's nuanced portrayal of a Tamil civil-servant stricken by doubts regarding obeying protocol stands out.


Abhay's Krishnan knows what we only suspect. Change is possible if only self-interest is sacrificed.
BOLLYWOOD NEWS
Catch us for latest Bollywood News, New Bollywood Movies update, Box office collection, New Movies Release , Bollywood News Hindi, Entertainment News, Bollywood News Today & upcoming movies 2020 and stay updated with latest hindi movies only on Bollywood Hungama.