Deepak Bandekar, born and brought up in Goa, comes from a 4 generation old Business Family, based in Goa. After completing his schooling, he moved on to graduate with a Degree in Bachelor of Civil Engineering from M.I.T. Pune in 2001. An ardent lover of nature, music, art and travelling across India and the World, brought him into the Filmy Duniya, with the upcoming movie Ishq Tera that is based on real life events of a woman with a broken mind and a man with a broken heart. The story of how men prey silently on this one disturbed Woman as her man fights to free her mind and win her heart - Again and again. . . Talking about his foray into filmmaking Deepak sheds light on his dreams and ideas of films.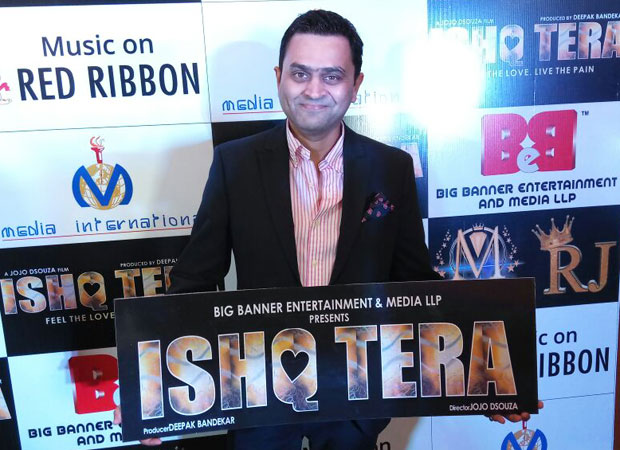 What films have been the most inspiring or influential to you and why?
Cinema, both Indian and Western, has always enchanted me, right from childhood. Every good film made, has some impact on us, the way we think, behave and act in our daily lives. Movies like Lagaan and Chak De India wakes the Patriotic Indian within you. Others like Jodhaa Akhbar and Padmaavat take you back in time, depicting the grandeur and greatness of the Indian Rulers and their Empires. Film with Social messages like Pink, Taare Zameen Par and Hindi Medium are social eye openers in their own way. The above are just a few examples. We have great Genre of films that Indian cinema has, and are still coming out with, year after year, with changing social, political and economic times.
As this is your first film as a producer. How was your experience?
It's been a great journey so far, right from pre shoot to post production, and specially the theatrical release. We learnt a lot of things along the way; some the fun way, some the hard way. But all in all, it's a vibrant industry, and i am personally happy to be a part of it, with this first film.
Why you decided to become a producer.
The silver screen has always fascinated me. I'm a big movie buff, and I love art in all forms, whether acting, stage performances, music, etc. I have seen Indian cinema from an audience perspective, and have loved the way it has evolved, over the last 40 years, and I wanted to be a part of it in some form at some point in my life. If I could act, I would have. Hence, my foray into film production.
What do audiences want? And is it the filmmaker's role to worry about that?
Knowing your end/target audience is something I have learnt after taking the plunge into this industry. While film making should not be restricted to only what audiences want, one should realise that in today's customer driven market, the right balance of what the film maker wants to make, and what the audience wants to see, is important to have.
What was your first movie making experience, and how did it change your life?
I would describe my experience in a few key adjectives, such as fun, intriguing, demanding, refreshing, emotional and most importantly a knowledgeable journey. At the moment, not life changing, but thought changing, for sure; "In this industry, all that glitters need not be gold, and all that is gold, necessarily need not glitter".
Where does an idea for a movie usually begin for you?
This being our first film, the idea came from a friend, as it was based on real life experiences. We further worked on it, to make it a commercial Bollywood story. But here on, and after having met so many new people and views and suggestions in this industry, I think ideas should come from what the audience wants to see, at the same time, what is the need of the hour in terms of a social message, that needs to go out to movie goers. Finally, just like the media and other social portals, films are also a powerful medium of sending out social messages in some form or the other, for the good and betterment of our society and Country, as a whole.
BOLLYWOOD NEWS
Catch us for latest Bollywood News, Bollywood Movies update, Box office collection, New Movies Release & upcoming movies info only on Bollywood Hungama.