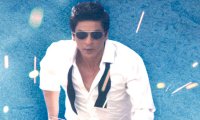 'If you say you are great, there are good chances that many out there would be keeping their arms and ammunition ready to fire at the most opportune moment and prove you wrong. On the other hand, if you just stay quiet, there is a good probability that quite a few may just end up finding something good on you. Chances are that the very same detractors may change their tune as well.'


This could well be Shah Rukh Khan's thought process as well as he goes about promoting his next film Don 2. Okay, so one of the promotional pegs says 'King Is Back'. Still leaving this fact aside, the fact remains that at least as of now, Shah Rukh is pretty much underplaying Don 2 in the wake of all the heart burn that he got for Ra.One. While he is keeping it all under control (and under playing as well), the talk in the town is - 'Will he only end up benefiting from Stockholm syndrome?'


Let's reflect!


What exactly is Stockholm syndrome?


Well, as per Wikipedia, 'Stockholm Syndrome is an apparently paradoxical psychological phenomenon wherein hostages express empathy and have positive feelings towards their captors, sometimes to the point of defending them.' While this may seem like a tad mumbo-jumbo, for argument's sake one can well equate this to a situation where Shah Rukh has been a captor and audience his hostage. Though to begin with, they may not have been too pleased to be intruded upon (with aggressive promotion of Ra.One), in the current scenario, they are expected to defend him as he softens his stand (with controlled promotion of Don 2).


It's all 'under control'


With less than a fortnight remaining for the release of Don 2 and only routine promotion comprising of song and talkie teasers playing across all entertainment channels, there is of course the sense of 'something' missing big time. After all, in the times when every reasonable big film with one of the Top-10 actors around is supported by a promotional blitzkrieg that relies on elements other than the ones incorporated as per the basic conventions, it is quite uncharacteristic of someone belonging to the stature of Shah Rukh Khan playing it all so quiet.




This means that while any self-proclamation of 'I Am The King' doesn't seem to be anywhere round the corner, even those around him are keeping it all straight line with nothing fancy whatsoever. Whether it is those associated with the film (Farhan Akhtar or Priyanka Chopra) or the ones in his inner circle (Karan Johar), no one is coming out and making any fancy declarations around Shah Rukh or his film that would have fetched the kind of headlines that would have placed Don 2 as the next BIG thing.


All of this means that from one of the Top-3 most awaited films of the year, Don 2 has now reworked on its strategy when it pertains to its arrival which is big but without any major frills attached. It wants audience to 'accept' the film instead of being 'forced' to watch it. There are pointers thrown in a direction that excite the audience at a time which is 'just right' instead of trying to force a momentum down their throat.


The makers too possibly want to keep it that way


Whether it was Dil Chahta Hai or Zindagi Na Milegi Dobara, neither Farhan Akhtar nor Ritesh Sidhwani ever proclaimed that their film would be the best of it all. The fact that they turned out to be cult outings was much more than just incidental but when it came to presenting their product before the audience, the friends-cum-business partners never 'over sold' it. They gave the films good production values, lent a certain class to them, did well in promoting the film and left it at that. There was never a call either during the launch or the release that this was the 'next big thing' in the offering.


Result? Today whenever a film of theirs hits the screen, there is a loyal set of audience (especially the ones frequenting to multiplexes) which is well aware of what they could stand for. Yes, there is an occasional Don which is promoted to the hilt (in fact that was the film that started the trend of an all around campaign) or a Game which just doesn't pick up steam but by and large, Farhan and Ritesh can well be expected to know the trick. If they are lying low on Don 2, one can well expect (and hope) that they know what they are doing.


Shah Rukh is cognizant of this as well




He has been known as a 'master of marketing and promotion' for nothing, as was evident in some of his most successful endeavours like Don and Om Shanti Om. However, it is now apparent that he doesn't mind being a student either, especially when it comes to learning from his own strategies. With Ra.One not quite fetching him the kind of results that he had anticipated, he seems to have called for a Plan B in case of Don 2.


This means that this time around it would be one and only full frontal attack that is pretty much in the offering. Unlike a Ra.One where endorsements, pre-selling, number of city tours, countless premiers, frequent globe trotting, mega launches and many more tricks up his sleeve pretty much contributed to 'let-my-film-be-everywhere' campaign, Don 2 has clearly taken a tangentially different route. With just 10 days left for the film's release, the viewer is yet to be exposed to one mega push that would elevate Don 2 to a point where an 'aam aadmi' makes up his mind to watch the film on the very first weekend.


All of this is a clear indication that the game is set as a part of the larger plan. That's because while weekend collections would be obviously monitored quite closely, endeavour won't be to announce any 'record breaking' declarations. Past wasn't quite picture perfect when such desires only proved to be counter productive and being Shah Rukh, he is more than just mature to encourage any such announcements. Instead, what everyone associated with the film would prefer are collections that stay on to be consistent enough on a good note instead of taking an excellent beginning, only to slump over the weekdays.


This is where Stockholm Syndrome comes into picture


With the audience being allowed to take the final call here instead of being 'told' that something they are watching is 'exemplary', they can well be expected to be much more considerate, if not lenient, in their verdict. In fact personally, I would be surprised if Shah Rukh would encourage any pre-release reviews to making rounds of the world of web days before the film's release because that could only backfire, considering his recent history. Instead with the film breathing in its own space and finding its own audience, they too could only end up empathising with it.




Also, one can hardly forget the fact that Shah Rukh's loyal fan base is anyways expected to go hammers and tongs if Don 2 indeed turns out to be a fabulous product. In case of Ra.One also there were collections that netted over Rs.100 crores just in India which shows that despite the word of mouth, there was still a substantial audience base that did visit the theatres to watch the film. Of course the fans couldn't quite scream in unison around approving the final product that resulted in a quick downhill journey for the film.


In case of Don 2 though, the fans won't let go if Shah Rukh delivers more than he is currently promising. When that happens, the 'aam junta' (the ones on whom this syndrome would have the maximum impact) could well follow suit as well and good word of mouth may only elevate the film's prospects.