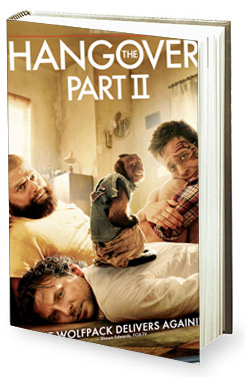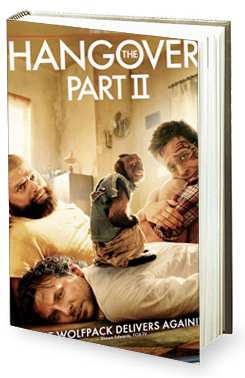 MOVIE DETAILS


Cast: Bradley Cooper, Ed Helms, Zach Galifianakis, Justin Bartha and Ken Jeong

Director: Todd Phillips

Producer: Daniel Goldberg and Todd Phillips


THE FILM


2 years after that mad night in Vegas, director Todd Phillips once again returns with his 'Wolfpack' in The Hangover- Part 2. This time the Awesome Foursome consisting of Phil (Bradley Cooper), Stu (Ed Helms), Alan (Zach Galifianakis) and Doug (Justin Bartha) travel to Bangkok for Stu's wedding. What's more, they also have Stu's would-be brother in law Teddy (Mason Lee) for company. After getting hung-over badly the last time around in Vegas, the Wolfpack decides to be much careful this time around. Yet a guys' only night by the bonfire on the beach goes horribly wrong and before you know it Phil, Stu and Alan wake up in a shabby state in the middle of a god forsaken hotel in Bangkok. What's worse is the fact that they have their old foe turned friend Chow (Ken Jeong) for company and have also lost Teddy in the wilderness of Bangkok. The rest of the film depicts how they slowly put the missing pieces back together to find out what exactly happened the night before.


Even though the movie has a lot of hilarious moments, what goes against the film is the fact that it follows pretty much the same set pattern like its predecessor The Hangover. So right from the way the film opens to the entire flashback sequence to even the end credits, they all have a 'been there done that' feel to it. A bit more of originality would have surely added to the fun quotient.


Nevertheless there are funny sequences aplenty like the one in which the trio get beaten up by monks at a monastery or the one where Stu has a rendezvous with a ladyboy or the one in which the trio along with Chow try to get an access code from the monkey who doubles up as a drug carrier. The car chase sequence which follows this scene is also simply spectacular.


Of the cast, Bradley Cooper is his usual cool and suave self. Ed Helms and Zach Galifianakis provide the laughs with their hilarious one-liners but its Ken Jeong as Chow who is the highlight in this mad-cap film.


DURATION


The film's duration is 97 minutes


SPECIAL FEATURES


A film like The Hangover- Part 2 could have had many interesting special features such as the Making, Deleted Scenes etc. However the DVD only contains a 5 minute gag-reel which showcases a random mix of the bloopers.


TECHNICAL DETAILS


- 2.40-1 Anamorphic Widescreen Presentation

- Languages- English, Polski, Turkish, Hungarian

- Subtitles- English, Polish, Turkish, Hungarian, Portuguese, Romanian, Hebrew


PRICE


Rs. 599/=


CONCLUSION


As a film, The Hangover-Part 2 is a worthy follow-up to the original smash-hit The Hangover and does provide many LOL moments. Yet somewhere the film lacks the spark of originality and one wishes that director Todd Phillips had used a different narrative style to make this mad-cap comedy even more entertaining.


Rating: * * * 1/2