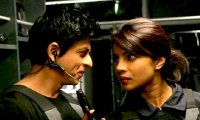 Okay, so negative publicity is faster publicity, we all know that. But the kind of negativity which is being evidenced in recent times is unprecedented to say the least. And that, when it is not even been circulated by overzealous PRs but is actually driven by industry insiders, some sections of trade as well as 'aam junta' on various public forums (read social networking, blogs etc.).
'Shah Rukh is under threat to retain his numero uno position', 'Ranbir is in a tough spot due to Imran's rise', 'Ram Gopal Varma has stopped watching his own films due to his poor run' - so much is being read and heard that it only makes one feel whether celebrities are really immune to such 24X7 scrutiny. Yes, everyone wants to be written about, that's an unsaid desire after all, but constant hammering of the same 'mudda' day in and night out appears to be going way out of hand. And that is what forms the 'mudda' of this week's 'Reflections'.
Shah Rukh is under threat to retain his numero uno position
Simply put, this is laughable. Yes, we at Bollywood are fascinated by the number game and yes, till about a couple of years back there was just one man who ruled from the top - Shah Rukh Khan. Of course Aamir Khan's continued good run and Salman Khan's resurgence has meant there is added competition as well. But to suggest that Shah Rukh has slipped from his position and others have 'overtaken' him would be too hasty a statement to be made. And that's because the man hasn't - read it carefully - delivered a flop for ages now.
For someone who has been overtly consistent at the box office, has a semi-commercial film like My Name Is Khan making waves internationally (till date) and earning huge moolah, is sitting atop the biggest film ever made in the history of Indian cinema and (most importantly) has been making careful choices about his future projects as well (instead of making any hasty decisions), it is rather silly to insinuate that he is feeling threatened.
What should Shah Rukh do to get rid of his negativity? - Nothing. His Ra.One and Don 2 would do everything that is required.
Salman hasn't concentrated well on Bodyguard and is back to his lazy ways
Oh really? And who really is the 'informer' here? Because as far as I can see (and based on the feedback from fellow Bollywood enthusiasts), Salman is looking like never before in Bodyguard. Yes, the film was battling to meet the tough deadline (of Eid release) but this is the way it was originally designed. In fact as I key in this piece, an elaborate shooting schedule of yet another track from the film is already in progress.
Salman knows better than ever before that he has to go all out to make Bodyguard the hugest of them all and that was one of the major reasons he didn't even take a full fledged holiday/indulge in celebrations despite Ready turning into his third blockbuster in a row. Instead he reported straight on the sets of Bodyguard and drove home the point all over again that Eid was definitely in his mind. For those insinuating that Salman is lazy towards Bodyguard don't just seem to be grossly misinformed, it also leads one to believe that there is an ulterior motive behind it all.
What should Salman do to get rid of his negativity? - Give a few interviews pronto. Charm them all over again.
Ranbir is in a tough spot due to Imran's rise
Now haven't we heard that one (or something on the same lines) before? An actor gets a hit, he is on the top. Another gets a hit, he becomes competition. And the cycle continues. Of course Imran has stabilised himself quite well and is only seeing a huge rise with the future looking bright (Mere Brother Ki Dulhan, Short Term Shaadi) and past picture perfect (Delhi Belly, I Hate Luv Storys, Break Ke Baad). But how does Ranbir lose an enviable position that he is in?
Yes, he certainly has been way less prolific all through 2011 so far. His Rockstar is still waiting for release and except for his stand-up comic act on the TV commercials, there isn't much written, heard, seen or observed about him as well. Heck, stories about his affairs (were they?) have dried up as well. But seems like all that Ranbir is suffering from is short memory of audience. Because all of a sudden his Raajneeti seems to have been forgotten while the good opening that Anjaana Anjaani took isn't finding a mention either. And those who thought that Rocket Singh - Salesman of the Year and Wake Up Sid were defining performances are suddenly way too quiet. In the current wave of Imran (which he has rightly deserved), Ranbir is suddenly finding himself on a back foot.
But really, does he deserve that?
What should Ranbir do to get rid of his negativity? - Start reaching out to your fans and followers more often. Don't wait just for Rockstar to start making (all the right) noise again.
Ram Gopal Varma has stopped watching his own films due to his poor run
Now this was actually THE news piece which really was the 'inspiration' behind me bringing on this week's 'Reflections'. I mean really, it didn't just sound way too unbelievable but also rather silly. It is a known fact that the prolific director hardly revisits his films once he is done with that. He has claimed that for his hits as well as flops. For someone who has never shied away from admitting that he detaches from a film of his once it completes it's theatrical run, a 'breaking news' like this was not just in poor taste, it also threatened the very credibility of a director whose Rakht Charitra, despite not doing well commercially, was in fact critically appreciated.
One can well expect anyone to make any statement for a film like RGV Ki Aag without even watching it because it, by its very nature, was an open subject for ridicule. But for someone who has to his credit a well made (but marred by a poor release) Rann and a hit in the form of Phoonk (with Agyaat a definite slip though), it's a matter of time before this negativity evaporates.
What should Ramu do to get rid of this negativity? - Just deliver a commercial hit. Fast.
Abhishek is scared of Shah Rukh
Shah Rukh Khan's Don 2 has been confirmed for this Christmas release ages ago. And then one fine day it is declared that Abbas-Mustan's Players is eyeing the same date. Wait, there is more. Because a few minutes later Abhishek Bachchan, the lead hero of Players, tweets that none of this is really happening. Bas, phir kya tha, the world of web abounds with all around negativity. 'Abhishek is scared of Shah Rukh', 'No one wants to take on mighty Khan' - are the kind of headlines being designed. But really, was this warranted?
If at all Abhishek feels (and one still waits for an official confirmation around this) that Players shouldn't arrive this Christmas, what's really 'scary' about this? Doesn't this actually qualify as being 'practical'? And he isn't the only one who could possibly be having a conversation with his team to re-look at the release of a film of his. Even Ajay Devgn and Co., despite a continued success record over last few Diwali weekends, didn't blink an eyelid by moving away from Ra.One and instead decided to release their Rascals on Dusshehra. Shahid Kapoor, Ranbir Kapoor and Imran Khan too weren't keen to clash their Mausam, Rockstar and Mere Brother Ki Dulhan with each other even though many waited for the impossible to actually happen.
Last heard, even Sunny Deol has different plans for his I Love New Year which was originally supposed to take on Don 2. So if Players too eventually decides to move away, it only reflects the fact that Abhishek wants breathing space for both the films. No shame in that after all!
What should Abhishek do to get rid of his negativity? - Let your producers make the final announcements. A tweet from you, despite coming in right spirit, may not always be as productive.
BOLLYWOOD NEWS
Catch us for latest Bollywood News, New Bollywood Movies update, Box office collection, New Movies Release , Bollywood News Hindi, Entertainment News, Bollywood News Today & upcoming movies 2020 and stay updated with latest hindi movies only on Bollywood Hungama.