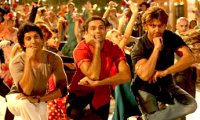 'The Mantally The Sock The Bwoyz' - Or so went one of the most hilarious lines from Zindagi Na Milegi Dobara which is currently seeing some fantastic footfalls from the audience at which the film was targeted it. With good appreciation and steady collections coming in, this Zoya Akhtar film has turned out to be yet another 'Bwoyz will be Bwoyz' film that has found a connect with the youth belonging to both genders. And to think of it, this isn't the only 'boys' film which has done well at the box office this year. In fact
2011 could well be termed as a watershed year when it comes to guy flicks finding a flavour amongst the audience. Delhi Belly, Double Dhamaal, F.A.L.T.U., Dil Toh Bachha Hai Ji, Yamla Pagla Deewana, Pyaar Ka Punchnama are some of the films that are still fresh in audience's mind.


And this is what set me thinking for this week's 'Reflections' - 'How about a quintessential 'gals only' outing?' 'Why can't we have out own Sex In The City?' 'Is it impossible for Bollywood filmmakers to churn out their own Charlie's Angels?' ' Or would we have to contend with the likes of Love Ka the End or Turning 30 which don't really go the whole hog?'


Just a Bollywood phenomenon?


Before an argument begins that 'Out there in West they do churn out chic-flicks at regular intervals', let the fact be stated that it isn't really true. The phenomenon is just the same worldwide and not just Bollywood. There could be an occasional Mean Girls or John Tucker Must Die but by and large it's the 'boys' who rule there as well. What else explains an utter lack of female presence in Hangover series, Due Date or rest of its
ilk? Of course just like Bollywood, there are bad movies made in West as well. For every United Six churned out in Bollywood, there is a Jennifer's Body that fails to impress. So what if the former doesn't feature a single notable name while latter boasts of someone as sizzling as Megan Fox, the audience is still restricted.


Some do make an attempt though



Not that 'women bonding' films just don't have a market out here when it comes to Hindi cinema. There is an occasional No One Killed Jessica that comes and makes waves all over. Of course the point that cannot be denied though is that it isn't quite a chic flick after all and even though women in Rani Mukerji and Vidya Balan do bond on (and off) the screen, projection of former is more of a hero than a heroine in the film. And then when someone out there actually attempts an all-women movie with men just thrown in as mere accessories, Turning 30 is delivered which fails to rise to the occasion. It doesn't go the whole hog and only makes one cringe further if one day Bollywood would indeed get its own bona fide chic flick that actually delivers what it promised. Yes, last year Sonam Kapoor and Co. tried that in Aisha and did succeed to some extent as well. But why end up being clichéd and take that predictable route when there was all the opportunity in the world to go the whole hog?


'Boys' have tried it though


This is where Delhi Belly comes into picture. Aamir Khan decided that if at all he had to make a 'boys' flick, he had to go the whole hog. Period. The first thing he gets is the language right. Which means the spoken words are totally wrong (going by socio-cultural binding) but the impact is absolutely right. Then he gets the scenes right. So sex is certainly not a taboo and BJs as well as other activities under the sheets are brought out in open. Literally so even as Imran takes a pause to take a phone call, only to be reprimanded by Shenaz. Yeah, they did get it right after all and didn't shy away from admitting that 'boys will be boys' after all, whether in or out of the sheets.


But can the gals help it?


Shenaz asking Imran to shave or Poorna not hesitating for a second to get on his top was all acceptable as long as the film was projected as a 'boys bonding' flick. But I wonder how far would have anyone gone when the central protagonists happen to be women with 'boys' being accessories. In the times where Gul Panag asking Sharman Joshi (in Hello) to keep his condom ready is beeped out by the Censors, the entire liberalisation of the very thought process takes a beating. Yes, perhaps if the film was to be released today the Censors may not have been as strict but then the point is that there is always an inhibition that comes in when it comes to a chic flick trying to define its own boundaries. Imagine Delhi Belly boasting of three female protagonists instead and placing the same scenes, situations and dialogues as filmed on Imran, Vir and Kunal. Fun it will be for sure but would the makers actually be daring enough to attempt that? I doubt and something which Minissha Lamba also admitted when she stated not too ago that 'there are some jokes that can sound good only when men mouth them'!


Not that the 'boys' have never failed


Continued success of 'boys flicks' like Zindagi Na Milegi Dobara, Delhi Belly, Double Dhamaal, Yamla Pagla Deewana, Dil Toh Baccha Hai Ji and Pyaar Ka Punchnama may make one feel that Bollywood has found a winning formula. Of course to a very good extent this is true as well since never before in a single year have so many films of this genre, what with at least three male protagonists featuring in each of them, arrived in a matter of six months and turned out to be successful. But then there have been failures
as well.


A Teen Thay Bhai (with men across all age groups) turns out to be a disaster of a film and never once brings on a smile; let aside presenting an iota of entertainment. Shor In The City finds critical acclaim but the bonding - this time with audience - doesn't quite happen. Gangster flicks with a predominantly male starcast (who happen to be thick friends/colleagues) like Bhindi Baazaar Inc. and Shagird, despite being well made, fail due to lack of promotion. Z grade film like Happy Husbands tries to do a No Entry and a pun intended message is read loud and clear by the audience. As for Men Will Be Men, even Shah Rukh Khan refuses to talk about it despite his banner making the film. The ones who would be disappointed the most is the 'bachcha log' who formed a Chillar Party. They were the 'young boys' out there to make some 'dhamaal' and though in their limited capacity they did make a mark, the bigger picture conveys that they were 'murdered' by Emraan Hashmi's adult drama.


What the future beckons


It's the same story in coming months as well. Rohit Jugraj is trying for years to woo someone who can back his 'desi adaptation' of Charlie's Angels. He is still brave enough as not many are even trying to take this lane. It is still 'bwoys' and only 'boys' for many more months to come. Players, is again an all 'boys' saga though Sonam Kapoor and Bipasha Basu are thrown in for good measure. Meanwhile makers of Golmaal, Dhamaal
and Pyaar Ka Punchnama are already embarking upon their next 'boys bonding' saga. Munnabhai 3 is on the anvil too while a quintessential 'boys bonding' film would be arriving before close of year in the form of Desi Boyz.


The only film which is still trying to break the stereotype? Ladies V/S Ricky Bahl. The way it is standing out amidst the crowd and trying to make an impression, it could well have been titled 'Gals v/s Boys'!
BOLLYWOOD NEWS
Catch us for latest Bollywood News, New Bollywood Movies update, Box office collection, New Movies Release , Bollywood News Hindi, Entertainment News, Bollywood News Today & upcoming movies 2020 and stay updated with latest hindi movies only on Bollywood Hungama.