Bollywood and rains have always had a very special connection. When these two concepts come together, it is nothing but romance overload. Since the very beginning of the cinema, the makers have explored the idea of romance in the rain and one of the iconic imagery of Bollywood includes an actress dancing in the rain in a chiffon saree.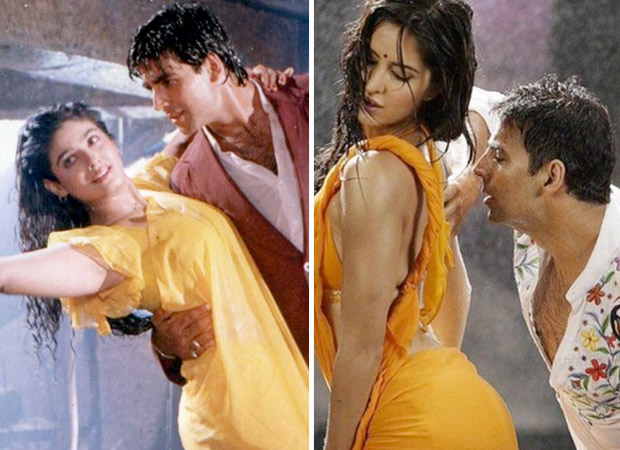 Be it Madhubala in 'Ek Ladki Bheegi Bhaagi' Si or Raveena Tandon in 'Tip Tip Barsa Pani', actresses wearing sarees in rain is by far the most glamorous image every filmy buff would have in their minds. Following are few of the most iconic rain songs where our actresses impress us with their ultra-seductive saree style.
Raveena Tandon    
Raveena Tandon dancing in the rain wearing a yellow chiffon saree is every 90s kid's favourite moment from Bollywood. Mohra film's 'Tip Tip Barsa Pani' is by far the most popular rain song for numerous reasons but mostly it is Raveena's super-hot avatar and her chemistry with Akshay Kumar.
Sridevi
Another song which tops the chart of every Bollywood buff is Sridevi's sensational 'Nahi Kat Te' from the movie Mr India. Sri serenading the lover of her dreams in a blue saree is an image who no one will forget easily.
Katrina Kaif
Amongst the  relatively recent songs, Katrina Kaif gyrating in an orange saree with Akshay Kumar in a song Gale Lag Ja from the movie De Dana Dan. Kat's look is slightly similar to Raveena's here. There is the same intensity and chemistry too.
Kareena Kapoor Khan
Kareena Kapoor Khan and Aamir Khan's romantic number from the super hit 3 Idiots called 'Zoobie Doobie' has a portion where Kareena is seen swooning over her hero, Aamir in a saree with a warm orange tinge.
Aishwarya Rai Bachchan
Aishwarya Rai Bachchan's entry song from Guru is that in rain and fans are still not over it. Dressed in Gujarati style cotton sarees, Ash makes quite a statement as she dances to 'Barso Re Megha Megha'.
Also Read: After shifting Sooryavanshi release date to avoid clash with Salman Khan starrer Inshallah, Akshay Kumar urges fans to not indulge in negative trends