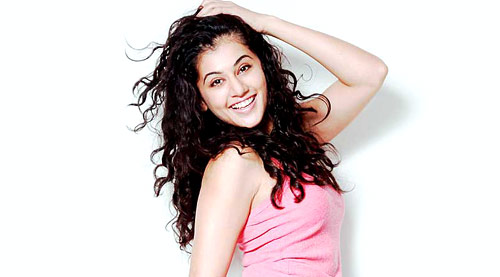 Almost two years after her Bollywood debut in Chashme Baddoor, Taapsee Pannu is returning with Baby. Though she has done a handful of movies down South in the interim period, and seen some good success as well, all her attention is currently on making it big in the world of Hindi films. While her debut affair by David Dhawan was a successful affair, she is all set to make it two in a row with Neeraj Pandey at the helm of affairs of Akshay Kumar starrer Baby.



There was a long wait between Chashme Baddoor and Baby, isn't it?

But then I did the Sri Ganesha of Baby (laughs). I was in the first schedule of the film and for the first two days, Neeraj (Pandey) sir shot just with me. This was a fight sequence that I shot with the villain in Nepal and not even Akshay Kumar was there. Now if the movie becomes a big hit then I would shamelessly take credit.



How was it when Akshay reached the sets?

Everyone got very serious (laughs). In fact I used to think that why everyone was so serious. I wondered whether I should be serious like them (which by the way is very unlike me) or be myself. Also, as for the very genre that the film belongs to, I was conscious about pulling it off. I had to take everything in my stride. Slowly I made an effort to be serious.



Well, an action drama in a realistic affair like had to be serious.

Actually, this is the most exciting part about the role that drew me into the film. When I was doing all this action without the help of the hero, not being saved by anyone else, fighting it out myself and that too in an Akshay Kumar movie, it was quite intimidating, but then also the biggest kick possible. There couldn't have been a better chance to prove my mettle when a film is an Akshay starrer with Neeraj as a director.



Moreover, Anupam Kher returned too after Chashme Baddoor.

(Smiles) You would be surprised that I didn't even know about that when I signed the film. It was only after the Nepal shoot did I get to know about that. The whole film is divided into few episodes and we are seen on different missions, hence we don't happen to cross ways. In fact apart from one scene, we don't even share screen space. In fact when we met on the location, we smiled as we were sure that lady luck would smile on us again. He is another very positive person that I have come across in the industry. He is very encouraging and gives really good feedback when you are performing.



What kind of feedback did you seek from the films in the same genre that have been made in the past? Did you do any research of your own?

I don't believe in seeing other people's works or watch other spy movies to figure out what I had to do. Had I done that, I would have just started copying them. Then I wouldn't have been as convincing in my performance. I have been acting for a while now; I know what changes I need to get into myself. So I mentally started working on my character. I started talking a little slow and got out of my Punjabi accent.



How do you feel your career has been progressing though?

I look at a simple thing, which is to choose a film that - as per my best judgment - would be a hit at the box office. Also, I am very patient. I realize that there are so many girls who have a particular type of USP that makes them the best in a genre. So if a film on the same lines is being made then a director would pick and choose that girl, instead of thinking about doing something challenging, change the trend and take another girl. I can't fight that.



Doesn't that make the competition tougher?

I am not competing with anyone. The ground that I come from, I am a person who didn't think of being in movies in the first place. So whatever I am getting currently is a bonus. Hence, it would be unfair on my part to compete with anyone. I am a pretty secure person that way. After all, I don't have to live up to any filmy surname.
BOLLYWOOD NEWS
Catch us for latest Bollywood News, New Bollywood Movies update, Box office collection, New Movies Release , Bollywood News Hindi, Entertainment News, Bollywood News Today & upcoming movies 2020 and stay updated with latest hindi movies only on Bollywood Hungama.