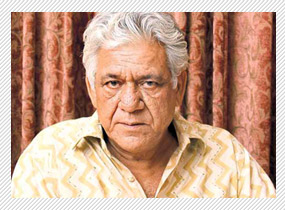 Born in Haryana, the legendary Om Puri, after graduating from the prestigious FTII and NSD, is a known name in Bollywood as well as Hollywood. After having made his sensational debut in Bollywood, he went on to do meaningful films that made him achieve the cult status that he is enjoying today. Besides films, Om also was equally active on TV as well. Serials like Kakkaji Kaheen, Mr. Yogi, Tamas etc...stand as testimony to his acting prowess. He showed his versatility in comedy as well in films like Jaane Bhi Do Yaaro, Chachi 420, Malamaal Weekly etc…


This week saw the release Kamaal Dhamaal Malamaal, in which he portrays yet another memorable character. To know more about it, Satish Sundaresan of Bollywood Hungama caught up with this actor par excellence for an exclusive interview. Here are the excerpts:


To start with, what's your role in the film?

I am playing the hero's father. My character's name is David. He is very disgusted with his son whom he considers as a good for nothing guy as he doesn't do any work. His son is someone who keeps on sitting and sleeping all the day, whiling away his time. I, as his father, get really very angry with him all the time for the same reason.


You have worked with Priyadarshan in the past, how has your work equation been with him.

He is really very good and fast. He knows his work to the 'T'. He knows what he wants from a film and also from the actors. What I really like about him is that he doesn't shoot late nights, unless and until there is a real requirement for the night sequence. He is not only on schedule all the time himself, but also doesn't stretch the schedule.


"Nana Patekar is a real prankster" – Om Puri
Any memorable incidents or pranks that were played around on the sets?

I don't know how many people know that Nana (Patekar) is a real prankster. One day, what happened was that he made a lot of noise saying that he is going to cook a very delicious fish. And in order to 'achieve this delicious feat', all the necessary arrangements were made. A big circular pit was dug because that is how the fish was to be prepared. It was a marinated fish that he put in a centre of the pit. He spent about 4 hours as it required to be cooked really very slow. But the funniest part was that when Nana finished cooking, after almost four full hours, the fish was still raw and uncooked! After that, he also cooked chicken which was relished by everyone alike.


What were the locations in which the film was shot?

The film was shot all over Wai and also in Mumbai.


What genre Kamaal Dhamaal Malamaal does fall into? Does it deliver any message to the audience?

Kamaal Dhamaal Malamaal is not one of those films that come with a message. It's an out and out comedy entertainer for sure.


Is there scope for music in a film that's comedy entertainer?

I can't say that it's a musical film. But yes, the film does have its share of good music.


Like Malamaal Weekly, this film also has lottery playing a 'role'.

Lottery does play a 'role; in this film, but not as much as it was in Malamaal Weekly.




You once said that "Big banners haven't touched me so far. I don't know why I am untouchable for them". Which big banners were you referring to?

I had said it in the past. But of late, I have worked with Karan Johar in Kurbaan and Agneepath.


There was one more quote from your end wherein you stated that "Without superstars, the film can do well". Were you hinting at anybody?
I was not hinting at anybody particularly. All that I wanted to tell was that we all know that lead stars carry the film on their shoulders. I also agree to that. But what I meant was that a mere presence of a star cannot guarantee the film's success. The film also should have an equally strong script and co-stars. All of them together make fort a great film.


You are actively involved in charity work as well…

I have adopted one girl child. I take care of all her needs. Besides that, I donate a huge set of my earnings to Shankar Nethralaya in Chennai. What I really like about that place is that the doctors do not practice outside and are totally dedicated to the hospital. If the doctors want, they can mint lakhs of rupees by working abroad. But they don't do that and are loyal to this institution. They are what I call as the 'True Sons of the soil'.


Have you ever thought of making a film on such people?

Frankly speaking, this is one thought that always plays in my mind. Whenever I meet up with any of my producers, I always tell them about the social causes also. I always feel that any film that touches the human heart will always be seen and cherished by everyone. Look at TZP. It's a clear example of what the audience wants today. They want a slice of life. Even in a film like Barfi! , you can audience flocking to the theatres. It's the treatment that needs to be handled with care.
BOLLYWOOD NEWS - LIVE UPDATES
Catch us for latest Bollywood News, New Bollywood Movies update, Box office collection, New Movies Release , Bollywood News Hindi, Entertainment News, Bollywood Live News Today & upcoming movies 2022 and stay updated with latest hindi movies only on Bollywood Hungama.