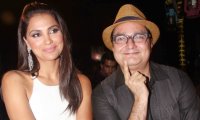 Mention two words and let's see what names pop up - chalk and cheese. Or let's put it this way: business and pleasure. Anyway you look at it, the names Lara Dutta and Vinay Pathak pop into mind, thanks to the big hoardings of Chalo Dilli spread across the city and the capital, I'm sure. Comedians have always had a tough time building a long-term career in cinema. For a start, as genuinely funny scripts from Bollywood are few and far between, they're usually forced to draw on their own well-worn routines and, after a few pictures, begin to bore their audience. No matter how brilliant, no actor can keep carrying movies by sheer weight of his or her personality. Hera Pheri, Golmaal and Bheja Fry are the only three names in the last two decades one can recall when it comes to making a laugh riot. Will Chalo Dilli succeed the previous three? It's been a tough day. My brain aches. The sofa looks inviting. I need a pick-me-up that requires zero effort. I need to laugh and I've just seen Chalo Dilli yesterday at the Empire studios. Guess its repeat time. My verdict? Chalo Dilli confidently diverts its audience into having a mindlessly fun time and is a wholesome trip for sure to a mature comic bliss. Got that? If not, divert your ears, mind and eyes to the funniest bones sitting right in front of me: Vinay and Lara, lovingly known as, Bhai saab and Behenji.


Lara: Chalk n Cheese? Hmmm. They say don't mix business with pleasure?


Vinay: Who are 'they'? (laughs) Obviously not the people.....


Lara: We interact with...


Vinay: Or who make entertaining films.


Lara: I think a lot of interesting things happen when you mix these things together, especially when it's tongue and cheek.


Vinay: And specially, I feel that the business of cinema, if it's not enjoyed, it's worthless. You have to enjoy cinema. We tell stories and if you don't enjoy your stories, you won't have your audiences enjoying.


Lara: Let's not put Chalo Dilli in any genre now. People are asking me if Chalo Dilli is a road trip movie or a social message film...


Vinay: And there is a new one these days - rom-com and com-rom (laughs). I ask them: Could you please spell the whole thing (laughs).


Lara: (laughs)...yes the film is entertaining and content driven that is highly commercial. It's everything except escapist cinema.


Vinay: And it's very real too.


Lara: Yes, and you can take any combination you feel like: Tom and Jerry or Beauty and the Beast. I guess I'd go with the latter (laughs). But if you have a poster with Lara Dutta and Vinay Pathak on it, I'm sure you have a certain pre-conceived notion. You kind of think of what I'm going to be expecting. The promos are seen and are liked by all. They've found it too funny. But at the same time, you can still make a real film, going back to what Vinay was saying.


Vinay: When I said 'real' I really meant it (laughs). Most of our humour and comedy is not influenced by the western style of story telling or acting or shot taking. We are a song and dance story teller industry. Having said that, the cinema has taken the song and dance somewhere else only. That was and is our bread and butter, let's not negate that. In the last two decades and more, the technology has given us many new windows and new platforms to tell our story the way we want to tell. So now we have films with no songs too. Chalo Dilli is real because it is not stylised to tell a story but because it is told in a very real manner. Every character is so real that you will connect to it.


Vinay: We aren't saying that we are pitching Chalo Dilli against the big films. Oh no! Chalo Dilli is a very genuine and an honest effort on the part of the visionary director Shashant Shah and he wanted to tell the story his way.


Lara: And it'll be really interesting to see a film like Chalo Dilli work because of the way the film is written. It's very conversational. The kind of dialogues that are written. It's things that if you'd actually meet somebody you're travelling with and you didn't get along. The sarcasm and the kind of humour that is, the kind of banter there is. Chalo Dilli is sensibly written and I hope it does work. I'm very excited for Chalo Dilli if it works at the box office. Not because it'll bring me loads of money but because it will give me extreme gratification as an actor to see something like this.


Vinay: Likewise.


Lara: This project is done on a very different model from what a well known and well established producer sells his films. This film has not been pre-sold. All three producers of Chalo Dilli have financially invested in this film and it'll be very interesting to see this film work at the box office. I am a first time producer and I'd like to prove my mantle. Tomorrow if the film is successful, it'll be very easy to pre-sell my second film but what makes a hit and a flop is that it is a litmus test. A good film will work regardless of what it is.


Vinay: Game Set Match Lara Dutta (laughs). I didn't have a chance to banter with Lara because we had to finish the film in thirty three days including three songs.


Lara: For a film this size, this is one of the fastest and the quickest schedules for a start to finish film. And having said 'this size' I mean Chalo Dilli isn't a small film.


Vinay: I'm not known for my prowess but yeah (laughs) Lara is known (laughs). They think I am cracked in the head and only cracked people like me (laughs). Lara likes me because I am cracked. Mahesh Bhupati is also cracked (laughs). Lara is very spontaneous and every time she practices, she cracks up (laughs). Seriously, she is very funny.


Lara: Of course, if you look at my filmography of the last couple of years, you'll find ninety percent of them have been comedies and that's why they've cast me (laughs).


Vinay: I've worked with Shashant Shah in Dasvidaniya and have known him since the Channel V days where he used to do a show called Masala Mix. He is a very talented director. He is technically very strong. He knew he needed to extend himself on this film and he has done just that.


Lara: ...and giving due credit to Shashant, he was very clear that this was going to be his set up. His one condition was that the producers will not muscle him into changing anything in the script. All three of us who were on board as producers were very clear about this. The quirkiness of Chalo Dilli is in many ways the quirkiness of Shashant and you don't want to kill that. There is a mad madness to Chalo Dilli and if it does well, the bigger producers will want to work with Shashant.


Vinay: There is no confusion in Chalo Dilli. It has got the best end and its 'The End' (laughs).


Lara: indeed it is 'The Best End' (laughs).
BOLLYWOOD NEWS
Catch us for latest Bollywood News, New Bollywood Movies update, Box office collection, New Movies Release , Bollywood News Hindi, Entertainment News, Bollywood News Today & upcoming movies 2020 and stay updated with latest hindi movies only on Bollywood Hungama.