After having some new permutations and combinations this season, Koffee With Karan 6 ended with a bang in today's episode. While the finale episode featured Kareena Kapoor Khan and Priyanka Chopra, a combination no one would have imagined on the couch, there were many other interesting episodes that continue to remain in our memory. The Jury special recognizes and awards the best of the lot and this time on the jury of Koffee With Karan 6, they had Kirron Kher, their usual jury member Malaika Arora and two comedians – Vir Das and Mallika Dua.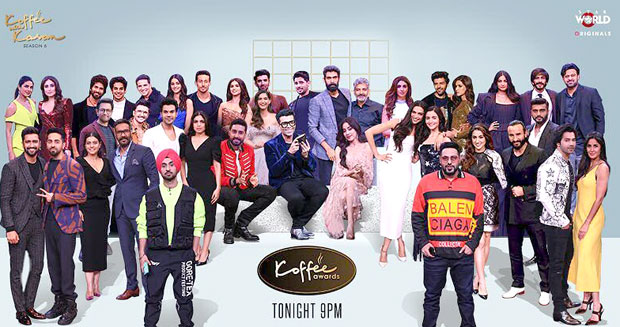 Koffee With Karan 6 has come to an end and it was Vir Das who started off the episode with his share of dollops of humour. After Karan Johar returned to the hosting chair, he introduced his jury including Vir Das and that's when they kick started the process of reviewing performances and episodes. While Karan introduced us to the black coffee cup and saucer as the trophy of the season, the jury started off with appreciating the episodes of the season. Malaika in fact even passed a comment about having so many young people around her.
The episode started off with the award for the BEST KOFFEE DEBUT [MALE]. Followed by the announcement of the awards, Karan calls up the stars during the show and speaks to them. If that wasn't all, the video of the winners holding the trophy and what they feel about it too is shown during the episode.
BEST KOFFEE DEBUT [MALE] – The jury unanimously thought that Diljit Dosanjh deserved it for his innocence nature and that his fun nature was seen on national television for the first time which made it refreshing.

BEST KOFFEE DEBUT [FEMALE]- Well, there was quite a bit of discussion over this with a tie between Sara Ali Khan and Bhumi Pednekar leading the race. Ananya Panday too was being considered for it. But eventually the Jury decided to give it to Sara Ali Khan for her wit and intelligence.
EMBED
BEST DRESSED [MALE] – How could the Koffee Awards be complete without fashion! While we had some tough nominees for the category including Shahid Kapoor and some popular stars, the interesting twist was the choices had to be made between Vicky Kaushal and the suave Saif Ali Khan. Not to forget Vir Das' love for Ranveer Singh and his bold choices in fashion! But the decision eventually boiled down to Vicky for his trendy suited avatar.
BEST DRESSED [FEMALE] – Well that was a confusing choice for the jury who had different opinions in the category. Alia Bhatt, Deepika Padukone, Kareena Kapoor Khan and Rhea Kapoor were contenders for this category. However, after much pondering and coming to their second choices – the jury eventually narrowed down to Kareena for the award.
BEST MOMENT – Ranveer Singh won this round hands down! "Shaadi mein main naach raha hoon, mundan mein bachha ro raha hai main naach raha hoon." The dialogue won the hearts of the jury member. Although they briefly considered Diljit Dosanjh and Badshah for the award, they eventually thought Ranveer did leave them in splits and hence the award needs to be given to him. When Karan called him up during the show to congratulate him for the win, the actor didn't pick up the phone. For the same, Kirron Kher passed an interesting comment saying, "Agar meri biwi Deepika hoti toh main bhi Sunday dupeher ko phone nahi uta thi.." [If my wife would have been Deepika Padukone, even I wouldn't be picking up calls during Sunday afternoon.]
BEST DIALOGUE THAT WILL WIN AN AUDI – Without batting an eyelid and with all the nominees, the jury in a unanimous decision and also without taking too much time – they revealed that this award should go to none other than Ajay Devgn for making the comment on Kaal. The actor had said during the episode one of the biggest superstitions he believed in was that, "All movies that you [Karan Johar] make starting with 'K' will definitely be hit until we made Kaal."
LIFETIME ACHIEVEMENT AWARD – This award went to Priyanka Chopra for appearing on all seasons on Koffee With Karan. And also, they didn't have any nominations.
BEST PERFORMANCE [FEMALE] – This award was one of the tough choices that boiled down to the decision of Kirron Kher. While there was already one vote for Kajol, the other two votes went to Alia and Kareena respectively. Kher too picked up Kajol for her candour and eventually she was declared the winner of the category.
BEST PERFORMANCE [MALE] – There was quite a bit of discussion over this and the choices were tough between Ranveer Singh and Arjun Kapoor. While Diljit's name too was added, it was Arjun and Ranveer. Malaika and Kirron picked Arjun with Karan also commenting over Malaika's 'biased' opinion about choosing the best performer. But eventually, they all decided on giving it to Ranveer. Wondering if that was an attempt to be unbiased! But nevertheless, this time around, Ranveer walked away with the second award this time!
BEST EPISODE – This was the last in the award category and this one for all its fun elements was presented to Diljit Dosanjh and Badshah for their enthusiastic, high-on-energy episode. And all of the jury members were more than happy to do it!
Well, but the episode didn't end there. The Jury Special and Karan Johar specifically thanked Arjun Kapoor [aka Fubbu] separately by calling him for answering the calls of every celeb who called him.
Also Read: Koffee With Karan Grand Finale: Kareena Kapoor Khan & Priyanka Chopra talk about ex Shahid Kapoor, Malaika Arora and Arjun Kapoor's relationship
BOLLYWOOD NEWS
Catch us for latest Bollywood News, Bollywood Movies update, Box office collection, New Movies Release & upcoming movies info only on Bollywood Hungama.