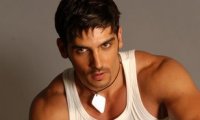 When you think of the term 'Cool Dude' the one name that comes to your mind in Bollywood is Zayed Khan. Be it on screen or off screen, Zayed is known to be a person with a unique style statement of his own. It's almost been a decade since Zayed debuted as a gawky youngster in Chura Liya Hai Tumne. Since then he has been striving to make a mark through some interesting supporting acts in films like Main Hoon Na, Dus and Blue. In a free-wheeling chat with Bollywood Hungama's Nikhil Ramsubramaniam, Zayed talks about his latest release Tezz which gave him the chance to yet again indulge in some crazy action sequences, he also talks about sharing screen space with veterans like Anil Kapoor and Ajay Devgn and lastly reveals future plans for himself and his company Born Free Entertainment. Read on…


From the promos it seems that Tezz bears an uncanny resemblance to one of your earlier films Speed, what do you have to say about that?

No yaar... not at all. It's a completely different film. People are even comparing it to Keanu Reeves' Speed but there is no resemblance at all. Tezz is inspired from a Japanese film. Priyadarshan is making an action drama after a long time and he has got some of the best talent on board


What made you say yes to an action thriller like Tezz?

There are many variables yaar. When I got to know that Priyadarshan is making an action film, I immediately called up Ratanji (of Venus) and told him that I am very keen to be a part of the film. He asked me to have a meeting with Priyan. I've always wanted to work with Priyan Sir as he is one of the best craftsmen and directors we have in our country and I am happy that he thought I am fit to be in the film


Tell us a bit about your character in Tezz?

My character's name is Adil. He is a guy like everybody else who wants to make something worthwhile of his life. He has been abandoned by his childhood. He has a sick mother. He is in pursuit of bigger and better things. He then finds himself as an illegal immigrant in London looking out for a job and that's when he bumps into Ajay's character. Ajay's character takes him under his wings and that's when a tragedy strikes. What happens post that is something you will have to watch the film and find out


Lot of actors feel insecure about sharing screen space with other actors but you seem to be chilled out doing multi-starrers like Dus, Cash, Blue, and now Tezz.

Ya man... especially when you have actors like Ajay and Anil Sir, why worry? They are just great guys to be with on set and I have worked with them before so there is no question of being insecure. I've always liked to be a part of big films and Tezz is a big, larger than life film. Inshallah I hope one day I can shoulder the burden of doing a big film like this entirely, that's the endeavour.


While interviewing Anil Kapoor recently, he specifically said that you have done a fabulous job in Tezz. How do you feel hearing such words of praise from someone like Anil Kapoor?

You know how Anil Sir is…he is a stalwart. If there is any guy who epitomizes perfection, it's him. After all these years, he still has the same energy levels on sets and is so sincere in his work. He is a very prepared actor. At the same time he is still very competitive and likes to give his best shot each and every time. We've done some fabulous action and chase sequences together and it's hard to believe that Anil sir is in his fifties. He is running and jumping and displaying phenomenal levels of fitness. Hats off to him. I feel extremely humbled by what he has said and if he has mentioned something good about me it's only because of the good faith that he always had in me during the making of the film. I've learnt a lot along the way be it during Yuvvraaj or Tezz. He has been very inspirational.


What about Ajay Devgn, how was it working with him again after Cash?

Ajay is too cool. He's got it all in his intense eyes. He is the kind of action hero that if he looks at somebody, the guy will start pissing in his pants. He's very unique, original and easy going. If you see Ajay perform, it's always controlled aggression and that's what his USP is. In between shots, he is a complete prankster but once the camera is on, he is pure magic. It's great working with Ajay, he is a real guy and I like real people. With Ajay, what you see is what you get.


You finally got your dream come true of working with Priyadarshan. How was the experience?

Dude...Priyan Sir is a task-master. I almost felt I was in some military camp. During one of the early days in the shoot he told me, "I like you but when you start waking up at 5 am give me a call" And I told him, "Sir, I'll be on your set at 4:30 am if that's what it takes." I used to always come 45 minutes before call time and made it a point to break that impression he had of me. He's edited the film in his head and knows exactly what he wants from his actors. With Priyan Sir, you really need to be at the top of your game. He wants people who are sincere, hardworking and completely prepared on sets.


How was it shooting in the U.K.?

We shot most of the film in Birmingham and some portions in London. It was freezing to begin with and I was glad that I had a lot of running scenes to warm me up. We shot at some new locales in Birmingham where I don't think any Hindi film has been shot so far. It was nice shooting in London. London is such a comfortable place for us actors, we've all done at least a couple of films in London and even this time we had a good time.


You are quite the adrenaline junkie, so what are some of the crazy stunts that you have done in Tezz?

One of the things that attracted me about this film, besides the fact that I was getting a chance to work with Priyan Sir, is that it demanded me to learn a form of martial arts called Parkour. I was really excited to learn and do Parkour as it was one feather in my cap that I didn't have. I have been fan of the sport and have loved watching it in other films so I was very eager to experiment with this. I have done a lot of action films in the past as well but the action in Tezz is something really different. I trained in Parkour with a guy called James for around 25 days, it was quite tough but when you see the end result on screen, it all seems worth it.


You turned producer last year with LBZ last year, a sweet little film, but one that unfortunately didn't quite click at the B.O. Did that upset you?

You know there are so many factors and variables to a film doing well that it's difficult to find out what exactly went wrong. Like you said, people who saw the film liked it and the music was a hit too but the film didn't fare as well as we would have liked it too. There are lots of lessons to learn. The whole dynamics of business of filmmaking has changed today. People today spent huge amount of money on marketing and trying to brain wash people into watching their films. Gone are the days of silver jubilee or golden jubilee, today all that matters is if your film manages to get a good opening weekend. There are also so many forms of entertainment today to chose from for the audience be it the internet or the IPL or plays or live concerts of TV shows so you are up against too many things. I know that for any success to happen one has to be constantly at it and that is what our company Born Free will strive towards.


What is the next venture from Born Free? I believe you guys were planning to make an action comedy…

Yes...we are planning an action comedy and are working really hard on it. We are excited about it as its high on entertainment mixed with the glitz and glamour and the dialoguebaazi which people love to see. It's turning out really well and I even told Sahil (Sangha) that I want to audition for it.


Would Sahil be directing the film?

Right now nothing is finalized with regards to the cast or director. We are still working on the script and are doing the recce. Once it's locked we will begin the casting etc.


What other acting assignments do you have in the days ahead?

I am starting a new film towards the end of July. The film is a murder mystery and I am not allowed to talk much about the project as yet. All I can tell you is that I play the lead in the film but there are also some very good actors attached to the film. I will let you guys know in a couple of weeks' time. It's another very challenging role and I am really excited about it. It's going to be a very interesting and provocative cinema at its best.