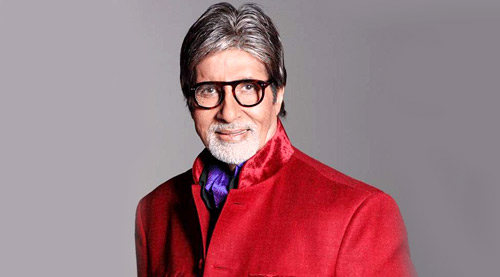 2015 has surely started off on a great note for megastar Amitabh Bachchan. Along with receiving the highest civilian honor, Padma Vibhushan, he also has a

series of films to look forward this year. Starting with Shamitabh that releases this week, the Amitabh Bachchan movie marathon will have Wazir next in the pipeline for

release, followed by Shoojit Sircar's Piku.

Though there has been a lot of buzz about the Dhanush - Amitabh starrer, its trailer does not give away too much. As for Amitabh Bachchan, he just has one word to say about the film

and that is "Unique". Not divulging many details, he diplomatically says, "It's a very different kind of plot and has not been tried in Indian cinema before. Balki makes films which are

different from the other expected stories and it is very challenging for actors like me to be involved in those films. There are basically two individuals in this film - Dhanush and me. We

both have qualities which are individually known and unknown to each other and there is a journalist played by Akshara (Haasan) who discovers, the talent these two possess and she

feels that even though individually it will not be possible for them to move ahead in their career, if they come together it will be beneficial. Yes, there is progress but at some point of

time egos come into play - one thinks the other can't do without him and vice versa and that's where the conflict comes in."

A drunken old man! That's what Amitabh plays in the film as the trailer suggests. Does it have elements of the past? Or is he just another frustrated man with nothing to lose. Clarifying

on his character, Amitabh says, "Not from the past, the character itself is frustrating. He is just an old man, disappointed with life, the crabbity, drunk and that's how he is. And then

when he is suddenly discovered (by Akshara), you will see some kind of similarity in the acumen that he has and the acumen his counterpart has and that's why the journalist (Akshara)

tries to bring them together."

The old man look of Amitabh is one of the first pictures that were released by the team of Shamitabh when the film had gone on floors. Since then, the look has become popular

among fans. Ask him if any of his previous films played a role in creating his look and the superstar vehemently denies it, "How do you look when you grow old and when you are

disturbed in life and that's what Balki thought would be the look of the character in the film too. He had a picture in his mind and we worked a couple of times in the look and then

finally after tests, this is what came up."


After making his Bollywood debut with Raanjhanaa,

Dhanush will be seen sharing screen space with Amitabh Bachchan for the first time. Sharing his experience of working with the South superstar, Big B adds, "Dhanush is a wonderful

artist and very unassuming, dedicated and professional. There are great subtleties in what he does; simple things look so wonderful when he performs. So, yes he is a very accomplished

artist. I have seen some of his films, in portions though, not complete. However, I did see Raanjhanaa, his is an excellent performance and even the film."

Along with the association of Amitabh and Dhanush, Shamitabh also has many other firsts like it being the Bollywood debut of Akshara Haasan (second daughter of Kamal

Haasan), first Ilaiyaraja film for which Amitabh Bachchan has sung. Though the musician-actor duo has previously collaborated for other Balki films, it is the first time that Amitabh has

sung a full-fledged track ('Piddly') for his film. Elaborating on the experience, he states, "A great honour to work with him (Ilaiyaraja). I have actually not had the opportunity to

sing in front of him, I would never dare to do that because I am not so qualified to be a singer but I did sing a little portion of Paa with him. For this song, I had told him that sing it,

compose it and send it to me wherever and I'll sing it quietly and send it back to you."

Moreover, Shamitabh is also special for the music stalwart Ilaiyraja since it marks his 1000th film as a music director, a feat rarely achieved by any music director in the world.

On this occasion, expressing his admiration towards the musician, Amitabh adds, "Ilaiyarajaji is an institution. He is not just a music director but a genius. One of his greatest qualities is

that he has never lost the sense of melody and music. Many a times we hear about rhythms taking over songs, that becoming the high point in any film. His lyrics and the way he

composes his music is very unique and perhaps that's why he is such a legend."


Amidst all the excitement about the film and its novel concept,

another rumour doing the rounds is that it is a gift from R Balki to Amitabh since it was announced on the superstar's birthday. Humbly accepting it, Amitabh maintains, "It was just

that he (Balki) happened to mention about the film on my birthday when he was around and said that he wanted to make this film with me. It was very sweet of him to think it is a

gift!"

With the constantly decreasing shelf life of actors, for varied reasons, here's a legend who has never shied away from innovation or changing himself if need be, for a role or a character

he plays on screen. From the quintessential wealthy and arrogant businessman in Kabhi Khushi Kabhie Gham to a 13 year old kid affected with progeria in Paa, Amitabh

Bachchan is truly an example of versatile acting but the actor credits his luck for the roles and films he has received till date. "I keep getting opportunities and I accept them. I am lucky

enough to find audience who watch my films and hence, I continue to work. There is nothing special or new about it." Denying a source of inspiration, Big B further adds, "You don't

need an inspiration, only sincerity towards your work, that's all since I don't have much to do. I also feel lucky that I get such beautiful films even at this age. Obviously working with the

new generation, new artists, I feel motivated."

Just in October 2014 global icon Amitabh Bachchan turned 72 but that hasn't slowed down the actor's enthusiasm towards his profession. Big B clearly maintains that one doesn't

require any special efforts to 'manage' work even at his age if one has the passion towards his profession. "I don't know what you mean by 'manage'. If I am a professional in any field,

then I must do what is asked out of me. As I said, I really consider myself to be really fortunate to work with these people but then they decide what I should be doing. I am very lucky

that people still want to work with me and challenge me with different kind of roles and situations. There are no personal efforts."
BOLLYWOOD NEWS
Catch us for latest Bollywood News, New Bollywood Movies update, Box office collection, New Movies Release , Bollywood News Hindi, Entertainment News, Bollywood News Today & upcoming movies 2020 and stay updated with latest hindi movies only on Bollywood Hungama.