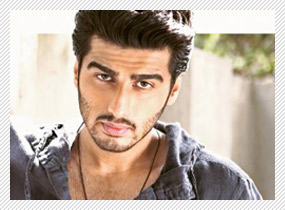 When two heads are better than one, what about the double chins? For years, Arjun Kapoor was fielding this question. Battling his way up the obesity, family seperation and loss of a parent, the man has only grown stronger by the days. On the flip side, of course, it's an interesting time for teen stars. There are more of them now than there have ever been, all vying as desperately for money and attention. With Arjun's debut movie Ishaqzaade, he's got more - acclaim followed by some unexpected female fans. I meet Kapoor in Grand Hyatt and it takes me a few seconds and a firm shake of hands to confirm that he radiates a sort of well scrubbed machismo. He's an entertainer in the most traditional sense of the word: He knows how to impress. He winks at the girls and nods at the guys and his smile literally puts the passerby teenage girls into a coma. It's no wonder that with his wheatish image and those Bollywood-soulful eyes peering out from under a thick drape of artfully tousled hair, his is face wallpapered on so many iPhones, and emblazoned on so many notebooks and iPads and of course, those hidden denim pockets. This is it, so far, in a nutshell: Arjun is the star. Presenting you Part 1 of my exclusive chat with the actor par excellence on his struggles, female fans, his liking for mythology and why he likes the word 'nepotism'. Keep reading!


You are one film old, you have three movies in the pipeline and you have lakhs of fans. A one film old actor having such numbers is crazy.

You are right. It is crazy. It is overwhelming. For a guy who didn't want to be an actor, then being accepted by the entire fraternity and the common man co-related to me in that film and the one thing I never anticipated - the female fan following. I am not the quintessential boy-next-door. Aditya Chopra told me that he will never pitch me as the boy-next-door. I thought women would take time to like me but here's one fan called Harshita who's put together a group of fans. It motivates me. What else do you want as an actor? I'm sure with time I'll be able to cope with all this much better. I get tongue tied when I come in front of her. But one of her friend contacted me on her birthday and I did make it a point to surprise her by meeting her. I felt right about doing it. If that can make somebody happy, why not?


With so much on the platter already, is there fear lurking around you? Expectations? Not letting the audience down?

I am a producer's son. I am not a star son. The legacy is of my father's production company. My uncle Anil Kapoor and I cannot be compared. If they do, I should retire already. There's no pressure thinking about all this. I need to think about my scene the next day, my sleep, my gym. I am living in the moment of shooting the movie. I cannot predict success. I can't believe that Ishaqzaade did 45 cr + in India. It's unprecedented for a newcomer's film to do such a business with a new director on board. Do Dooni Chaar was a critical success more than commercial for Habib Faisal.


Ever thought of becoming a young Harvey Weinstein of Bollywood?

No. I'd rather be Jerry Bruckheimer. Harvey is quite dominating. I like the summer blockbusters. I am a bit laid back that way. But yes, I would also like to be Michael Bay someday. I would love to direct a movie. I always wanted to be a director. I started out as an assistant. I knew my father is a film producer so I had to understand the technicalities of making a movie. Right now I am enjoying each day as an actor. It's the most amazing feeling.


It must be difficult for you to live each character in times when you are shooting back to back three movies - 2 States, Aurangzeb and Gunday.

I feel sometimes I live in reality. Me and Ranveer Singh did a scene in Kolkata a few days ago for Gunday. There was a connect between two people. Such a feeling is very rare where you live vicariously through characters and for a second you think, that is your reality. I am living in three different worlds right now - an Empire of Gurgaon, one is the IIM-A student (Ahmedabad) and one is the refugee in Kolkata who becomes the coal mafia of 80's. Right now, I am Bala because I am shooting Gunday. As for Aurangzeb, I was sometimes Vishal and Ajay (the double role). But there will be only one emperor and I won't let you know that yet (laughs).


Are you inclined towards mythology? You've played Aurangzeb.

As a student I loved history. My mother didn't shout on me ever. I used to get good marks in history. I not only loved the freedom movement times but also the history that made India - Shivaji, Aurangzeb, Jhansi Ki Rani, etc. Aurangzeb was a tyrant in a certain context. He never took money from his treasury. There were no two people who looked like Aurangzeb. It's more like a metaphor. When you see the trailer and the film you will be questioned - who's the tyrant, who's the emperor. The movie is based on the Gurgaon Land Mafia. Now the mafia is evolved and has gone beyond the staple RGV zone (laughs).


Do you think the non-fiction is more relatable to the audience than fiction is?

Yes, it is to a larger extent. Ishaqzaade was a prime example. The setting was real and so were some of the characters. An audience member in Jodhpur will think that he talks like me. I was at a wedding in Jodhpur and a boy dropped me back to the airport. He took fifteen minutes to master the courage to tell me - Saab, aapne jo character play kiya na, main waise hi ladkiyo se baat karta hoon. That was an epiphany that happened. Yes, you want to be Salman Khan when he is beating up people but you also want to co-relate to us. There are only two ways to be successful in this profession - either the common man aspires to be like you or he believes he is you. For young actors, especially like me, such relatability adds value to me as an actor.


Lot of people use nepotism to describe actors like you. Do you feel offended?

I like that word. They use it so easily (laughs). Yes, there is a life beyond the air-conditioned room. Your struggle is your own, mine is mine. Don't be judgemental but judge me on my talent. I have seen the good, bad and ugly. I am living a dream but there has been a struggle. I have lost my mother, I have seen family separation, I have been obese as a kid. It's not my fault that I am born as Boney Kapoor's son. When I am on the sets, I put in 200% and I don't take myself for granted. That's unfair and stupid to judge Arjun Kapoor as a person. It's being too personal. Watch my films and be judgemental.




Watch this space for Part 2 of Arjun Kapoor's interview. Coming soon!
BOLLYWOOD NEWS
Catch us for latest Bollywood News, New Bollywood Movies update, Box office collection, New Movies Release , Bollywood News Hindi, Entertainment News, Bollywood News Today & upcoming movies 2020 and stay updated with latest hindi movies only on Bollywood Hungama.