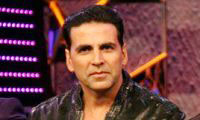 If you the trace the life of Akshay Kumar, you'll find out that he is interested in love and the lack of it. And one look at his films and you figure out
what crazy things he does to get that love. For a change, Akki plays a male escort Jerry Patel aka Rocco (his night time name) in Desi Boyz who
doesn't care about anything or anyone. Call it irony. "My name in the film is actually Jerry Patel, I am basically a guy who doesn't care, about anything or
anyone. The beautiful part about this film is how the recession literally forces me to buck my ideas up, take some responsibility in life & knuckle under &
the journey is very rocking. I must say, me & my best friend Nick (John Abraham) completely run out of money & in our desperation are offered to become male
escorts, of course me being the frivolous one, I think it's a brilliant plan, hence the name 'Rocco'. Rocco is my night time name shall we say, where pole
dancing becomes a necessity for both of us, the rest is for the lucky viewers that go to see this film at the cinemas to discover, only then they get to
experience the real Rocco & Jerry in me! This film is a first of many, 1st time Director Rohit Dhawan, 1st time co-starring with Chitrangda Singh, 1st time
Pole dancing, there is so much of freshness in this film that I genuinely feel people will see so much from all of us. I love the story & you know 'why' when
you see it", quotes Akshay.


From performing his own stunts to doing bizarre things, Akshay is best known for his 'do it yourself' jobs on screen. I ask him if Pole dancing was one of
them. Kumar comments, "What can I say, I was a natural (laughs). No actually both John & I were equally nervous; no man wants to look either too good or too
useless on a pole, if you know what I mean! Luckily for me, my gym is made of bars & rods, so I'm used to swinging & climbing on poles daily, only now I had
to do it with a stripper's flare rather than my usual monkey technique! I thoroughly enjoyed myself in the Bachelorette song where both John & I come sliding
down two golden poles to entertain the ladies, it's been brilliantly shot & it's all in good taste."


From strippers to his partner in crime John Abraham, both have had their share of women in their earlier escapade called Garam Masala. And talking
about their reunion, Akki says, "All I can say is we are a pair & a half, our reuniting has been well over due. It's been absolutely brilliant shooting with
him again, the respect we both have for each other is immense for two heroes in the same industry to have. We have very similar backgrounds so it's easy for
us to get along so well. He's always worked very hard in his career. The only thing that has changed about him as an actor is his growth, not only in his
muscles but his maturity & dedication to prove he's more than what meets the eye."


This is the first time ever that Akshay has been paired opposite Chitrangda Singh. Talking about his new onscreen lady, Akshay says, "Chitrangda is far from
a new-comer, she is a critically acclaimed actress, has quite recently & deservedly won a National Award, she is by far an incredible actress not to mention,
stunning as well. This is of course her first commercial film in Bollywood. It was an absolute pleasure to work with her and I can only say I hope this is a
first of the many films to come for her", quotes Akki.


So will his first and the only label of 'Khiladi' vanquish away in thin air and be replaced with 'Khiladi Rocco'? All said and done, he is one hell of a
player, isn't he? And is that what his debutant director Rohit Dhawan thinks? Akshay clears the air, "What a shock the world is going to get when they see
this film and realize the potential, the talent, the brains and vision this boy has. Rohit Dhawan has done a brilliant job on Desi Boyz, and he knows
exactly what he wants and just how to get it. Whether I'll be called the 'Khiladi Rocco', I don't know but hope Rocco stays in the women's minds for good
(laughs). I'm a huge supporter of newcomers, they have passion and drive of the purest form and Rohit has given me great confidence. We work unbelievably
well together as we both have one goal in mind, pleasing the audience in every single shot. I am already looking forward to his future work. He has an
eagerness to accomplish, achieve, and he is what blockbusters movies are made of."


His love for acting has lead to this man's many film choices. And when it comes to his choice of favourite city while he's shooting, London is the first name
that pops up. From his hit film Namastey London to Desi Boyz, he's travelled so much to the Big Ben city that we won't be surprised if the
Queen of England sends him a personal invite for a lavish dinner. "London London London, it's a dream city to live in, work in & play in." Having said that,
there can't be a better city than London to hum songs to your loved ones while you walk hand in hand with your beautiful better half in Hyde Park or are
playing along some mad music in a strip club. What say Akshay? "London is the best city when it comes to music. It buzzes like mad! The action takes place in
all the clubs at Central London with foot-tapping songs blasting its way out from the speakers. As for the songs from Desi Boyz, this film has got a
lot to offer. My personal favourite would have to be the Desi Boyz title track because it just gets under your skin and you can't help but dance to
the beat. I remember sitting in my car playing it over & over again, thinking does this blow my mind? And before I even reached the set I couldn't start
waiting to shoot for it, and the visuals to this track are saucy, fun & fantastic."


Here's hoping that the last three words stay true to the film too.