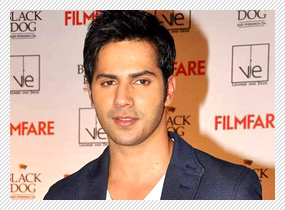 Keep in mind - There's so much that's been said from the industry sources about this man's acting prowess that when you meet the debutant actor, he gives you more material with his looks and demeanour than with his words. I got done with Alia and Sidharth's interviews and was waiting in the Dharma Productions lobby for my turn with Varun and to my surprise he appears out of nowhere, utters, "Devansh?" A nod from me. A handshake. I get up. Like a true gentleman he allows me to walk in front as he points and guides me to a room where our interview would take place. Oh! And remember the coffee that I had ordered while I was with Sid? That arrived late but sort of in time. It's indulgently tranquil here. The vibe: a little cold, a little sweet, a little awesome and all else that's been heard about Varun Dhawan. It's nice to think that he knew back then that today was in his future, that he somehow picked this spot on the horizon - Dharma Productions. It's a nice thing about this young actor - the swagger, sipping the cold coffee, he's got a well postured, warm, Indian blend of ease in skin and he could probably beat you up if you'd keep staring too much at his bulging biceps. And surely, intensely channelling this toughness regularly teaches him a thing or two about himself. "Tell me all the good things people have to say on Twitter and then all the bad things too. I want to know both", Dhawan says. This blend of humility and openness doesn't come about from Googling oneself or keeping oneself in the company of trippy teenagers. No, it stems from the fundamentals. Varun's seriousness is the first thing that you notice about him - his deep, dark eyes, and his zestful answers and that willingness to learn. He transmits a certain level of intensity in one answer and 'bringing the house down with his antics' quality in another. Perhaps it's the coffee that's kicking in. Being a fellow Londoner, Varun seems more relaxed off record than on as he starts to discuss the pitfalls of the acting industry and his Guy Ritchie fanboy talk. I'm his last interviewer for the day and in the black tee n denims, he seems ready to go grab a pint of beer in a nearby pub. I get the distinct feeling that the wild side of Varun Dhawan is awakened and his Friday night has just begun.
This is Part 1 special on the most talked about student in the 'Next Gen' circuit in the B-Town. Ladies and Gentlemen, I give you Varun Dhawan.
When I met Alia and Sidharth, they informed me that you are that 'filmy-keeda'. True that?
Yes, very true. I am that filmy-keeda. Since childhood I've seen a lot of films - good and bad. Subconsciously in my head all these things are there and then it filters and that's the way I talk. I am excited. Films give me a high.
You have that Govinda spark in you. Always agile and ready to hit the deck.
There is a Govinda inside me. Then there's a lot of Aamir, Salman and SRK too. There's everyone. There's not just one person. When you've grown up seeing lots of films, and in a group of friends you spot one guy who does all the mimicry. But hang on! I'm not that guy who did the mimicry. Here's the punch - I keenly observed that guy (laughs). I wanted to pursue acting for a long time... I've been observing, looking, thinking, discovering till now.
With you born in a film family, do you sometimes wish to lead a normal life?
I do, always. I want to go underground. I want to be down to earth in my personality, not that I am not (laughs). I am a common man. But in films too I am quite fascinated with characters that are simple - like a stone cutter's story can be quite interesting, the beggars on the roads, the women who work on construction sites, etc. These are all normal people living on the edge.
Looking at you and hearing you talk; I don't think you come across as a method actor.
I have done the same scene in five different ways. But I am not the guy who judges my work. The director does that. I go with my gut quite a lot when I am acting. Having said that, I have also studied for a year with Barry John. It was about the technique. Even in method acting, there is a certain kind of 'go with the flow' ability that one adopts. I don't know if I am a method actor or I come from a natural school of acting, but I know some scenes require method.

What were you like in school and college days?
I was a Stevie Griffin in school. As you rightly said, I was a 'keeda'. I love Family Guy. But I am very loyal when it comes to friendship. If a friend is wrong, I will slap him later (laughs). Honestly, if you've done something wrong you ought to be taught a lesson or need guidance. I am like that to all my friends. I love them but that does not mean I support them in all their doings, especially wrong.
So was it good reliving the college days in Student Of The Year?
Yea! In Karan Johar's world, it's very much like a Tim Burton's vision. I had said it in an interview that Karan Johar is our Tim Burton. He creates fantasy world and throws us in to experience it. It's awesome. It's like living in an imaginary circumstance. I've never seen a college like St Theresa's (laughs). The way Karan Johar thinks, no one thinks like him. His world is so real sometimes.
And what happened when you met Alia? Love at first sight?
You bet! I met Alia for the first time in St Teresa's college, meaning on the sets of the film. But I've had the most fights with Alia too. She doesn't say this to anyone but she is a fighter (laughs). Nobody knows this but there was a 'Mehndi' scene where she has to apply it on my face and she slapped me. So me being me scratched her in another scene. I twisted her hand too (laughs) but it was all in good faith, fun unlimited.
Your journey in B-town began assisting KJo. But after your debut release, would you still consider direction?
I wanted to be an actor but I may venture into direction later on in life. There's nothing more harder than direction. There's a lot I learnt from My Name Is Khan, especially from Karan Malhotra who was the first assistant director on that film. He is a tough task-master. The sheer hardwork that goes in the making of a film is respectable. I respect all technicians. We actors like to believe that everything works because of us but I don't think that way. I've seen both the sides of movie making.
Did you ever see Karan Johar go nostalgic on set?
The way Karan would remember things is shocking. I wish I could recall my stories. He remembers each detail. He would speak about his best friend Apoorva, the CEO of Dharma. That would make me nostalgic too. Karan told me to go into 'Zen' mode to forget everything and relive the story again. That's the technique he used and I too tried to sometimes think of similar circumstances that occurred with my friends to get the real emotion out.
While you were on sets, Sidharth Malhotra would've been an audience. How was the camaraderie?
Actually yes! In a way, not only Sidharth, everyone off the sets is an audience. Sidharth and I talk a lot about scenes. He's done a scene that I'm not a part of but if I've seen that scene and I don't think he's done it well then I have the right to call him and discuss it out with him. Such is our friendship off the sets. I will be very critical. He will do the same too. There's no one-upmanship or any ego battle. This is an ensemble film and we have our gang comprising of Sana, Manjot, Kayoze, etc. They're all amazing to work with. That's the thing about the new generation of actors, they're all here to perform and not play games.
Part 2 of Varun Dhawan interview continues.....Watch this space!
BOLLYWOOD NEWS
Catch us for latest Bollywood News, New Bollywood Movies update, Box office collection, New Movies Release , Bollywood News Hindi, Entertainment News, Bollywood News Today & upcoming movies 2020 and stay updated with latest hindi movies only on Bollywood Hungama.