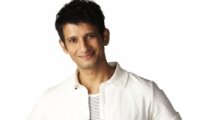 Ferrari Ki Sawaari has done exactly what any car driver does to win a race. He slowly but surely accelerates when the time is right. Having said that, the speedometer of the film is showing an impressive growth, thanks to the strong word of mouth, and even though the opening figures weren't quite impressive, the Box Office verdict by the end of this week for Ferrari Ki Sawaari is that it'll definitely be a 'vroom vroom' success. As the Late John Surtees (British Formula One driver) puts it - "If he can't do it with a Ferrari, he simply can't do it". Looks like Vidhu, Mapuskar, Hirani and Sharman are surely having the last laugh. My chat with Sharman Joshi continues in this Part two exclusive.


"Hirani takes a scene ten notches higher after filling in his dialogues"

Raj Kumar Hirani comes up with simple thoughts and ideas. The strength lies in expressing those thoughts and wording them. Raj Kumar Hirani is terrific when it comes to that. You may have both but you may not be able to express it. That's an exceptional talent Raju sir possesses. He writes his dialogues after the screenplay and that scene which is written out, you wonder how that will sound like but Hirani takes it ten notches higher. He is so evolved and a lot is to do with the human being he is. His personal traits do reflect in his films on a subconscious level. His simplicity of his own thoughts in his personal life is remarkable. His humility, his kindness and his gifted ability makes his work so communicable to us.


"Vidhu Vinod Chopra is epitome of craziness"

If I am crazy and I work at my own pace, so is Vidhu Vinod Chopra. He is an epitome of craziness. He is working on a film called Broken Horses. He will work on it and take his time and release it. That's his conviction.


"I believe the film has to be marketed like a mega event about to take place"

Every film ultimately boils down to the business it does at the BO and I am very much a part of that system where collections matter. I believe the film has to be marketed like a mega event about to take place, whatever the genre. You have to have your voice heard. There is a saying that goes - When you keep talking about something, it may not necessarily work but when you work vigorously, it will always talk. These guys come from that category. Vidhu Vinod Chopra films don't have any gimmicks or gadgets by which they make a film successful. It's their content that the B.O. depends upon and so does the audiences.



"Vidhu Vinod Chopra Films are a ruthlessly honest bunch"

VVC films are thorough in their conviction. They cast me - an actor who still doesn't have credibility at the Box Office. They know that no one will be able to match up to Sharman Joshi. But they don't back out once they make a concrete decision. I've seen trivial insecurities creep in many of the directors and producers but these lots are ruthlessly honest in whatever they do.


"Ritwik is endearing as an actor"

Ritwik is a natural born actor. He had no experience whatsoever. He is the only kid that stood out after repeat auditions. Kudos to his parents for this. He is such a well mannered, honest and a bright kid. All these personalities do reflect in his work. You will see a little boy acting and not someone who tries to act mature. Ritwik is enduring. Child actors don't get the limelight but if someone as brilliant as Ritwik is sharing screen space with you, you feel challenged.


"I know what I want. I want to keep doing quality work"

I feel an extreme sense of satisfaction after I come home post shooting for all my films. I am not interested in awards but I know what I want. I want to keep doing quality work. I want to enjoy myself and that's only way audience will enjoy my work. I am willing to fall down really hard if failure comes but I also want everything I've ever dreamt of.


Click here to read Part 1 of interview with Sharman Joshi