Sushant Singh Rajput is known for his quirky style and has never been pulled up by the fashion police. Yet in Abhishek Chaubey's Sonchiriya where he plays the rebellious dacoit Lakhna, he is almost unrecognizable in his dirty, unkempt clothes and dusty, dishevelled look. The movie revolves around a gang of dacoits who rule the Chambal and all the actors playing the bandits including Manoj Bajpai, Sushant and Ranvir Shorey are seen wearing the same set of clothes throughout the film. But Sushant tells us that rather than get upset with wearing one outfit it helped the actors bond.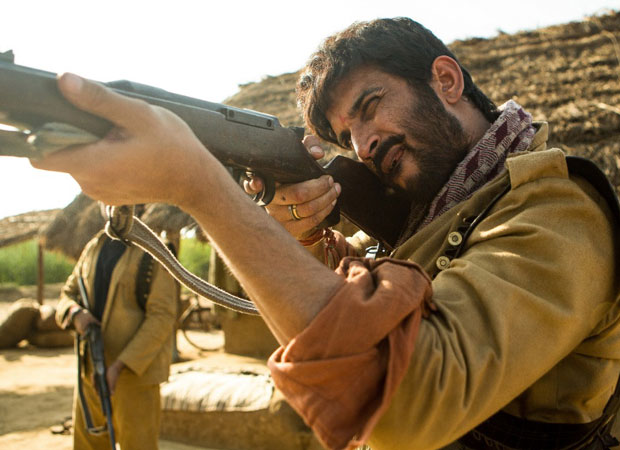 From being known as a style guru in real life, in Sonchiriya his look is completely the opposite with a wild and unkempt look. Sushant says, "I think I am a very boring person when it comes to style because I seriously feel when you are wearing something, you are not thinking of wearing it when you are done with it. So, while it does solve the purpose of clothes, it also should be a part of your narrative. Anything that is part of you and already makes you feel confident and assured that this is me, that's a surplus. I like quirky stuff stating truth but in funny way."
He seems to be comfortable wearing just one outfit in the film. "Yes. There's a sense of unity of being part of the gang. Whenever a gang or group uses a uniform it is to state their similar way of thinking – there's uniformity in thought. Sometimes it is given by political structures like the cops and army and sometimes people wear same clothes to state that they belong to the same set of ideas and we would waste time by explaining the ideology. There's a sense of unity of the group and the characters, the 1970s, why they became the baaghis and how it can be justified in terms of understanding. It does serve a lot of purpose for the actors when you are wearing it as an uniform it constantly reminds you of those thoughts as the character also. It was great and also you don't need to think of continuity (laughs). You see, the earthier a character looks, the more the audience can be convinced when they watch the movie."
The actor says that he is both nervous and excited about Sonchiriya. "I have been nervous since the time I signed this film – in a very good way and I am grateful to be working with such a talented bunch of actors. I was anxious as I had been wanting to work with Abhishek Dubey for a long time and as luck would have it, he called me and I had to do it because it's him. Then he read the first page and I stopped him there though I shouldn't have. I loved the script instinctively because I could see where it was going. I have seen all his films and could understand its potential. I would do my job as an actor and also improve myself as an actor so I do something and the film gets made and I am a better actor by the end of it without even knowing what I am learning – just by being among those guys. We learn a lot when we are happy and excited. I was having fun, paying attention with all seriousness and excitement and probably became a better actor at the end of it. Most of the actors were from NSD and hard-core theatre. Abhishek knows what not to do and that's a good place to be in. Manoj sir when he had time would cook for everybody, especially me because I am a big foodie and to have that kind of camaraderie is wonderful. Sometimes I would ask myself - am I actually working with them?"
While he looks completely different from what he is in real life, Sushant says off screen it wasn't tough to get out of Lakhna and become himself again. "Because you always know you are playing a character. While but playing many different characters you get to know about them when you write character sketches like I did with MS Dhoni or Byomkesh Bakshi or Mansoor in Kedarnath. When you do characters like them you have to write options – one is a popular option which people understand and then there is the other, understated and finely nuanced where it is just not what you are saying should be punctuated but the way you are. The ones I played are the understated, nuanced ones and when I think about them I write many pages on them and then I think about myself and I have not written one page. The kind of human being I am if I want to play myself there's a great sense of urgency in a good way about reflecting in your own life."
BOLLYWOOD NEWS
Catch us for latest Bollywood News, Bollywood Movies update, Box office collection, New Movies Release & upcoming movies info only on Bollywood Hungama.