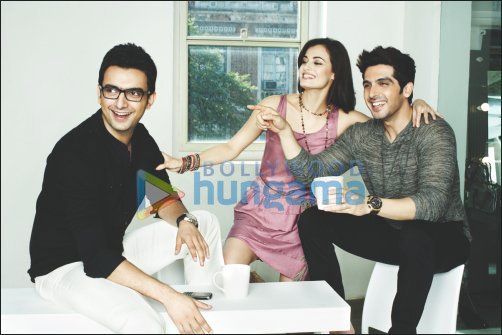 A five way conference - Now this was a first for me. But then it was fun for sure as it was imperative that there is a joint conversation that happens with the three founders of a newly launched production house - 'Born Free'. So here I was, talking to Dia Mirza, Zayed Khan and Sahil Sangha, all relaxing in their respective homes on a 'cool Mumbai afternoon on Sunday' (in their own words) with dear friend Monika helping us all get together on a conference call and ensuring a seamless conversation. A round of congratulatory messages flow and the trio get talking.



Dia - 'Born Free' has come into existence because all three of us are passionate about cinema and want to make good films. I think what makes this synergy special is the fact that here there are three young individuals who have decided to form a company together because in principal their ideologies are the same. For me, what makes this special is that you we are three people from different walks of life and backgrounds but have not made a unanimous choice in their life. Zayed is born in movies and is the filmiest of all. Sahil has a great business sense and is turning director. Whereas I am from a non-film background and happened to become an actor due to my stint with beauty pageant.



Zayed - (Interrupts) And I am sure that even today if Dia enters a beauty pageant, she will win. Thank goodness she is with us as a producer now. But yeah, she is right. The fact is that we all are movie buffs. We have that filmy thing in us which still hasn't died. The most important fact is that we want to make films, not projects. We are young, ambitious, have new ideas and want to work on different kind of subjects, whether they are conventional or offbeat. Let's face it, today filmmaking as well as viewing is such a new experience. When our company 'Born Free' came into existence, the ideology was that we all are entitled to dreams and ambitions. We have the same ideas and now we want to let them out of the bag rather than depend upon other people's execution. With us coming on board, we are sure about making things differently. Sometimes it may be good, sometimes it may be bad. But then at least the reins are in our hands in our hands.



Sahil - Exactly. See, mentally we have been aligned for so long. We know each other well and fortunately we have a host of ideas. This is the first baby that we are looking at bringing out.



Dia (Laughs) - Deliver



Sahil - Yeah, you can say that, I can't (smiles). Nevertheless, the point is that it is all very organic. It has been a joint process. For instance, being a writer as well, I was working on different scripts and the one on which we initially collaborated was a fun and action comedy. Then Dia had another idea and I started penning down a few lines on that. We had to decide on the one to make our first film and ultimately we listened to the lady. Now the one that she has proposed is a story of the heart. It goes well with the synergy between the three of us as well. What also works for me as a writer, director and a co-producer is that Zayed and Dia are fantastic script doctors. They are good bouncing boards and we work best in an environment where we are motivated, energetic and receptive to each other's feedback.



Zayed - Having said that, we definitely want to expand our horizons further. Hence any film that we do won't be restricted to the three of us. We want like minded people to join us and hence we are open to outside directors as well in future projects. However, to begin with it has to be Sahil as we have to show the kind of vision that we have in terms of the out of the box thinking that we have. We have to take the first step so that we can prove to ourselves what we are. I don't think that anybody else will just come on board and get started unless we ourselves get the momentum rolling. A company forms its own equity and we have to lead from the front.



Dia - That's right. If we don't have within us to invest in ourselves then why would anybody else do that? We belong to the generation of dreamers who have a platform to realise them as well. Our fathers and grandfathers dreamt as well but they were seldom offered opportunities. Thankfully we have those opportunities.



Zayed - This is the reason why we are open to other actors also coming on board. We want to spread our wings. We want to see new talent come alive, make a family, take a first dip ourselves and then have a party going. Fortunately for us, we have already been approached by so many young directors who have great storylines. We are investing on ideas.



Sahil - Also, when it comes to actors, we will let the script decide that who fits in. We are very clear about that and we have to remain honest to that. It is this openness and camaraderie that makes our entire working relationship comfortable.



Zayed (Laughs) - Yup, I am happy even with a cameo.



Dia - To put it very simply, if a film requires us as actors, we will do it, if not then we won't. We are not stuck on a thought that because we are producers, we have to come in as actors as well.



Sahil (Smiles) - Don't worry guys, I will try to make a place for you!
BOLLYWOOD NEWS
Catch us for latest Bollywood News, New Bollywood Movies update, Box office collection, New Movies Release , Bollywood News Hindi, Entertainment News, Bollywood News Today & upcoming movies 2020 and stay updated with latest hindi movies only on Bollywood Hungama.